Golf is an expensive game, there's no way around it.
It's no wonder people look to save money where they can, and we get asked all the time for recommendations on the best cheap golf clubs.
The good news is that you can build a set of clubs for a budget price that produce good results on the course.
The bad news is that because there are so many lower-end options on the market, buying the wrong budget clubs can be disastrous for your game due to low-quality products made by some manufacturers.
Luckily, our team has you covered. We tested 20 clubs on the lower end of the price spectrum to determine the best values in the game of golf.
Below you will find our top performing value clubs, including the best cheap driver, fairway wood, hybrids, iron set, and complete set.
Keep reading and we'll discuss a few tips on buying cheaper clubs to make sure the ones you pick will lower your scores.
Let's dive in and find your new favorite clubs at a reasonable price.
Best Cheap Golf Clubs
---
Best Cheap Golf Clubs Specification Table Comparison
Golf Club Set Name
TaylorMade Men's RBZ Black Driver
TaylorMade Men's AeroBurner Fairway Wood
Pinemeadow Golf Men's Excel EGI Hybrid
Cleveland Golf Men's Launcher HB Iron Set
Wilson Harmonized Golf Wedge
Callaway Strata
Our Rating
9.2/10
Best Affordable Driver
9.0/10
Best Affordable Fairway Wood
8.7/10
Best Affordable Hybrids
9.2/10
Best Affordable Irons
9.2/10
Best Affordable Wedge
9.3/10
Best Affordable Golf Set
Pricing
Jump To Pricing Section
Jump To Pricing Section
Jump To Pricing Section
Jump To Pricing Section
Jump To Pricing Section
Jump To Pricing Section
Number Of Clubs Included
N/A
N/A
8
9
N/A
12
Driver
Adjustable (9.5⁰ Loft, 10.5⁰ Loft, 13⁰ Loft) / 460cc Head Size
N/A
N/A
N/A
N/A
10.5⁰ Loft /460cc Head Size
Fairway Woods
N/A
3 Wood (15⁰ Loft) / 3HL Wood (16.5 Loft) / 5 Wood (18⁰ Loft) / 5HL Wood (21 Loft) / 7 Wood (23⁰ Loft)
N/A
N/A
N/A
3 Wood (15.5⁰ Loft)
Hybrids
N/A
N/A
3 Hybrid (19⁰ Loft), 4 Hybrid (22⁰ Loft), 5 Hybrid (25⁰ Loft), 6 hybrid (28⁰ Loft), 7 hybrid (32⁰ Loft), 8 hybrid (36⁰ Loft), 9 hybrid (40⁰ Loft)
N/A
N/A
5 Hybrid (26⁰ Loft)
Irons
N/A
N/A
N/A
4, 5, 6, 7, 8, 9
N/A
6, 7, 8, 9
Wedge
N/A
N/A
Pitching Hybrid (45⁰ Loft)
Pitching (44⁰ Loft) / Dual (49⁰ Loft) / (Sand (54.5⁰ Loft)
Pitching (50⁰ Loft) / Gap (52⁰ Loft) / Sand (56⁰ Loft) / Lob (60⁰ Loft) / Trouble (64⁰ Loft)
Pitching (44⁰ Loft)
Headcover Included
Driver
Fairway Wood
Hybrids
N/A
N/A
Driver, Fairway Wood
Read Review
Jump To TaylorMade Men's RBZ Black Driver Review
Jump To TaylorMade Men's AeroBurner Review
Jump To Pinemeadow Golf Men's Excel EGI Review
Jump To Cleveland Golf Men's Launcher Review
Jump To Wilson Harmonized Golf Wedge Review
Jump To Callaway Strata Review
---
TaylorMade Men's RBZ Black Driver
Best Cheap Golf Driver
Rating: 9.2 /10
uSA Suppliers (Also deliver to Canada)
Pros
Includes a huge sweet spot.
Features Taylormade's classic alignment aid.
All-black sleek design.
Cons
Some customers said the headcover is cheap.
Not available for female golfers.
The Taylormade RBZ was our selection for editor's choice thanks to its many high-end features and it's reasonable price tag.
The RBZ is all black and features a massive 460cc titanium head. The head has an Ultralite Titanium core that was strategically positioned by Taylormade to give golfers an edge so they can hit the ball higher and longer. Its adjustable loft sleeve also aids with high ball flight and trajectory.
A speed pocket in the club was designed to reduce spin so players can enjoy better distance off the tee with a longer roll-out.
The shaft on the RBZ is a premium matrix white tie 55 shaft that also adds carry and makes the club swing easy.
The club is available in three different lofts: 9.5 degrees, 10.5 degrees and 12 degrees.
It is available for purchase for both right and left-handed golfer and is available in shafts with stiff, regular or senior flexes.
---
TaylorMade Men's AeroBurner Fairway Wood
Best Cheap Fairway Wood
Rating: 9.0 /10
USA Suppliers (Also Deliver To Canada. Globalgolf.ca Is Canadian Delivery Only)
Pros
Massive sweet spot.
Five different options for loft.
Designed like a driver.
Cons
Not available for women.
Some users preferred the traditional Burner woods.
The Taylormade AeroBurner fairway wood was designed with an aerodynamic clubhead featuring a heightened center crown, shallower face, and an "aero" hosel fin that restricts drag for golfers with higher swing speeds.
The sweet spot on this fairway wood was enlarged compared to previous models which helps reduce spin allowing for more distance and forgiveness when not hit in the center of the clubface.
Taylormade developed this fairway wood to be more like a golf driver with increased distance and pop off the face.
Taylormade added an alignment aid saying Aeroburner in tiny letters to assist in hitting the ball where a golfer aims.
The club can be purchased from 15-23 degrees. The colors on the club include red, dark gray, black and white.
It can be bought in a multitude of flexes for golfers of both dexterities including extra stiff, regular flex, or senior flex.
---
Pinemeadow Golf Men's Excel EGI Hybrid
Best Cheap Hybrids
Rating: 8.7 /10
uSA Suppliers (Also deliver to Canada)
Pros
Lightweight and easy to swing.
Two shaft options offered.
Available in full sets not only as one club.
Cons
Alignment aid is slightly difficult to see.
Build doesn't appear as high quality compared to other brands.
Not the most reputable brand.
The Pinemeadow EGI hybrids are available in eight different lofted options. You can purchase one at 19 degrees replicating a three-iron all the way up to a 45 degree which replaces a standard pitching wedge.
The club is built with either an Apollo Lite Steel shaft or a low-torque Pinemeadow hybrid graphite shaft depending on which one the player chooses. Pinemeadow says they recommend a graphite to make it easier while swinging.
The company says they built the Pinemeadow as a mirror model to Callaway's hybrids.
The Pinemeadow hybrid features a black head at address with a red alignment aid to help golfers aim at their targets. The bottom of the head is metallic and has four colors: silver, red, black and white.
These clubs are available in individual units or as a complete set.
---
Cleveland Golf Men's Launcher HB Iron Set
Best Cheap Irons
Rating: 9.2 /10
Pros
These irons were made for all levels of golfers. They are very forgiving.
They can be purchased in a variety of set options including steel and graphite shafts.
The CG allows for a good feel on shots.
Cons
More advanced golfers might prefer thinner cavities.
The Hybrid design can feel weird on higher lofted clubs.
Cleveland created this set of irons with a fatter cavity to help make the club more forgiving.
The trajectory of shots can fly higher and enables players to have straighter results.
A HiBore Crown allows the club to have a bottom CG for good contact on shots.
The HT1770 steel added on the front of the club helps increase distance on shots.
Shaft flex options that can be bought for the irons are stiff, regular or senior.
You can purchase sets that include two different wedges or two longer irons.
---
Wilson Harmonized Golf Wedge
Best Cheap Wedge
Rating: 9.2 /10
uSA Suppliers (Also deliver to Canada)
Last Amazon price update was: September 22, 2023 3:47 pm
Pros
Special sole grind allows players to be creative with the club.
Large sweet spot makes address easier.
Chrome design is anti-glare.
Cons
Looks like it can be easily scuffed.
Ultra-thin blade design so if you have trouble chipping reach for a cavity-back wedge instead.
The Wilson Harmonized Golf Wedge is one of the more affordable wedges on the market and is designed to perform similarly to the higher-end models available to the public.
The wedges can be purchased in 50, 52, 56, 60, and 64 degrees. The clubs are made for both left and right-handed players.
This design was made with a unique sole grind that allows golfers to hit different types of shots not negatively influencing a well-struck ball.
The club promotes high-spin thanks to its well-detailed grooves.
The look features an anti-glare make so golfers can focus on the ball when lining up a shot. The durable true temper steel helps the longevity of the club too.
---
Callaway Strata
Best Affordable Golf Set
Rating: 9.3 /10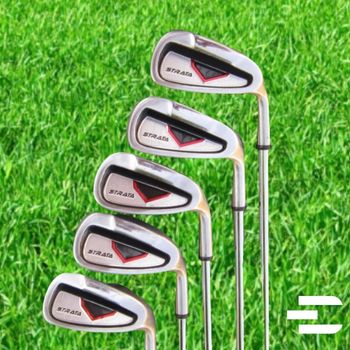 uSA Suppliers (Also deliver to Canada)
Pros
Very affordable for Callaway clubs.
Cavity-back irons maximize forgiveness.
460cc driver replicates top drivers on the market.
Cons
Only contains one wedge.
Only includes 12 clubs compared to other Strata sets that have more.
The Callaway Men's Strata golf set is a great full bag of clubs for the price. It comes with 12 clubs including a driver, 3-wood, 5-hybrid, six through 9-iron, pitching wedge, putter, stand bag and two head covers.
Compared to most of the clubs Callaway makes, this set is much cheaper.
The driver included in the set is extremely forgiving with its massive sweet spot. It is very light and features a titanium head. It is also 460cc. The 3-wood in the set is considered oversized and was designed aerodynamically which helps get the ball long and high.
Instead of a traditional 5-iron, this set includes a 5-hybrid to make long iron shots easier to hit. The six through nine irons included are stainless steel and have a large cavity for maximum forgiveness. A pitching wedge that is the same style of the irons was designed for these value golf clubs.
The sleek black mallet putter included in the bag is easy to use and features an alignment aid when trying to hit straight putts.
---
When are cheap clubs suitable?
Cheap clubs are suitable for both new golfers and experienced golfers. If someone just started playing they certainly don't need to go get fitted and buy a custom set of high-end clubs after their first time hitting the ball.
A decent amount of people try golf and quit after a few months, so it wouldn't make too much sense to shell out a bunch of money on a state of the art set of clubs. Buying an expensive set of blades is useless if you have trouble hitting them.
One reason to upgrade to better clubs is if you are playing a lot and improving. Then upgrading from a cavity-back game improvement wedge to a blade-like wedge or from a basic beginner set driver to a Taylormade is ideal.
Criteria We've Used To Assess Best Cheap Clubs
We use three primary attributes for how we assess our list of best cheap golf clubs: Quality/Value for Price paid, Durability and Reviews.
Quality/Value For Price Paid: The price of the clubs combined with how they perform and how well they are made.
Durability: How well built they are and how long they'll last.
Reviews: What are the public saying regarding these clubs. What feedback they are providing.
Tips If You Want To Buy Used
A good time to buy clubs is around October each year due to new models being released. For example, if you want to purchase a Taylormade M5 then instead of buying it as soon as it is available wait until the M6 to release so you can get it at a discounted price.
Be careful who you are buying your clubs from especially from private sellers on Ebay or Craigslist. Some sellers falsely describe items or sell a damaged club. It's safer to buy used from a known retailer.
Conclusion:
Building a solid set of the best cheap golf clubs and adding them to your bag doesn't have to cost you a pretty penny. With options like our editor's choice, the Taylormade RBZ Driver, it's easy to save money. The RBZ's speed pocket, which reduces spin for increased distance and its titanium core that raises the trajectory, makes it a great club for its price.
FAQ
where can i buy cheap golf clubs
Websites such as Rock Bottom Golf, eBay (USA) and affordablegolf.co.uk (UK) sell used golf clubs at discounted prices. Individual clubs, iron sets and full sets can be purchased on these websites.
Do cheap golf clubs make a difference?
Cheap clubs do make a difference because of the materials used and the manufacturing process. The higher quality material, the better the club usually is. There are various high-end brands vs. less renowned brands. The high-end brands such as TaylorMade have more resources and a higher budget to make a high-performance club.
Is it cheaper to buy golf clubs in a set?
Buying clubs in a set makes sense for beginners. It's a cheaper way to start playing golf and obtain an understanding of how to hit the ball. A budget set such as the Callaway Strata's include everything needed from a driver to putter.
Are golf clubs cheaper in the winter?
Golf clubs are often cheaper in winter because there is less golf being played in the winter months golf clubs can often be found cheaper then. Manufacturers put their clubs on sale and offer other incentives since the demand is lower during that time of year.