Everything is more enjoyable with a drink in your hand.
If you're looking for a golf cart drink holder to install on your golf cart, you've come to the right place.
In this article, we'll introduce you to a handful of the best golf cart drink holders. These accessories can really make a difference if you're thirsty out on the green.
Plus, we'll also show you what you should look for as you shop. Golf cart drink holders might seem like a simple product to invest in, but getting the best deal can save you from getting replacements shortly down the road.
Let's get started.
Our Picks of the Best Golf Cart Drink Holders in 2023
Here's our list of the best golf cart drink holders. Which one will you purchase for your next trip to the golf course?
---
ROBOCUP Cup Holder
Best Golf Cart Drink Holder Overall
Rating: 9.5 /10
Pros
EZ-Spring version allows for less force to open
Quick and easy install with rubber grip
No drilling through your golf cart frame
3-year warranty
Cons
Only holds cups that are 2 inches in diameter
The first golf cart drink holder on our list is the ROBOCUP Cup Holder. It's available in 12 different colors, so you can easily customize it to your liking.
This particular drink holder clamps on via a reinforced rubber grip to hold round objects up to two inches in diameter. The no-tools-required rubber grip makes for a quick and easy install, which was one of its favorite features among our testers.
There are no tools required for this drink holder, which also has thread-on end caps. Stainless steel hardware and springs remain durable through all kinds of weather.
The polyresin material this drink holder is made from has built-in UV-inhibitors, so you don't have to worry about leaving them in the sun as you putt.
A three-year warranty protects your investment with this golf cart drink holder.
Plus, if you end up wanting more from this particular product, you can purchase—separately—a Plus accessory that holds another drink up to 3.75 inches in diameter.
📢 Need To Know: ROBOCUP even offers an EZ-Spring version that doesn't require as much force to open.
---
Roykaw Golf Cart Armrest with Cup Holder
Runner Up 1
Rating: 9.2 /10
Pros
Armrests and cupholders mount in one piece
Criss-cross rib design provides stability under pressure
Available in black, beige, and gray
Cons
Cup holder does not remove from armrest
What's better than a couple of drink holders?
That's right, cushy armrests that support your drinking hand as you take in the sunshine and the rolling green.
Our testers liked that the Roykaw golf cart armrest not only supported their arms but also had a built-in cup holder to help them stay hydrated.
The cup holder is available in black, beige, and gray.
The high-strength criss-cross rib design of this cup holder fits on most golf carts.
📋 Keep in mind: The armrest itself can either be mounted to a 1-inch frame by drilling a few holes or clamped over a tube instead.
---
JSP Manufacturing Universal Golf Cart Cup Holder
Runner Up 2
Rating: 9.2 /10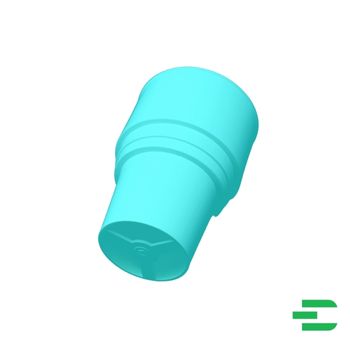 Pros
Universal design allows for mounting on most golf cart frames
Open-bottom design drains instead of collecting water
Tall 6-inch height securely holds most cups
Cons
The tiered design may make it hard to achieve a solid fit for some cups
Made in the USA, this JSP Manufacturing Universal Golf Cart Cup Holder holds multiple cup designs in its multi-tiered frame.
Just under 6 inches in height, this cup holder is tall enough to contain a wide range of cup heights for maximum holding capacity.
JSP Manufacturing's universal cup holder is available in black, green, and blue. It features an open-bottom design that will drain if necessary, but our testing revealed that it can also be washed out with a garden hose as well.
This drink holder measures 2.6 inches at the lowest tier but widens to 4.1 inches at the top.
📋 Keep in mind: Large and small drinks will sit comfortably in this golf cart drink holder.
---
9.99WORLD MALL 2-Pack Golf Cart Armrests with Cup Holder
Best Permanent Install Golf Cart Drink Holder
Rating: 9.0 /10
Pros
Made of durable leather
Cup holders remove for washing
Available in multiple colors
Cons
Requires drilling into your golf cart frame
These ergonomic armrests from 9.99WORLD MALL are universal as well as stylish.
Made from leather, these armrests are durable and yet versatile enough to also hold a pair of drink holders for your convenience.
Our testers reported that drilling holes in the frame of your golf cart is required to mount these sturdy drink holders.
💡 Golfible Tip: The cup holders themselves are easily removed so that you can wash them.
This armrest and cup holder set comes in both black and beige, allowing you to customize your drink holders to your particular golf cart.
---
10L0L Golf Cart Armrest with Built-In Cup Holder
Best Universal Fit Golf Cart Drink Holder
Rating: 8.9 /10
Pros
Universal fit
Armrests hold up to 66 pounds
Thick plastic base provides support and stability
Cons
Beige drink holders inserts are black instead of beige
The built-in cup holder in this golf cart armrest from 10LOL isn't the only feature you'll like about this product. Did you know that you can attach it to your golf cart without having to do any drilling at all?
These armrests with built-in cup holders are universal fit, so you can easily clamp them to whatever golf cart you own.
In fact, they'll even hold up to 66 pounds, so lean on them without worrying about the cushion deforming or failing underneath you.
According to our testers, the armrest's thick, plastic base plate material allows for maximum sturdiness.
This armrest set with built-in cup holders can be purchased in either black or beige so you can coordinate.
---
Accmor Universal Cup Holder
Best Rotating Golf Cart Drink Holder
Rating: 8.8 /10
Pros
Clip rotates a full 360 degrees for customization
Clamps directly to golf cart frame
Clamp opens from 2.6 inches up to 5 inches total
Cons
Shorter cans may not be held as sturdily by this open design
This cup holder from Accmor might look more like something you'd strap to your foot, but trust us, it's a versatile cup holder design that allows you to adapt almost any mode of transportation into an oversized drink holder.
Seriously though, there are a lot of features to love about this golf cart drink holder.
The 360-degree rotating clip was one of the coolest features and a clear favorite among some of our testers.
This allows you to place your drink however you want, and adapt the drink holder accordingly.
With this particular design, you can also hold many different types and sizes of bottles. Smaller bottles will fit snugly within the enclosing arms, while taller bottles will be held steady at their base.
Anti-skid pads built into the clamp jaws provide a rubber-gripping surface to hold your drink securely.
The clamp jaws are 2.6 inches at their smallest but open up to 5 inches at their maximum.
📢 Need To Know: You won't need any power tools in order to mount this golf cart drink holder. Simply clamp the device to your golf cart and you're ready to use your new drink holder.
---
Dr.Acces Universal Armrests with Built-in Drink Holders
Best Removable Golf Cart Drink Holder
Rating: 9.0 /10
Pros
Universal fitment
Can be permanently fixed to golf cart frame or simply clamped on
Available in black or beige colors
Cons
Cannot be mounted to golf carts with no rear seat
This set of two armrests includes built-in cup holders that allow you to rest and enjoy a drink as you cruise around the golf course.
Our testing showed that they're a universal fit, so you don't have to worry about measuring or cutting in order to make them fit.
In fact, these armrests don't necessarily have to be permanently mounted to the golf cart frame.
📋 Keep in mind: While there is hardware included to do so, there are also clamps that allow you to simply tension the armrests on in case you want to take them off later.
The frame of the armrest features a plastic base plate that provides support as well as a sturdy base to lean on. The cushion within the armrest is durable enough to withstand a few lazy afternoons rolling from one hole to the next.
This set of armrests with built-in cup holders can be purchased in either black or beige leather.
The cup holder itself pops out of the armrest, which allows you to place it in the dishwasher for cleaning.
---
What to Look for in a Golf Cart Drink Holder
As you search through golf cart drink holder listings, it may be hard to compare and contrast each product. Here's a quick guide to help you know what to look for in the best golf cart drink holder.
Dimensions
Not all cups are made the same, at least when it comes to sizes. Paying attention to the most common sizes of your drinks can help you invest in a drink holder that will actually be useful to you.
Most of the drink holders we've included on this list are common dimensions that should fit most cups out there.
However, some drink holders are tapered, so they shrink down from a couple of inches to only one or two at the base.
Besides the diameter of the drink holder, you should also consider the overall height as well.
Removable
Having a removable drink holder could seem like a feature you wouldn't want, especially since you want your drink to stay upright and secure.
But having a removable drink holder allows you to do a few things:
For instance, removable drink holders can easily be cleaned, either by hand or in the dishwasher.
They can also allow you to replace just the drink holder if it breaks, instead of the whole assembly.
Mounting Method
There are two main types of golf cart drink holders we've included on this list: those that require drilling and those that don't.
This is something to pay attention to, especially if you don't want to drill into your golf cart chassis.
📋 Keep in mind: Golf cart drink holders that mount with screws drilled through the frame can be sturdier than those that simply clamp onto the tubing.
However, they're not as easily removed if you want to get rid of them and/or sell your golf cart later on.
FAQ
What is the size of a golf cart cup holder?
Typically, the size of a standard golf cart cup holder is approximately 3 inches in diameter. This size can usually accommodate most standard-sized cups and bottles.
How do you mount a cup holder?
To mount a cup holder on a golf cart, first, choose a suitable location on the cart's dashboard or console. Then, use screws or clamps to attach the cup holder securely to the chosen location. Make sure the cup holder is level and stable to prevent spilling.