Golf carts enclosures offer the best way of ridding mosquito bites, fast-flying objects, cold, drizzle, and other unwanted elements on the golf course or on the road.
They come in different designs to fit carts of different shapes.
With so many options, it can be daunting to secure an ideal golf cart enclosure for your buggy.
To help you out, we've compiled a list of the best golf cart enclosures on the market and a buying guide to stop you from buying the wrong enclosure for your needs.
Best Golf Cart Enclosures:
---
KAKIT 800D 2-Person Golf Cart Enclosure
Best Overall
Rating: 9.4 /10
Pros
Fits your golf cart neatly
Easy to put on and off
Durable 800D construction
Durable zippers
Better air circulation
Cons
Limited to cream and white colors
The Kakit waterproof golf cart enclosure might be your ideal option for your two-passenger golf cart.
It is made from durable 800D Oxford polyester with PU coating to provide long-term service.
With the polyurethane (PU) coating, the 800D polyester material is waterproof and resistant to snow, fog, dust, UV rays, and other unwanted elements.
The KAKIT 800D Golf Cart Enclosure is easy to put on and off. All you need is to place the enclosure on top of the cart and spread it to fit in the corners and other areas.
The enclosure features super clear windows to give you a clear view of all the details on the golf course. You can roll the windows, doors, windscreen, and rear screens to allow air circulation into the golf cart.
Use the square buckles and the magic tapes on each door section to hold the rolled-up sections in position.
The eight bungee cords at the bottom further help secure the enclosure tightly to protect it from being blown away by the wind, which was our testers' favorite.
💡 Golfible Tip: Open the durable zipper on the door sections to enter the cart and close it for maximum protection from the elements.
---
Formosa 4-Person Golf Cart Driving Enclosure Cover
Best For All Weather
Rating: 8.9 /10
Pros
Fits tightly
Durable construction
Works well with multiple golf carts
Improved zipper linings
The four-person golf cart enclosure by Formosa features a premium 600 denier construction with crystal clear PVC panels to offer long-lasting protection from unwanted elements.
It can be your go-to option if you have a 4-seater golf cart with a roof of up to 58 inches long. More specifically, the cover is ideal for your cart if it features:
A roof width and length of up to 44 and 46 inches
Bottom width and length up to 48 and 95 inches
Front and rear heights of up to 56 and 60 inches
In our tests, we found that the cart cover is easy to use. All you need is to throw the enclosure over the golf cart, then spread it to fit in the corners of the golf cart before pulling it to the bottom.
You don't have to worry about the cover being flapped by the wind. The double-stitched hems at the bottom edges hold the enclosure tightly against the side, leaving no loose ends for the wind.
The transparent polyvinyl material on the door and window sections allows for clear vision on the fairways and golf course.
Additionally, the door and window sections of the golf cart enclosure feature a YKK zipper to let you get in and off easily, which was a plus for some of our testers.
The package includes a carrier bag to keep the cover when not in use.
📋 Keep in mind: You can use this enclosure across multiple cart brands, including EZgo, Yamaha, and Club Car, among other 4-seater buggies.
---
Doorworks Over-The-Top Extended 80-inch Golf Cart Cover
Best For Long Roofed Carts
Rating: 9.0 /10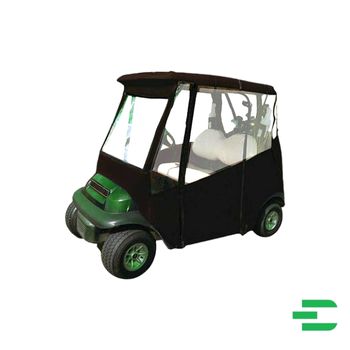 Pros
Easy to install and use
Highly portable
Durable construction material
Cons
Limited to long roofed golf carts only
Looking for a golf cart cover that will last long without fading? Then the over-the-top extended 80-inch golf cart enclosure by Doorworks might be your best bet.
It boasts a heavy-duty marine-grade vinyl construction, to serve you for decades without breaking.
The enclosure comes in tan, white and black colors to give you various options to choose from. However, you can only use the enclosure if your golf kart's roof is 80 inches long and 48 inches wide.
The portability of Doorwork's 80-inch is also a plus. Our testers loved that the enclosure could be packed in its carrier bag and taken with them wherever they went.
Another reason why our expert testers love this enclosure is its ease of installation and use. To fit the enclosure,
Identify the front and rear sections of the enclosure
Throw it over the top of your cart and adjust it to fit snugly in the corners
Use the attached strands to fasten the cover tightly to the hooks at the four corners
The enclosure features quality dual-pull metal zippers on the door sections and the rear corners.
Use the dual-pull metal zippers on the front and rear door sections to enter and exit the cart. Your passengers can use the easy-to-use dual zippers at the rear corners to board and enclose themselves in the cart.
Another reason why I recommend this enclosure is that it gives clear views through its 20 gauge clear vinyl window.
💡 Golfible Tip: Need some breeze? Roll up the enclosure on the window sections and then hold them tight with the Velcro strap to allow air circulation.
This enclosure is ideal for all 4- passenger golf carts with an elongated 80-inch roof like:
Club Car Precedent
Club Car DS
EZGO S4/L6
EZGO TXT
EZGO Sport 2+2
Yamaha G Model
Yamaha Drive
---
Classic Accessories Fairway Golf Cart Deluxe Enclosure
Best For Two-passenger Carts
Rating: 9.1 /10
Pros
Durable zippers
Durable and water-proof construction material
Enhanced safety
Versatile
Cons
Its assembly might take time if you had zipped off components like doors and the windshield
The next golf cart enclosure on our list is the Classic Accessories Fairway Golf Cart Deluxe Enclosure. It is crafted from a heavy-duty protekX6TM fabric to withstand the bad elements.
One of the things I love about this golf cart enclosure is its easy installation. Throw it over the roof and pull the attached strands until the cover fits tightly on the corners. Finish by attaching the strands to the hooks.
📋 Keep in mind: It fits nicely on the bodies of most club cars, Yamaha, E-Z-Go four-person golf carts, and some carts with long roofs extending up to 80 inches long.
Another great thing about this enclosure is that its windscreen, doors, and windows can roll open to allow air passage into the golf cart. All you need is to secure them with rip-n-grip straps to prevent them from flapping back.
You can remove the quick-to-zip-off doors, windows, and windshield to get a breeze and create the perfect interior.
The crystalline polyvinyl chloride (PVC) material enhances the visibility of the golf course, fairway, and other terrains for easy maneuverability.
When not in use, you can pack your Classic Accessories Fairway Golf Cart Deluxe Enclosure in the padded handle storage bag (which comes with the package) and take it anywhere.
What's more, the classic enclosure features reflective piping to increase the cart's visibility in low-light conditions and reduce the possibility of accidents, which was a clear favorite among our testers.
📢 Need To Know: The Classic Accessories Fairway Golf Cart deluxe enclosure is ideal for two-passenger carts. However, the manufacturer can also offer enclosures for four and six-seater carts.
---
Happybuy Golf Cart Enclosure, 4-Person Golf Cart Cover
Best Budget
Rating: 8.5 /10
Pros
Easy to roll windows
Easy to use and durable zippers
Crystal clear windows
Cons
The 300D is less durable than the 600D construction.
The four-sided fairway deluxe by Happybuy may be your perfect choice if you are looking for an ideal enclosure for your four-passenger golf cart.
It features 300D Oxford cloth construction with PVC coating to seal every drop of water and inhibit the passage of ultraviolet rays, dust, cold and other elements.
On the window sections, Happybuy's golf cart enclosure features a super-clear PVC material to let you capture every detail on the golf course, fairways, or any other terrain while blocking the elements.
What impressed me even more about this enclosure during testing was its ease of installation and use.
To fit it, throw it over the roof of your golf cart, then adjust it to align the front and rear sections of the enclosure with those of your gold cart. Pull the attached strands to fit it tightly.
📢 Need To Know: The enclosure will only fit well if your four-seater golf cart is 78.7 inches long, 43.3 inches wide, and 59 to 65 inches high.
The cover has zippered openings on the sides to allow you and your passengers to enter and exit the buggy effortlessly.
Roll up the windscreen, the window, and the door sections of the enclosure to let in some fresh air to cool the insides. Thanks to the Velcro strap that holds the rolled-up window sections.
The enclosure comes with a 15.7×27.6 inches carrier bag. That means you can pack it in the bag and take it anywhere without necessarily fitting it on your buggy.
---
Buyers Guide: Things to Consider When Buying a Golf Cart Enclosure
When buying a golf cart enclosure, there are numerous factors you need to consider to land an enclosure that fits your cart well while giving long-lasting protection from harmful elements.
This section discusses three factors you need to consider before buying a golf cart enclosure.
The Golf Cart Design
As mentioned earlier, golf cart enclosures come in different designs to fit carts of various types.
For instance, you can find enclosures for four-sided carts, three-sided carts, long-roofed carts, and two-person carts, among others.
The primary design elements you need to consider are the dimensions of your golf cart, including the roof length, roof width, cart height, and the length and width of the base.
Understanding your cart design will help you pick an enclosure that fits it well.
The Construction Material
Typically, most golf cart enclosures on my list are crafted from a combination of PVC and 600D or 300D polyester material.
Though both of these materials offer complete protection from the elements, anecdotal reports from avid users indicate that 600-denier polyester enclosures can last longer than their 300-denier polyester counterparts.
You may also come across enclosures made from other materials, including canvas, marine-grade vinyl, etc.
Make sure you pick a material that can offer maximum protection from the elements for a long time without fading.
💡 Golfible Tip: Ensure that the PVC material on the window and door sections gives a clear vision of the fairways and all details on the golf course.
The Efficiency of Use
You can tell the efficiency of a golf cart enclosure by looking at its features. More specifically, an efficient enclosure should include features that enhance your focus on the golf course rather than the golf cart. These include:
Durable construction to allow for all-weather application
Easy-to-use zippers allow for easy entry and exit
Clear windows for high visibility
Rollable windows to let in some breezes during warm days
Velcro straps for holding the rolled-up sections and preventing zippers from splitting open
Buckle straps, adjustable elastic hem cord, or hooks for a snug fit
Reflective piping to enhance the visibility of the buggy in low-light conditions
How do you put on a golf cart enclosure?
Typically, installing a golf cart enclosure involves throwing it over the cart's roof and adjusting it before tying it to fit your cart at all corners. This YouTube video will give you insights about installing a golf cart enclosure.
Frequently Asked Questions about Golf Cart Enclosures
What Is A Track-Style Golf Cart Enclosure?
Track-style golf cart enclosure is a type of enclosure that fits under your cart's roof using pre-installed awning tracks. It comes in different sizes to cover two, four, and six-passenger buggies well.
Are Golf Cart Enclosures Different From Golf Cart Covers?
Yes. Golf cart enclosures are different from golf cart covers. More specifically, golf cart enclosures are meant for protecting golfers from rain, sun rays, and other elements while on the golf course, while the golf cart cover protects the cart from bad weather while in the garage store.
Are All Golf Cart Enclosures The Same?
No. all golf cart enclosures are not the same. They differ in terms of their construction material, features and size. After all, they are meant for use in different golf carts.