If you're just getting into golf, choosing the best golf clubs for beginners should be your priority. Getting this wrong means you'll not just end up wasting a ton of cash, but you'll also wreck your game!
Inappropriate clubs for your handicap will not adjust with your swing, cause injuries, and build incorrect muscle memory that'll be a challenge to get rid of later.
Our team has tested more than 25 of the best golf clubs for beginners before finalizing our top five choices.
Our analysis was based on quality, material, weight distribution, and handling, in addition to club types.
Read on and learn which clubs will best suit your game as a beginner and help you grow.
So, let's get into it!
Options For Best Golf Clubs for Beginners
Golf Clubs For Beginners Specification Table Comparison
Golf Club Set Name
Wilson Golf Ultra Men's 9-Club Set With Bag
Callaway Men's Strata Complete Golf Set (12 Piece)
Cobra Men's King F6 Hybrid and Iron Golf Club Set
TaylorMade Golf M6 Iron
LAZRUS Premium Golf Irons
Our Rating
9.3/10
Best Entry-level Affordable For The Money
9.3/10
Best Golf Clubs For The Money
9.0/10
Best Hybrid/Iron Combo Set For Beginners
9.2/10
Best Iron For Beginners
8.7/10
Best Iron Set For Beginners On A Budget
Pricing
Jump To Pricing Section
Jump To Pricing Section
Jump To Pricing Section
Jump To Pricing Section
Jump To Pricing Section
Number Of Clubs Included
9
12
8
8
7
Driver
10.5⁰ Loft / 460cc Head Size
10.5⁰ Loft / 460cc Head Size
N/A
N/A
N/A
Fairway Woods
3 Wood
3 Wood (15.5⁰ Loft)
N/A
N/A
N/A
Hybrids
4 Hybrid
5 Hybrid (26⁰ Loft)
4 Hybrid (19⁰-22⁰ Adjustable Loft) / 5 Hybrid (22⁰-25⁰ Adjustable Loft)
N/A
N/A
Irons
6,7,8,9
6, 7, 8, 9
6, 7, 8, 9
4, 5, 6, 7, 8, 9
4, 5, 6, 7, 8, 9
Wedge
Pitching (48⁰ Loft)
Pitching (44⁰ Loft)
Pitching (45⁰ Loft) / Gap (50⁰ Loft)
Pitching (43.5⁰ Loft), Sand (54⁰ Loft)
Pitching (45⁰ Loft)
Putter
Heel-Toe Weighted
Mallet
N/A
N/A
N/A
Type of Golf Bag
Stand Bag
Stand Bag
N/A
N/A
N/A
Headcover Included
Driver, Fairway Wood, Putter
Driver, Fairway Wood
N/A
N/A
N/A
Read Review
Jump To Wilson Golf Ultra Set Review
Jump To Callaway Men's Strata Review
Jump To Cobra Men's King F6 Hybrid and Iron Review
Jump To TaylorMade Golf M6 Review
Jump To LAZRUS Premium Golf Irons Review
---
Wilson Golf Ultra Men's 9-Club Set With Bag
Editor's Choice
Rating: 9.3 /10
uSA Suppliers (Also deliver to Canada)
Last Amazon price update was: September 22, 2023 8:44 am
Pros
Affordable set of golf clubs
Comfortable and durable lightweight golf bag with self-activating stand
Driver, fairway wood, and hybrid all come with matching head covers
Specifically designed for beginners
Cons
The sand wedge is not included
Might not be ideal for taller players
The dilemma of many beginners is getting a decent set of golf clubs on a tight budget. While you are still developing your golf game, you do not want to invest too much into clubs leaving you little money for balls, green fees, and other golf costs.
The Wilson Golf Ultra Men's 9-Club Set could well be the answer in your search for the best golf clubs for beginners.
This golf club set contains almost everything a new golfer needs, most appreciate the quality of the full range of clubs and the price is highly affordable.
Let's run through what you get in the 9-club set.
The driver has a 460cc head that is highly forgiving. Most beginners are impressed with the distance they are able to achieve off the tee with this driver. Next up you get a fairway wood as well as a handy hybrid. These clubs all come with matching head covers which is a pleasant bonus.
The irons are cavity backed for improved forgiveness and run from the 6 iron to the pitching wedge. Wilson has used perimeter weighting for improved forgiveness. Their irons have steel shafts.
Unfortunately, the sand wedge is not included but there are some great budget options available.
The putter is a heel-to-toe style. It is designed for accuracy and easy alignment.
The golf bag is comfortable with plenty of storage space. It is lightweight and ergonomically designed. The stand is self-activating.
All the clubs have been specifically designed for beginners so have good forgiveness and should be easy to launch. A common question we see from customers wondering about Wilson quality is: do any pros use Wilson clubs? Major winners like Padraig Harrington and Gary Woodland and many more use their clubs.
---
Callaway Men's Strata Complete Golf Set (12 Piece)
Best Golf Clubs For The Money – Overall
Rating: 9.3/10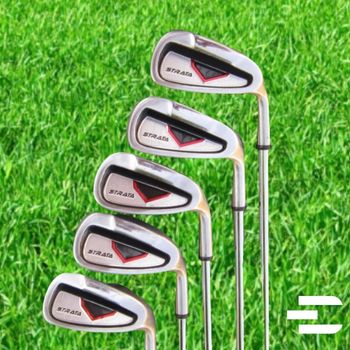 uSA Suppliers (Also deliver to Canada)
Pros
Great value set of clubs for money
Mallet putter which many beginners prefer
The driver is considered to be consistent and delivers impressive distance
Beginners should be happy with the inclusion of a 5 Hybrid
The irons offer forgiveness and control
The golf bag is comfortable and has lots of storage space
Cons
Some players might find the clubs a bit heavy
No sand wedge included
Beginners with a faster swing might find the shaft a bit too whippy
Callaway is a well known golf brand for their research and development and they have applied their knowledge, experience, and skills even to this relatively entry-level set of beginners clubs.
The Callaway Strata 12 piece set of clubs is really good value for money and contains everything you need as a beginner except perhaps a sand wedge.
The 12 piece description of the set is a bit of marketing-speak as two of the pieces are the driver and wood headcover but you still get a quality set that will suit the vast majority of beginner golfers.
This Callaway set contains the following:
First up is the forged 460cc driver. This driver is lightweight and has a titanium head. It allows for higher clubhead speed and the large sweet spot makes it highly forgiving. You also get a 3 Wood with a large and forgiving head.
The driver and 3 wood have good aerodynamics, as you would expect from Callaway, and this allows for more speed and distance. As mentioned above, these both come with headcovers.
Beginners need not battle with the tricky long irons as a 5 Hybrid has been included in the set. This hybrid should allow for more confidence, accuracy, and consistency on a range of long shots.
The irons are stainless steel and you get 6 to 9 irons. They have been designed to optimize control and forgiveness. Progressive sole-width technology and perimeter weighting help in this regard.
A pitching wedge has also been included. A sand wedge should probably be added to complete the set and there are many options that are affordable.
The putter is a mallet design that many new golfers find easier to get the hang of. It should aid beginners with alignment, accuracy and distance control.
Finally, the stand bag for the Callaway golf set is a backpack strap design preferred by many beginners. It has ample pockets and is light and durable. The golf bag also has a handy rain cover.
---
Cobra Men's King F6 Hybrid and Iron Golf Club Set
Best Hybrid/Iron Combo Set For Beginners
Rating: 9.0 /10
uSA Suppliers (Also deliver to Canada)
Last Amazon price update was: September 22, 2023 8:44 am
Pros
Sleek chrome plating
Multiple leading technologies
Highly versatile and forgiving hybrids
Will still work for you as your golf game improves
Cons
Relatively expensive
Not a complete set of clubs
If you are starting out but are serious about the game of golf and have a bit more budget for a set of clubs, this is an investment worth considering. It is not a complete set as you will still need to purchase a driver and possibly a wood but this gives you the freedom to select what is right for your swing speed and style. You will also need a putter and a golf bag.
What you do get is a top-quality combination of hybrids and irons that should help your game immensely. You will not have to replace them in a hurry as they will work well with you as your game improves and they are built to last. The main reason for the additional cost of this set is the leading technology that has been used.
TECFLO Construction means that a range of technologies have been combined to ensure the irons are progressive and each one is optimized to perform its role.
The speed channel sole allows for greater flex at impact for faster ball speeds and therefore more distance. It combines well with T.O.P which is an aluminum cap used on the dual cavity hollow irons. This reduces weight by as much as 5g to allow the weight to be redistributed to move the CG further back and lower resulting in what for most is an easier launch with better flight and distance.
The Progressive Spin Tech-F6 uses U-Grooves on the 7 to PW for more spin and greenside control. The 4 to 6 irons have V-Grooves for less spin.
---
TaylorMade Golf M6 Iron
Best Iron For Beginners
Rating: 9.2 /10
Pros
Highly forgiving clubs
Easy to launch
Good sound and feel
Decent playability
Cons
Pricey
Some found the irons a bit too light
As a beginner golfer, you might already have a set of clubs and want to slowly upgrade the various components. While most people start with the driver consider how much of your game is played with your irons. Again, this set is a fair investment but it is one that will last you a while and is good quality by any standards.
It is an iron set only so you will still need various other clubs but these are popular and highly rated irons that should help most golfers from absolute beginner right through to mid handicappers.
One of the key technologies is the speed bridge which creates what TaylorMade says is their fastest Speed Pocket yet. It increases forgiveness so even mishits still travel a good distance without too much loss of accuracy.
Another benefit of the speed bridge is that it improves the sound and feel of the irons. Many golfers agree that the M6 Irons have good feedback and a pleasing sound.
Overall, TaylorMade strived to make these irons highly forgiving while still offering good playability. Most agree that they achieved this. While most golf beginners might not need much playability at first, as they progress it will be a handy feature to have in your irons. Most of this is due to the 360-degree undercut which creates a low CG and the fluted hosel.
---
LAZRUS Premium Golf Irons Individual or Golf Set For Men
Best Iron Set For Beginners On A Budget
Rating: 8.7 /10
uSA Suppliers (Also deliver to Canada)
Last Amazon price update was: September 22, 2023 8:44 am
Pros
Low price
Grooves optimized for spin and control
100% Money back guarantee
Stepped steel shaft
Custom Lazrus grips
Cons
Relatively unknown golf brand
Not suitable for better golfers
Right hand only
While we have focused on the best golf clubs for beginners from some of the best and most well-known brands in the golf industry, we now look at a lesser-known entity.
Lazrus has not been around all that long and they certainly do not spend a fraction of what the others do on marketing. What they do offer, however, is really well-priced irons and wedges that many people enjoy.
Do not expect a huge range as this is a very basic set of irons. You will get 6 irons from the 4 to the 9 iron.
There are no hybrids and no wedges let alone the other clubs needed. That being said, the price of these clubs is incredibly reasonable. The vast majority of comments are positive indicating that Lazrus must be doing something right.
The irons feature deep grooves to optimize spin and control. They have a stepped steel shaft with regular flex. This should work well for the majority of beginners
If you are on a tight budget and wanting to upgrade your irons this is a set worth considering. As your golf game improves, you will probably want to upgrade your set but as you learn they should help improve consistency and performance.
---
Selecting the right golf clubs for beginners
What will you find in a great beginner golf bag set?
Not all sets of golf clubs are the same so you need to look at each option carefully according to your needs. As a beginner golfer, you might already have a selection of golf clubs. Some sets of clubs contain irons only, some are a combo of hybrids for the longer irons and regular irons while others are full sets.
Often a full set of clubs will include everything you need to get going although the sand wedge is often excluded. That is not an issue as you can pick up a decent sand wedge separately for a reasonable price.
If you need all the clubs it is a good idea to invest in a complete set of golf clubs. This will save you money and give you some consistency in appearance as well as performance.
A full set of clubs should include a driver, at least one wood, irons and possibly a hybrid or two for the longer irons, a wedge, a putter and a bag.
If you have a driver and putter that you are happy with you are generally better off investing in a set of irons or an iron/hybrid combination to complete your set. As the various aspects of your golf game develop you can always add to the set and upgrade various clubs as you go.
What should you look for in the different golf clubs as a new golfer?
As a golf beginner, there are a number of things you should look for when evaluating the various club sets.
This is the longest and often the most difficult golf club to hit well. Look for a driver with a large head. The largest allowed is 460 cc. This will give you a larger sweet spot and more forgiveness. Beginners often strike the ball off the tee less than perfectly and a forgiving driver will mitigate the damage.
You also want an easy launch so look at the loft and ensure the driver will still deliver a decent distance.
It is always useful to have a wood or two in your set of clubs. Again, look for forgiveness as your main criteria while ensuring the wood will still give you speed and distance.
Most golf beginners will find that cavity-backed irons are easier to hit successfully and consistently.
Hybrids have become extremely popular with all golfers but are particularly appreciated by beginners. Hybrids can be used to replace the longer irons (the lower numbers) as they are easier to launch and more forgiving. Consider a set of clubs that contains a hybrid or two.
Most full sets of clubs will come with a pitching wedge but many lack a sand wedge. If you do not have a sand wedge consider purchasing one separately to add to your set for those shorter chips and sand trap shots.
This is obviously an essential part of any set of clubs. The two main types are a heel-to-toe putter and a mallet-style putter. Many golf beginners find the mallet putter a bit easier but this is a personal preference. Try to experiment with both types of putter to establish which feels more comfortable.
Do not forget that you will need a bag to carry your clubs, accessories and other items around the golf course. Many full sets of golf clubs come with a bag. Look for one that is lightweight, durable, comfortable and has enough storage. You want a bag that you would be comfortable walking a longer distance carrying around and will handle usual wear and tear.
Do I need a complete golf club set as a beginner?
Again, this the need for a complete set of clubs will depend on your specific circumstances. If you already have a driver and a putter that you are comfortable with you can consider an iron or iron/hybrid set. If you need everything then buying a comprehensive set of clubs will be less expensive and more consistent than buying an individual driver, iron, hybrid, putter, and wedge.
How much should I spend on a set of clubs? In other words, what is the best price for golf clubs?
How much you spend on a set of clubs will depend on a number of factors. Your golf club budget is obviously the first consideration. Buying a full set of clubs, if you need a full set, will save you money. While there are some really affordable sets, the more you spend the better the technology will be.
While the more affordable sets of clubs are still good quality and should work well for you a more expensive set of clubs will last a long time and still perform well as your skills improve. Give some thought to how often you intend to play and how serious you are about golf before you buy a new set of clubs.
What Clubhead Size should Beginners Pick?
For a golf beginner, bigger is generally better when it comes to the best golf club. A larger clubhead will give you more forgiveness which is something extremely beneficial. The only downsides are that it will slow your swing speed down a bit and might reduce playability slightly.
The benefit of more forgiveness will, in most cases, far outweigh these drawbacks for a golfer. Beginners do not strike the ball consistently dead center so forgiveness is essential. Even mid-handicappers hit many off-center shots each round.
Selecting the correct shaft for a beginner
Selecting the right shafts is an issue many golfers puzzle over. The answer is relatively simple. It has more to do with your swing speed than your skill level. Not all beginners have a slow swing speed. It is quite often one sees a beginner with a fast swing.
Stiff shafts naturally has less flex than regular shafts. This would suit players with a faster swing speed. For beginners with a slow swing speed, regular shafts with more flex would be more effective. This distinction is important and will have a major impact on your distance.
Is There A Need For Custom Golf Club Fitting As A Beginner?
This is one of those yes and no questions. While there are definite benefits for beginner golfers getting clubs custom-fitted according to your swing speed, style, and size, it is not essential. As a golf beginner, you should be improving rapidly. Golf clubs that work well today might be different in a few months.
If you have the budget it will certainly not hurt to get custom fitting for your clubs but the general consensus is that you should give it a bit of time and get fitted once you have developed your swing a bit more.
Final Thoughts on Golf Clubs Best Suited For Beginners
While we feature and review only the very best golf clubs for beginners the Wilson Golf Ultra Men's 9-Club Set really stood out for us as a top pick. It is a full set of clubs with everything needed bar the sand wedge. The price for this set is great, the quality of the clubs is good and this is the ideal starter set for any golf beginner. All aspects of this set of clubs will work well for most beginners.
Give some thought to your current golf clubs and your needs in order to determine the best option for you. If you are a beginner golfer, do your research, ask questions, and try out different sets of clubs before you buy. You and your golf game will be better off for the effort.
FAQ
Should a beginner get fitted for golf clubs?
It is recommended that beginners invest in lessons before getting fitted. This way they can achieve solid contact and become comfortable with a swing before purchasing a set of fitted clubs. Should they get fitted and have never hit a ball in their lives, the fitting could be incorrect.
What are the golf clubs needed for a beginner?
10 clubs is sufficient for a beginner. A fairway wood, iron and putter are key clubs to learn how to hit when you're first learning the game. It's important to know what club to hit in different situations on the course. 
Do golf clubs matter for beginners?
When someone begins their golf journey it doesn't matter what clubs they use. It's important for the person to learn how to strike the ball solidly and build a consistent swing they're comfortable with. Hitting the ball square is more important than the type of club being used at the beginning stages.
Do beginners need a full set of golf clubs?
No, beginners do not need a full set of clubs. They can play with eight or nine clubs when starting to learn. A wood, set of 5-9 irons, a pitching wedge, sand wedge and putter are enough.