Golf is one of the only sports where no matter how old someone is, they still have the potential to be extremely competitive. Seniors make up a large part of recreational and professional golfers. Finding the best golf clubs for seniors can help ensure that the older a golfer becomes, the better their results on the course will be.
Below we have reviewed the top senior golf clubs on the market and have identified their strengths and weaknesses.
Best Golf Clubs For Seniors
Short on Time? Here's A Quick Product Synopsis
Editor's Choice
Rating: 9.3/10
Features a 460cc ultra-light driver to increase distance off the tee.
Large sweet spot on irons increases forgiveness.
5-hybrid included replaces 5-iron.
Budget Option
Rating: 9.0/10
Nine club set were created to help beginners improve.
Cavity back irons designed to make solid contact easier.
Comes with blade-style putter.
Most Forgiving
Rating: 8.6/10
Weight positioned behind sweet spot for improved contact.
Low center of gravity helps launch the ball into the air.
Clubs come with lightweight graphite shafts.
Best For Women
Rating: 9.3/10
Set includes lightweight carry bag.
Wilson Easy Launch sand wedge included aiding with bunker shots.
The driver has a massive sweet spot.
Best Clubs For Tall Seniors
Rating: 9.0/10
Available in different models for short or tall golfers.
Irons are modeled after Callaway irons.
One-year warranty included with purchase.
Features in senior clubs
There are many different features to look for when looking for the best golf clubs for seniors including forgiveness, weight, shaft flex, loft angle and the way the club heads are designed.
Senior clubs vs. regular clubs:
Senior clubs are ideally created to be more forgiving and friendly for slower swing speeds than regular clubs. They are made to make up for the lack of power in a stroke. Some seniors struggle in different areas and have different needs such as requiring a set of hybrids rather than traditional irons.
Clubhead forgiveness
Many senior clubs feature club faces that are designed to maximize forgiveness. In many cases a large cavity back is added to minimize the damage on mishits and make it easier to have solid contact. Senior clubs also usually have extremely large sweet spots to help strike the ball cleanly.
Weight
In most senior clubs the weight and center of gravity is placed lower just behind the sweet spot. This allows the club to swing smoothly and allows seniors to replicate their swing over and over to try and consistently make solid contact.
Flex Ratings
There are different types of flexes on golf clubs and having the right one for your swing can improve your performance immensely. Flexes vary from regular, stiff, extra stiff, ladies and senior flex. As a golfer gets into their senior years if they cannot maintain the same swing speed they once had they should consider switching to a senior flex.
Senior Flex Golf Clubs
A senior-flex shaft is recommended for golfers who swing slower than 70 miles per hour. Driving distance can also help determine if someone needs to switch to a senior flex. If someone is getting older in age and has their swing slowing down and only drives the ball 200 yards, it is appropriate to switch to a senior flex. Senior flex shafts don't ensure distance as good as extra stiff flexes but they help with accuracy.
Senior Flex vs. Regular Flex
Regular flex shafts are meant for the average golfer who have swing speeds around 90-100 mph. These flexes bend but are stiffer than senior flex golf clubs. When purchasing clubs and you see lite flex vs. senior flex, don't be confused. The meanings are the same and this also includes "A" flex.
Do you need senior flex golf clubs
If you're swing speed has been declining and you haven't had the results you once had with regular flex clubs then it is probably time to switch to a senior flex. Finding the best senior flex golf clubs for your game can have a drastic impact on your scorecard.
Loft Angle
The loft angle for golf clubs is the degrees on the face of the club when put flat on the ground at address. Drivers have the lowest loft angles at usually 8.5-11.5 degrees. Middle irons such as five irons are usually 28 degrees and seven irons are commonly found at 34 degrees. Higher numbered irons such as the nine iron are usually 41 degrees and a stock pitching wedge is usually 43-45 degrees. Wedges can vary from 46-64 degrees. The higher the number of degrees, the higher the ball is supposed to fly in the air. The lower the degrees, the farther the ball flight.
Sets with hybrids
Seniors who have trouble making solid contact with longer irons should consider when they buy a set of clubs that they include four or five hybrids rather than four or five irons.
---
Callaway Men's Strata Complete Golf Set
Editor's Choice
Rating: 9.3 /10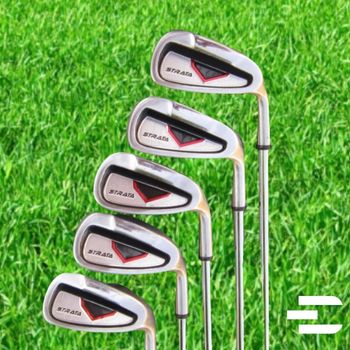 uSA Suppliers (some deliver to Canada)
Last Amazon price update was: December 5, 2022 7:40 pm
Pros
Cavity back irons help seniors with forgiveness
Hybrid 5-iron aids golfers who tend to mishit long irons
3-wood is oversized making it easier to hit
Cons
Pricier than most sets of senior clubs
Full set but only includes a pitching wedge not a variety of wedges
Callaway Golf is one of the most reliable and reputable club makers on the market. Once again the company has made a superb set of clubs with the Callaway Men's Strata Complete Golf Set.
The 12-piece set includes a driver, 3-wood, 5-hybrid, six through nine iron, pitching wedge and putter as well as a stand bag.
The clubs were designed to provide maximum forgiveness and control which helps increase distance for seniors and all golfers.
The driver in the set is 460cc forged and ultra-lightweight with a large sweet spot to enable long accurate tee shots. The 3-wood is oversized and has an aerodynamic head shape to increase loft upon impact.
The 5-hybrid is perfect for seniors who have trouble hitting their long irons and gives confidence.
The irons are designed with a medium sized cavity back to enhance forgiveness and accuracy.
The clubs are silver and blue and the bag is sleek with a black and blue finish. An all-black blade putter with an alignment aid is included with the set.
Since the set includes every type of club, a player can head straight to the course after purchase.
---
Wilson Golf Ultra Men's 9-Club Set
Budget Option
Rating: 9.0 /10
uSA Suppliers (some deliver to Canada)
Pros
Cavities on irons help mishits be not as bad versus other irons
Large lightweight driver helps improve swing speed and distance on drives
Available for both left and right handers
Cons
Only nine clubs in set compared to other sets with more clubs
The 5-hybrid may not be ideal for players who enjoy hitting long irons
This nine club set comes with a driver, fairway wood, hybrid, six iron through pitching wedge, putter, golf bag, and head covers.
The clubs were created to be forgiving and inspire confidence. The set comes in both right and left-handed dexterities and are standard length.
Forgiveness in the cavity backs is designed to help beginners to low handicappers improve their game.
The Wilson Ultra putter in the set is a sleek silver, red and black. It also has a blade-shape and an alignment aid.
The 460cc driver has a low-point of gravity and huge sweet spot to ensure long and accurate drives when hit correctly.
---
Majek Golf All Hybrid Complete Full Set
Most Forgiving
Rating: 8.6 /10
uSA Suppliers (some deliver to Canada)
Last Amazon price update was: December 5, 2022 7:40 pm
Pros
All hybrids so each club has maximum forgiveness
Alignment aid makes it easy to aim at the target
Low center of gravity increases launch angle for high-lofted shots
Cons
Not a complete set
Doesn't include headcovers or a bag
The Majek golf set is composed of all hybrids making it them very forgiving and easier to hit than regular irons.
The set was co-created by members of the UCLA engineering department to design clubs meant to be easily hit.
The weight is positioned behind the sweet spots on the club heads to enable better contact at impact and increase ball flight.
The wide to thin crown creates a lower center of gravity which improves the launch angle leading to more distance.
The clubs come with lightweight premium graphite shafts helping achieve higher swing speeds. The arrow markers and black crown allows golfers to line up their shots easily and it gets rid of the glare from the sun upon address.
---
Wilson Golf Profile SGI Women's Complete Golf Set
Best For Women
Rating: 9.3 /10
uSA Suppliers (some deliver to Canada)
Pros
Includes a sand wedge which many sets do not include
Has lightweight graphite shafts for faster swings
High-lofted driver for increased distance
Cons
Only one fairway wood included
Pitching wedge is shaped like a blade so it may be difficult to hit for beginners
The Wilson Golf Profile SGI is our recommended set of best golf clubs for seniors that are women. The set includes a lightweight bag that features air flow adjustable shoulder straps so that if a golfer feels like walking the course they won't be held down by a heavy bag.
The set comes with 10 clubs including a driver, fairway wood, hybrid, irons six through nine, pitching wedge, a Wilson Easy Launch sand wedge and a putter. All clubs are equipped with graphite shafts.
The driver in the set is high-lofted and features a huge sweet spot for better trajectory and more distance off the tee.
The Easy Launch sand wedge has a wide sole and low weight for control around the greens and improved accuracy.
The putter is weighted in the heel and toe and comes with a soft alignment grip that enables good distance control. Straight putts are also promoted when aligned correctly.
The set is available for both left and right-handed golfers.
---
AGXGOLF Senior Men's Magnum Edition
Best Clubs For Tall Seniors
Rating: 9.0 /10
uSA Suppliers (some deliver to Canada)
Last Amazon price update was: December 5, 2022 7:40 pm
Pros
Large sweet spots promote solid contact and distance
Irons are created to replicate Callaway Golf Irons
460cc driver has large head and helps with long tee shots
Cons
Doesn't include a 4-iron or 4-hybrid
Relatively unknown brand around the golf world
These golf clubs are available in various sets and were created for seniors that are short or tall ranging from 5-feet-2 inches to 6-feet-7 inches.
The AGXGOLF sets include a 460cc driver as well as woods and a hybrid that all feature graphite shafts. The irons included were modeled after Callaway Golf irons and have stainless steel shafts.
When a set is purchased, a one year warranty is included.
The irons included in the set are five through nine and the hybrid included replaces a 3-iron. An all-black putter with white stripes for alignment is also included.
The clubs are only made for right-handed players.
Conclusion
Making the switch to golf clubs for older players can be a difficult decision. If a golfer is looking for an "inbetween" type set between senior and standard clubs, our editor's choice, the Callaway Strata Complete Set, is a good option.
With its 12 clubs and golf bag, the set is ready to be taken straight to the course. The Strata's focus is on forgiveness and length and includes a clean design.
FAQ
Are graphite shafts better for seniors?
Graphite shafts are better than steel shafts for senior golfers. The lightweight shaft helps seniors increase swing speed. This helps with contact, length and consistency. Seniors should switch from steel to graphite. 
What is the most forgiving golf clubs for seniors?
The TaylorMade Stealth irons are the most forgiving irons for older players. The club features a huge cavity back, massive sweet spot, 450 stainless steel face and a Thru-Slot Speed Pocket. It is also extremely lightweight. All these factors aid seniors in making solid contact and increasing their swing speed which often leads to lower scores. 
What is the difference between senior and regular golf clubs?
The flex is the difference between senior and regular golf clubs. Regular flex shafts are stiffer and heavier than senior flex. This means they are better for golfers with faster swings. Light and flexible senior shafts are better for slower swing speeds.
Should older golfers use lighter clubs?
Golf clubs that are lightweight enable players to swing easier and more natural. This is especially useful for seniors that could find it difficult to swing heavier clubs. Graphite shafts are what make the clubs lighter.