Taller players require a longer club shaft length. Using the right golf club and shaft length will complement your performance and improve your swing accuracy.
Having the right club is crucial if you're a tall player, as it enables you to swing freely and bring power into your shots. It also prevents any risk of a lower back injury that might come with shorter clubs.
But getting your hands on the best golf clubs for tall players is a challenge as there are dozens of options to choose from, and only a handful of them fit the bill.
Aerodynamics, weight, build quality, shaft length, and perfect alignment—Many variables increase the chances of getting the wrong club.
Luckily, our team of experienced golfers has tested over 20 golf clubs for tall players before compiling a list of the best options.
So if you're in a hurry, look at our top 3 picks.
But if you want a detailed analysis of all the clubs, jump right into the article!
Best Golf Clubs for Tall Players
Product Specification Table Comparison
Golf Club Set Name
Callaway Men's Strata Ultimate Complete Golf Set (16-Piece)
Pinemeadow Men's PGX Golf Set (Regular Flex)
Wilson Staff Deep Red Tour Complete Golf Set Men's
Our Rating
9.3/10
Editor's Choice
8.8/10
Best Value Golf Clubs For Tall Players
9.1/10
Best For A Bigger Budget
Pricing
Jump To Pricing Section
Jump To Pricing Section
Jump To Pricing Section
Number Of Clubs Included
16
9
10
Driver
12⁰ Loft / 460cc Head Size
10.5⁰ Loft / 460cc Head Size
10.5⁰ Loft / 460cc Head Size
Fairway Woods
3 Wood (15⁰ Loft)
3 Wood (15⁰ Loft)
3 Wood (15⁰ Loft)
Hybrids
4 Hybrid (22⁰ Loft) / 5 Hybrid (25⁰ Loft)
4 Hybrid (24⁰ loft)
5 Hybrid (23⁰ loft)
Irons
6,7,8,9
5, 6,7,8,9
6,7,8,9
Wedge
Pitching (46⁰ Loft /Sand (56⁰ Loft)
Pitching (45⁰ Loft)
Pitching (46⁰ Loft /Sand (55⁰ Loft)
Putter
Blade
N/A
Blade
Type of Golf Bag
Stand Bag
N/A
Stand Bag
Headcover Included
Driver, Fairway Wood, Hybrids
Driver, Fairway Wood, Hybrid
Driver, Fairway Wood, Hybrid
Read Review
Jump To Callaway Men's Strata Ultimate Complete Golf Set Review
Jump To Pinemeadow Men's PGX Golf Set Review
Jump To Wilson Staff Deep Red Tour Complete Golf Set Review
---
Callaway Men's Strata Ultimate Complete Golf Set (16-Piece)
Editor's Choice
Rating: 9.3 /10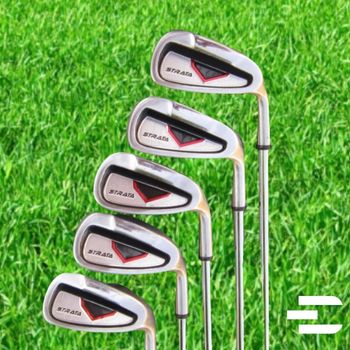 uSA Suppliers (Also deliver to Canada)
Pros
Full set of clubs
Good value for money
Quality driver and wood
Includes golf bag
Handy hybrids
Decent putter
PW and SW included
Cons
Callaway brand not displayed
Some found the durability lacking
This complete set comes with everything you need to get going and is a popular choice for beginners. Some tall players will probably want to have the clubs lengthened and given the value for money the Strata Set offers this should be easily affordable. The set is suitable for beginners as well as intermediate golfers.
You will get a good range of clubs with this set and we will take you through the options shortly. The clubs are designed to be easy to hit and forgiving.
OK, let's take a look at what you get in the 16-piece Callaway Men's Strata Ultimate Complete Golf Set. You will receive a stand bag, a driver, 3 wood, 4 and 5 hybrids, irons 6 to 9, a PW and SW as well as putter. They even throw in 4 head covers.
The driver is titanium with a large and forgiving sweet spot on the 460cc head. This should give you confidence off the tee. It has a 12-degree loft and should generate decent distance. Callaway has a reputation for leading drivers and woods and these are no exception.
The 3-wood fairway wood has a steel head and is also generously sized for forgiveness. Being Callaway woods you can still expect solid distance.
Hybrids have become a popular choice for the longer, harder to hit low irons. The set comes with 4H and 5H hybrid irons meaning you will not have to play the tricky 3 to 5 irons. Again, this is great for beginners as well as most intermediate golfers.
They are easy to hit and highly forgiving. The hybrids are useful when you have a difficult lie in the rough and are just as competent off the fairway or for use on shorter holes off the tee. Most find that the hybrids offer good consistency and accuracy and are well-liked by the majority of golfers.
The irons, again, are easy to play and offer ample forgiveness. They range from 6 to 9 and you also get a decent pitching wedge and sand wedge. Both mid handicappers and beginners will find them to be effective.
The irons have an offset clubface which makes launching easier. Callaway ensured the weight is concentrated around the perimeter for added forgiveness. The sweet spot is a good size and mishits will still deliver a decent distance without too much loss of direction.
The stainless steel irons feature flight control which not only helps with forgiveness but also allows for good distance.
Importantly, the set comes with both a pitching wedge as well as a sand wedge. The latter is often lacking in club sets so its inclusion means that you have one less club to spend money on.
The putter that comes in the set has precise face milling for enhanced control and accuracy.
As a full set, you get a lightweight bag with tee holders, handy pockets and a back strap. It is durable and gets the job done. This is a popular set and offers some of the best golf clubs for taller players.
---
Pinemeadow Men's PGX Golf Set-Driver, 3 Wood, Hybrid, 5-PW Irons (Regular Flex)
Best Value Golf Clubs For Tall Players
Rating: 8.8 /10
uSA Suppliers (Also deliver to Canada)
Last Amazon price update was: December 6, 2023 5:10 am
Pros
Very low price
Includes head covers
Appealing looks
Large forgiving driver
Irons have a wide sole
Cons
Putter and sand wedge not included
No bag with the set
Pinemeadow is often not the first name that comes to mind but they a well-established and successful brand. They make quality golf equipment at affordable prices and this Portland, Oregon Company has many years of experience. They do not spend a huge amount of money marketing and promoting the brand which helps to keeps costs down.
While this set is a bit more basic it has everything most golfers need to get going. One can always add to the set as necessary. It is great for beginners that want to get into the game without spending a fortune or intermediate players on a tight budget that want to upgrade from older clubs. This set is ideal for tall golfers. It provides the important clubs at a decent price and the shafts can always be lengthened if necessary. This large set makes it a good option for tall golfers and is an option worth looking at.
The set consists of a forged 460cc driver, a 3-wood that is highly forgiving, a decent hybrid and irons from 5 to the pitching wedge. All you will need to add if you do not already have, is a putter, a golf bag and possibly a sand wedge. When shopping for extras be sure to check out our golf glove reviews.
The driver has a large 460cc head for power and forgiveness. The graphite shaft is light allowing for higher club head speeds and therefore distance. Many beginners and amateurs will appreciate the forgiveness and ease of use the driver offers.
The fairway wood is a 3-wood and delivers a decent distance. It also has a graphite shaft. The hybrid is a popular choice for many shots and is much easier to hit than the average long iron. It will give an easy launch with good distance and forgiveness. It is especially useful when you have a poor lie. The above 3 clubs all have a white finish which makes alignment at address fairly easy.
The irons have a wide and large sole for easier turf interaction and better contact with the ball. They are optimized for an easy launch and offer good spin for greater control.
Again, the shafts all have a standard length so it is recommended that taller players have them lengthened should the need longer clubs.
---
Wilson Staff Deep Red Tour Complete Golf Set
Best For A Bigger Budget
Rating: 9.1 /10
uSA Suppliers (Also deliver to Canada)
Last Amazon price update was: December 6, 2023 5:10 am
Pros
Quality technology and materials
One option specifically designed for taller golfers
Comes as a complete set with everything you need
Large yet aerodynamic driver
Durable lightweight back with automatic stand
Cons
Slightly more expensive than other options
Not ideal for better golfers
If you are a slightly more experienced golfer and have the budget to invest in a quality set the Wilson Staff Deep Red Tour Complete Golf Set is worth a closer look. One advantage for taller golfers is that they have an option specifically designed for such players. You might still want to check them out to ensure they are the right height for you but it is good to know there are off the shelf options that could work well.
Wilson has not held back and the technology and materials used are quality. In the set, you will receive a driver, a 3-fairway wood, a 5 hybrid, irons 6 to 9, a pitching wedge, sand wedge, and a putter. The set also includes a quality lightweight bag as well as 3 head covers.
The driver has an aerodynamic 460cc head with a large and forgiving sweet spot. It has a 10.5-degree loft designed for distance, accuracy and a good launch. It comes with a light graphite shaft. Most people enjoy the low center of gravity on the fairway wood as well as the easy to hit hybrid.
The irons are stainless steel deep cavity backs with an undercut. They are built for accuracy and distance without compromising on forgiveness. Wilson has designed the higher irons with good control for more precision around the green.
A heel to toe design has been used for the putter and it has an anti-glare finish. The soft polymer face insert improves accuracy and feel. There is also a decent alignment aid on the putter for those that like them.
The bag is durable and lightweight with multiple pockets and an automatic stand.
Do you really need a lengthened club set If you are tall?
Tall golfers often feel that standard-sized clubs do not work well for them. This is understandable but the truth is there are multiple variables to consider. Height alone does not dictate the length of club one should purchase. Even average golfers often believe their clubs are far from an ideal height. The range in club length from a driver to a short iron or wedge is enough to bewilder many players, particularly those new to the sport.
The first thing we recommend is playing with regular standard clubs for a while first to see how that works out. Many will find that they actually work well and allow for decent golf. Once you have found your natural stance and swing you will be in a better position to decide if longer clubs are the answer.
If you think about it, many tall people have long arms. This will negate the need for longer clubs. The important measurement is the distance from your wrist to the floor. This often has little to do with height.
Your stance, posture, swing style, proficiency, and numerous other factors all come into play. Some golfers have a naturally lower posture, for example, while others address the ball with a more erect stance. It is therefore recommended that you get a feel for regular clubs before making decisions on lengthening new or existing clubs.
The bottom line is that height does not have that much to do with finding the ideal club length.
Does Golfible Recommend Pre Lengthened Golf Clubs?
The short answer is no. The reason for this is that the vast majority of these "pre lengthened" options available are not the greatest clubs on the market. They are generally inferior brands that are trying to capitalize on the misconception that taller golfers need longer clubs. As you have seen above, this is not necessarily the case. They are generally overpriced for what you get and not worth what you pay.
It is understandable that taller golfers might believe they need longer clubs. This is especially true of new golfers. For most beginners, the majority of clubs feel uncomfortable or "wrong" at first, irrespective of your height. As your game develops this feeling diminishes and taller golfers generally find that standard clubs work just fine.
Most sets are designed to suit a range of golfers from around 5.5 feet to 6.5 feet plus. Unless you are exceptionally tall, or tall with relatively short arms, you will probably find, with a bit of experience that regular clubs work.
It is also worth noting that the longer the club, the harder it is to control. If you do not specifically need a longer club you will be reducing your control and this could do your game more harm than good.
What if I really do need longer clubs?
If, after some time and practice, you still feel that longer clubs are the answer, there is a simple solution. Rather than buying a cheap set of clubs that are "designed" for taller players, buy a quality set in your price range and have them lengthened. This is not prohibitively expensive and will allow you to get quality clubs that suit your game and have them lengthened to the ideal length.
If you are 6ft 5in plus you might want to consider a longer shaft but rather invest in a set that you enjoy and simply have them lengthened. If you are under this height and not a top golfer, you will probably be more than effective enough with regular quality clubs.
To fit or not to fit
Golf club fitting is a popular exercise but is it really important or necessary? The main reason clubs and shops offer fitting is to convince you to buy from them and to buy the set that suits their needs. Ok, that sounds a bit harsh and most places are trying to offer a valuable service but they will generally have their business interests at heart.
Professional fitting can be helpful, particularly as your game improves. Better players struggle to shave shots the lower their handicap becomes. A minor change for a low handicap golfer can help them achieve this. It rarely has a dramatic effect for less experienced golfers, those with a higher handicap.
Before we get into the pros and cons of club fitting, it is important to note the club length is one small aspect of the process and is rarely reason enough for professional fitting. If done correctly, there are advantages to fitting.
Advantages of fitting
The club will be designed to match your swing style
It should work well with your swing speed
Disadvantages of fitting
It can be expensive
You could be pressured into buying more expensive clubs
If you are still developing your style and speed will soon change
Unless you have a particularly unusual height or shape or are a low handicap player needing to make incremental improvements to your score, fitting is seldom a worthwhile investment. If you do decide to go ahead, ensure you go to a reputable outlet that is recommended and trustworthy.
If you are playing off a high handicap and still finding your style, even if you are tall, rather invest in better quality equipment or more rounds of golf before spending money on fitting.
Conclusion
Hopefully, that will give taller golfers more clarity. With a few exceptions it is not necessary to get longer clubs if you are taller and if you do, purchase a quality set and have them lengthened.
We have given you 3 leading options but the Callaway Men's Strata Ultimate Complete Golf Set, our Editor's choice is our recommendation as the best golf clubs for tall players. It is a quality complete set that has the right properties, construction, and materials needed to enhance your game. Each club has unique qualities and features that many golfers appreciate.
Consider your budget and specific requirements to find the ideal set for your needs.
fAQ
Do tall golfers need longer clubs?
Yes, golfers who are 6-feet-1 inch and taller do need to use longer clubs than standard length. It all depends on what length they are comfortable with, but it is recommended to go to a fitter to have clubs adjusted to match your height. Golfers who are shorter around 5-feet-6 inches should use shorter clubs than standard lengths.
Is being tall a disadvantage in golf?
No, being tall isn't a disadvantage in golf, there are pros and cons to being short or tall in golf. Being taller means you will likely have a more steep swing and swing down on it. This can play to a golfer's advantage when trying to strike the ball cleanly. The disadvantage will be having to spend more money on longer clubs. 
What length should my golf clubs be for my height?
If you're 5-feet-8 to 6-feet, standard off the rack clubs work just fine. If you're taller than 6-1 to 6-2 add ¼ inches to the club length. People who stand 6-3 and 6-4 should add ½ an inch to the length. If you're 5-7 or 5-6 subtract ½ an inch from the shaft length.