Finding the best golf clubs for the money can have a significant impact on both your game and wallet.
As golf companies create new clubs every year, previous models become lower in price. A super expensive and high-end set of clubs won't ensure a golfer low scores and neither will the cheapest. Clubs that have the right technology and features such as large sweet spots, center of gravities in the right spots and that feel easy to swing are examples
In this article we will focus on five sets of clubs that are good quality for the money.
Best Golf Clubs for the Money
Short on Time? Here's A Quick Product Synopsis
Editor's Choice
Rating: 9.3/10
Features black mallet putter with easy to use alignment aid.
Callaway's budget option for a set.
Designed to be extremely forgiving for beginners.
Best Entry Level Affordable For The Money
Rating: 9.0/10
460cc driver included with large sweet spot.
Nine clubs in the set including matching headcovers.
Features medium cavities for forgiveness.
Best Hybrid / Iron Combo Set For The Money
Rating: 9.0/10
Available in a variety of options.
Jailbreak technology allows for more distance.
Metallic black finish.
Best Iron Set For The Money
Rating: 9.1/10
Speed pocket technology increases distance.
Design prevents unwanted vibrations at impact.
Set comes only with irons.
Best Junior Golf Club Set For The Money
Rating: 9.1/10
Can be purchased in 13 different variations.
Features huge sweet spots on every club.
Friendly to use putter included for children learning to putt.
---
Callaway Men's Strata Complete Golf Set
Editor's Choice
Rating: 9.3 /10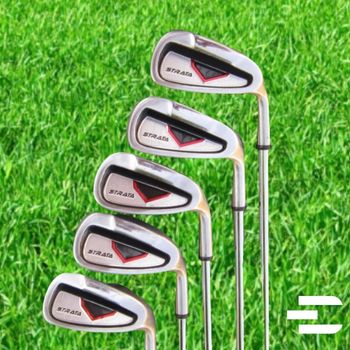 uSA Suppliers (some deliver to Canada)
Last Amazon price update was: December 5, 2022 12:36 am
Pros
Very affordable for Callaway clubs.
Cavity-back irons maximize forgiveness.
460cc driver replicates top drivers on the market.
Cons
Only contains one wedge.
Only includes 12 clubs compared to other Strata sets that have more.
The Callaway Men's Strata golf set is our choice for best golf clubs for the money. This complete set comes with 12 clubs including a driver, 3-wood, 5-hybrid, six through 9-iron, pitching wedge, putter, stand bag and two head covers.
The clubs are one of the more affordable sets made by Callaway Golf, one of the best brands of clubmakers in the golf world.
The driver included in the set is extremely forgiving with its massive sweet spot. It is very light and features a titanium head. It is also 460cc. The 3-wood in the set is considered oversized and was designed aerodynamically which helps get the ball long and high.
Instead of a traditional 5-iron, this set includes a 5-hybrid to make long iron shots easier to hit. It can also be used to bump and run the ball around the greens or on the fringe. The six through nine irons included are stainless steel and have a large cavity for maximum forgiveness. A pitching wedge that is the same style of the irons was also made for the set.
The sleek black mallet putter included in the bag is easy to use and features an alignment aid when trying to hit straight putts.
---
Wilson Golf Ultra Men's Set
Best Entry Level Affordable For The Money
Rating: 9.0 /10
uSA Suppliers (some deliver to Canada)
Last Amazon price update was: December 5, 2022 12:36 am
Pros
Includes matching head covers to protect club heads.
Very low price.
Designed with forgiveness.
Cons
Only includes one fairway wood.
Having only nine clubs might force a buyer to purchase more clubs.
The Wilson Golf Ultra set is an ideal beginner set of clubs for someone just starting out the game of golf. The clubs were designed to be forgiving to golfers who are learning how to play. The large sweet spots on every club promote solid contact which is essential to good hits and increases confidence in new players.
The set comes with nine clubs including a driver, fairway wood, hybrid, six through pitching wedge, putter, bag, and head covers.
The driver is 460cc and comes equipped with a graphite shaft so it can be swung fast and smooth.
Wilson added medium-sized cavities (perimeter weight on clubhead) to the irons to add forgiveness on mishits. The driver and woods say "SL" on them for super long and the irons have the two words spelled out.
The blade putter included in the set is silver, black and red and comes with an alignment aid.
The set is available for both right and left-handed golfers.
---
Callaway Golf Men's Rogue X Combo Set
Best Hybrid / Iron Combo Set For The Money
Rating: 9.0 /10
uSA Suppliers (some deliver to Canada)
Pros
Extremely forgiving.
Available in multiple options.
Hyper Speed Face Cups allow for forgiving hits when hit off-center.
Cons
Not a complete set.
Pricier than most clubs.
The Callaway Men's Rogue Combo clubs are an ideal set for golfers trying to improve their game or maintain solid contact at impact.
The set comes with two hybrids and four to six irons depending on what configuration is bought. The hybrids can range from a three to a six-hybrid and the irons can range from a five to a nine-iron.
The flex of the club can either be regular, stiff or senior. Shaft options included are KBS Max 90 steel or graphite.
The center of gravity in the clubs is moved lower in the clubhead to increase distance and ball flight when hit.
The irons combine 360 Face Cup technology and Variable Face Thickness to ensure faster ball speed when struck. The technology allows for more mishits to be successful.
Callaway added a Carpenter 455 steel face to the hybrids to make sure the clubs last a long time and don't show wear. Jailbreak technology allows for a good feeling when the clubs are hit. The hybrids also include Callaway's Hyper Speed Face Cups that keeps ball speed fast no matter where the ball strikes the club face.
The set is more expensive than the previous two sets but are some of the highest rated clubs on the market.
---
TaylorMade Golf- RocketBladez 2.0 Irons
Best Iron Set For The Money
Rating: 9.1 /10
uSA Suppliers (some deliver to Canada)
Last Amazon price update was: December 5, 2022 12:36 am
Pros
Modern-looking design allows for more confidence.
Low center of gravity helps increase ball flight.
Speed pocket prevents unwanted vibrations when hit.
Cons
Set only comes with irons.
Thin face may be hard to hit for beginners.
TaylorMade Golf is known for its high-quality clubs and is one of the most played brands on the PGA Tour. The RocketBladez 2.0 irons are reliable like all the clubs they make.
The iron set is available in many different options for both left and right-handed golfers.
Taylormade uses its Speed Pocket technology in these irons to enable high ball speeds and help golfers hit it longer. The club faces have cavities but are thin and feel smooth when hit correctly.
The irons contain 17.5 grams of weight in the lower central part of the clubhead to increase trajectory and launch.
The speed pocket features polyurethane material to add increased comfort and less vibration at impact.
Taylormade improved the shape of the club heads with an inverted cone shape that allows golfers to gain more control and hit their irons a certain distance consistently.
---
Wilson Golf Profile JGI Junior Complete Golf Set
Best Junior Golf Club Set For The Money
Rating: 9.1 /10
uSA Suppliers (some deliver to Canada)
Pros
Designed to be friendly and forgiving for children.
Lightweight and easy to swing.
Huge sweet spots on each club.
Cons
Wedge is blade-like so might be difficult for youth golfers to hit.
Not available for adults who are beginners.
The Wilson Golf Profile junior clubs are available in five different sets for small young golfers to teenagers.
The clubs can be purchased in sizes small, medium or large, with two different options for both medium and large. When selecting a bag itself with a full set of clubs, there are 13 total options available.
All sets include a driver, hybrid, short iron, wedge, putter, bag and headcovers.
In the driver, the weight is placed extremely low to help get kids accustomed to swinging the driver regularly. The hybrid in the set has a massive sweet spot and can be easily hit from the fairway or out of the rough.
The irons have medium cavity backs and were created to be extremely forgiving and helpful when children are trying to develop a natural swing speed.
What do we mean by 'For the Money'?
When we say "for the money" in our article we mean the best clubs in terms of quality and performance for the price. For example, the Callaway Strata set is priced around $200-$240 most places online. Based on its performance and our reviews, it is a solidly built set of clubs with forgiveness and is a great deal for the price.
Individual clubs or full set
The five set of clubs reviewed came in different options ranging from full sets, (driver, woods, hybrids, irons, wedges and putter) to hybrids and irons, to strictly irons.
A golfer should pick one of these different options based on their individual needs. If they're a beginner and don't have a set of clubs and are trying to become more comfortable playing the game, then a complete set is probably a good option.
A more experienced player who might just want to upgrade irons or is looking for a set of hybrids could purchase a set of irons or a hybrid and iron combo.
There is also the case when just one club such a putter, driver or wedge is needed, so in those cases buying an individual club is more appropriate.
Pros and cons of a full set:
Pros:
Buying a full set of clubs with a bag ensures you are ready to go straight to the course or range and start right away.
Depending on the set you buy, at least one of each type of club will be in the bag, so around the course you'll have what you need to play a different kind of shot.
Most full sets for beginners are around $200-$300 therefore you probably aren't burning a hole in your wallet or purse.
Cons:
Buying a full set doesn't allow you to have a mixed bag. For example, if you enjoy TaylorMade's drivers and woods, but prefer Titleist irons and wedges with a ping putter, having different options will not be possible when buying a full set.
Most full sets are more affordable when bought for beginner or intermediate sets such as the Strata's. Buying elite clubs brand new in a set can cost easily over $1,500.
A full set usually lacks one or two clubs that a golfer wants or will grow into as they improve such as a lob wedge. Rarely does a full set come with three wedges, two woods or multiple hybrids.
What's in a full set?
A full set can be bought in a variety of options. Most sets include at least: a driver, wood, irons, pitching wedge and a putter. Some include multiple woods or hybrids. There are sets that include one blade-like pitching wedge as well. Many full sets include a carry bag and head covers to protect the driver, woods and putter.
Conclusion
All five of the sets of clubs we reviewed are ideal best golf clubs for the money. Each set had a different set of characteristics for beginners to low handicappers. After reviewing the sets, we deemed that the Callaway Strata golf set were the best clubs for the money. With a full 12-piece set of forgiving clubs including a bag, a buyer will surely be ready to hit the course after purchase.
FAQ
Do expensive golf clubs make a difference?
Expensive golf clubs are made from state-of-the-art materials that last for years as well as increase performance. These clubs will provide players the opportunity to be a better player. The golfer themself must practice or take lessons in order to improve. The clubs alone won't provide skill. 
Are 20 year old golf irons still good?
Yes, if you own a pair or 20 year old irons and they were taken care of they should play just fine. If there is damage to the shaft then you can replace it. There will likely be scratches on the face but it shouldn't affect performance much.
How much should a beginner spend on golf clubs?
Beginners should spend between $300-$1,000 on a set. The cheaper you spend the lesser quality clubs you'll receive when buying retail. If you spend more, the higher quality the clubs will be. For example, a set of Tour Edge for $350 or a set of TaylorMade for $1,000.