While golf requires a fair amount of equipment, having the best golf duffle bag to cart your clothing, shoes, and accessories around is one important item to remember.
They come in a range of shapes, sizes, and styles so we will take you through some of the leading options. We will also give you a few important features that need to be considered before making your selection.
Best Golf Duffle Bag
Short on Time? Here's A Quick Product Synopsis
Editor's Choice
Rating: 9.4/10
Dimensions: 9.8 x 6.7 x 5.9 inches
Weight: 1.5 pounds
100% polyester
Meshed shoe compartment
Double handles and shoulder strap
Best On A Budget
Rating: 8.9/10
Dimensions: 20 x 11 x 13 inches
Weight 1 pound
Polyester
Water-resistant
Mesh shoe compartment
Best Duffle Bag With Wheels
Rating: 9.0/10
Dimensions 23" x 11" x 11"
Weight 7 pounds
Sturdy inline style wheels
Retractable handle
Multiple pockets
Best Classic Style Golf Duffle Bag
Rating: 9.0/10
Dimensions 21″ W, 11″ H, 11″ D
Canvas and Leather
Strong handles
Adjustable, removable shoulder strap
Stylish classical looks
Best Duffle Bag With Detachable Shoe Compartment
Rating: 8.8/10
Dimensions 19.29 x 10.24 x 11.81 inches
Nylon
Detachable shoe compartment
Waterproof
Adjustable and removable shoulder strap
Best Smaller Sized Golf Duffle Bag
Rating: 8.9/10
Dimensions 14 x 8 x 6 inches
Weight 1.5 pounds
Removable padded shoulder strap
Organizer pockets
Neoprene handles
---
NIKE Departure Golf Duffel Bag
Editor's Choice
Rating: 9.4 /10
Pros
Plenty of space
Comfortable handles and shoulder strap
Separate shoe compartment with ventilation
Zippered storage compartments
Cons
Could be a bit bulky for some outings
Only available in black
The Departure Golf Duffle Bag by Nike is simple yet practical and stylish. It is a good size and should easily accommodate all of your needs for a day's golf, the gym or even a few days away.
It has a separate shoe compartment to keep your golf shoes or trainers separate from other clothing and equipment. The compartment has mesh to ensure ventilation. This is handy when taking your shoes off after 18 holes and they need to breathe a bit. There are also smaller pockets with zippers to keep accessories or valuables protected and easy to get to.
The bag is made from 100% polyester which is not only light but also extremely durable. It will last well and give a fair amount of protection from the elements. The base is padded and water-resistant for additional protection and durability.
There are dual handles as well as a shoulder strap that is comfortable and adjustable. It can be detached if not needed. It also features a haul handle for one more way to carry or move the bag. This is a quality bag at a fair price and was the obvious selection for our editor's choice.
---
Samsonite To The Club Duffle Bag
Best on a budget
Rating: 8.9 /10
uSA Suppliers (some deliver to Canada)
Last Amazon price update was: December 5, 2022 5:51 pm
Pros
Great value for money
Lightweight
Durable polyester
Water-resistant
Protective feet on the base
Comfortable non-slip handles
Padded shoulder strap
Cons
Not as light as some of the competitors
Not waterproof
Despite the stellar reputation Samsonite has for quality durable travel gear, this golf duffle bag is highly affordable. It has a light polyester construction which is tough and resistant to water. To protect the base from water and dirt it has protective feet on the bottom.
The bag is a decent size and should accommodate most of your needs with ease. There is a convenient separate shoe compartment that can also be used for wet items. Mesh ventilation allows the compartment to breaths so shoes and other items do not get mold or mildew.
The handles have a comfortable cushioning neoprene grip handle so it is easy to carry and will not slip when a bit wet. There is also a back accessory hook and a padded adjustable shoulder strap.
---
Titleist Essential Wheeled Duffel Bag
Best duffle bag with wheels
Rating: 9.0 /10
Pros
The wheels make it easy to move
Retractable handle
Multiple storage pockets including a valuables pocket
Plenty of space
Cons
Rather pricey
No shoulder strap option
Carrying heavy bags is frustrating and irritating, especially if you have other equipment to carry. This Titleist duffle bag has sturdy wheels making it a breeze to move around. This makes it extremely versatile so not only is it great for golf but can also be used for other trips and activities. Combined with the retractable handle the design will leave you relaxed and comfortable when you get where you need to be.
Another plus is the many pockets. There are internal pockets with elastic mesh to keep everything neat and organized as well as a valuables pouch with Velour lining. The low profile design allows it to be used as carry-on luggage on most airlines.
In typical Titleist fashion, the bag is stylish. It is black with subtle red accents.
---
FootJoy Canvas Duffel Golf Bag
Best classic style golf duffle bag
Rating: 9.0 /10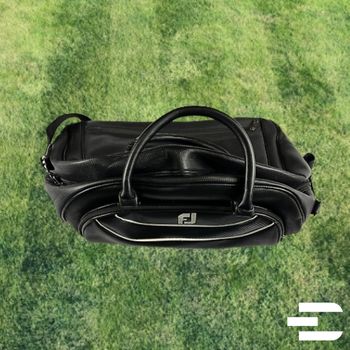 uSA Suppliers (some deliver to Canada)
Last Amazon price update was: December 5, 2022 5:51 pm
Pros
Stylish classic looks
Quality durable materials
Strong leather handles
Removable and adjustable shoulder strap
Cons
No separate shoe compartment
Might be too small for some
Somewhat pricey
While FootJoy is better known for its comfortable and stylish golf shoes they also make a range of other accessories including this classic style golf duffle bag. It is made from strong canvass with leather accents. This not only provides exceptional durability but also looks outstanding.
Few will disagree that the bag looks great but it does not have a separate shoe compartment and might not be big enough if you are carrying a lot of kit and accessories. If you do not need to pack too much, this is a good option to consider.
It is comfortable and has a handy removable and adjustable shoulder strap. The bag is well made and built to last.
---
PGM Golf Duffle Bag Double
Best duffle bag with detachable shoe compartment
Rating: 8.8 /10
Pros
Good durability
Waterproof
Comfortable padded shoulder strap, adjustable and removable
Separate shoe storage
Accessory pockets
Spacious
Cons
Does not compact as well as some other models
Not all will enjoy the looks
This is a more traditional looking golf duffle bag with modern looks and more than enough space. One of the main advantages is that it is designed to keep your clothing, accessories and other kit safe and neat. There are accessory pockets as well as a separate shoe storage compartment.
The shoe compartment is detachable which makes this bag highly versatile. When you need to carry shoes you have the convenience to do so however if you do not need it you can enjoy a more compact bag, the best of both worlds.
The PGM bag is made from heavy-duty nylon for strength and durability. It is waterproof to protect your belongings. The shoulder strap is adjustable making it easy to carry and can be removed if you merely want to use the handles. The materials and workmanship are good quality so the bag should last you many adventures.
The one minor drawback of the bag is that the design does not allow it to fold into as compact a unit as some of the other options but this is due to the protective and durable nylon used.
---
Callaway Golf Small Duffle
Best smaller sized golf duffle bag
Rating: 8.9 /10
uSA Suppliers (some deliver to Canada)
Pros
Compact and lightweight
Stylish
Quality construction
Padded shoulder strap, removable
Durable and comfortable neoprene handle
Two elastic organizer pockets
Cons
No dedicated shoe compartment
Not big enough for all your needs
You do not always need to lug a large bag around. You might just need a change of clothes or a few accessories. If you want a more compact bag for these occasions then this option from Callaway is worth a look.
As you would expect from Callaway it is well made with great attention to detail. A good example of this is the comfortable non-slip neoprene handles. It also has a padded shoulder strap which can be removed if not needed.
Your goods will be protected and organized thanks to the two elastic pockets. It does not, however, have a separate shoe section.
The shoulder strap is padded and comfortable while being easy to remove if not needed. If you are traveling light then this is a stylish way to do it. The bag is light, compact and comfortable. It also has great durability so you know it will give you a good return on your investment.
What to look for in the best golf duffle bag
There are a number of features to consider when shopping for the best golf duffle bag. Here are some of the main factors to look at.
Breathable separate shoe compartment
This is super handy. You want to keep your shoes separate to prevent them from soiling the clothes and other equipment in your bag. This is important on the way to the golf club but even more important after the game.
Shoes often get dirty, sweaty, wet or all of these. A separate shoe compartment will keep them away from other items. One with a mesh area will allow the shoes or any other soiled items to breathe. This will prevent mold or mildew from building up which could cause damage and unpleasant odors.
Just like the boy scouts, the golfer always needs to be prepared. Although your golf bag should have multiple storage compartments, these are also important on a golf duffle bag. You want to carry a few additional items, many of them small. This could include tees, markers, pencils, gloves and a range of other items. You might also need a safe place to keep valuables.
Good storage compartments will keep your goods safe, neat and organized. This makes them easy to find when you need them and is just neater and more practical.
Look for a bag with a few easy to access storage compartments to make your life a bit easier. Some even have Velour lined pockets to protect mobile phones and other valuables.
Your bag will often be exposed to the elements, be it morning dew, rain or other forms of water. A bag that is waterproof will naturally offer great protection for the contents of the bag. The last thing you need is to play a round of golf in soggy shoes. At the very least, it would help if the bag had a fair amount of water resistance.
If you play in very dry conditions or simply take the bag straight from the car to the clubhouse this feature might not be essential but it is useful in many situations.
Durability/ Quality of materials
You do not want to invest in a cheaply made bag or one made with substandard materials. A quality bag will offer more protection and last for many years. Make sure the materials are of good quality to offer durability.
Golf duffle bags can take many knocks in and out of the car and even more if you travel extensively. Ensure the bag is up to the challenge so that it will look good and work well despite the stress and give you a decent lifespan.
The requirements will differ from person to person according to your needs. Ensure you get a bag that is large enough to accommodate the items you intend carrying.
The best golf duffle bags are highly versatile and are often used for the gym, weekend getaways or other uses. Give some thought to how you plan to use the bag and get one that has sufficient storage for your needs.
While most people use a golf duffle bag purely for golf, many are extremely versatile and can be used for a number of other activities. If you are looking for something that can handle more than just your golf kit then look for one that can accommodate your needs.
Ensure that the bag has decent straps to make carrying it easier. This is especially important if you are carrying multiple bags or using the bag for longer trips. A shoulder strap is preferred by many, particularly if the bag is heavy. Padded traps will offer more comfort. Most shoulder straps are detachable if you do not need it or prefer not to use one.
Again, you want to ensure the straps are well made using quality materials so that they do not perish or break after a few uses.
If you expect the bag to be packed with heavy items or you are carrying other bags, a good set of wheels can come in extremely handy.
A good solid base with waterproofing or raised legs will give the bag additional protection and ensure it does not get wet or soggy underneath.
The price of a decent golf duffle bag can range from highly affordable to somewhat expensive. The bigger brands tend to be more costly but are generally top-quality and have good durability. Consider your budget when comparing the options. Avoid the cheap and nasty options as they will need regular replacing and will actually cost you more in the long run.
Style and looks are important to most golfers and your golf duffle bag should match your style. There is a wide range available from bright and modern to more conservative or classically styled bags. Choose one that works with the overall look of your clothing and equipment, one that matches your taste and personality.
If you intend to travel by air and want the duffle bag to qualify as carry-on baggage ensure it meets the necessary size and weight requirements. This can vary slightly from one airline to the other so check the requirements first. Most average golf duffle bags should qualify.
Conclusion
While these are all quality golf duffle bags, our editor's choice, the NIKE Departure Golf Duffel Bag stood out as the best of the best. It is a good looking bag that is durable, practical and convenient. The bag is extremely versatile and has loads of space for all your golfing needs or even a weekend break.
There are multiple zippered pockets to keep your kit organized as well as a breathable separate shoe compartment. The polyester design is water-resistant and built to last. The bag also features a handy and comfortable shoulder strap.
Give some thought to your needs in a golf duffle bag as well as your budget. You really can't go wrong with any of the models we have featured.
FAQ
Is a golf duffle bag considered oversized?
No, a golf duffle bag is not considered oversized. It is the perfect size for carrying all your golfing gear and easily fits into most overhead bins on airplanes. Sometimes, you'll likely have to pay a fee if the bag is overweight. However, many airlines offer special exemptions for golfers, so it's always worth checking with your carrier before traveling.
What duffle bag do PGA Tour players use?
When it comes to PGA Tour players, the Club Glove duffle bag is the most popular choice by far. This bag is considered the best American rolling luggage. These bags come in several picks for colors and sizes according to the player's needs. With these bags, tour players can pack everything they need for a tournament and know their belongings will be safe.