You can spend thousands on the perfect clubs, spend hours getting them fitted perfectly and play round after round trying to get them dialed in, but if the clubs have the wrong shafts for your game then you're likely losing distance and/or accuracy on every shot.
After testing over 20 of the best golf shafts on the market in drivers, fairway woods, and irons, to compile the definitive list of the best-performing shafts in the game today.
Regardless of your skill level, swing speed, or experience with golf, our review has you covered.
Read on to find the best shafts for drivers, fairway woods, and irons at different swing speeds, and get ready to lower your scores by getting the most out of your equipment.
---
---
True Temper Project X HZRDUS Driver Shaft
Best driver / fairway wood shaft for fast swing speed (100 mph or higher swing speed)
Rating: 9.6 /10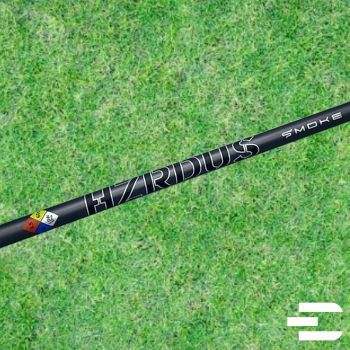 USA Suppliers (Also Deliver To Canada)
Pros
Ideal launch angle means you get the most distance on each shot.
Designed for fast swings and low spin to keep the ball in the fairway.
Cons
Low trajectory helps unlock distance but isn't ideal for all golfers.
True Temper's Project X HZRDUS Driver Shaft was far and away the top-performing driver shaft in our test group for players with the fastest swing speeds.
If you swing hard and already hit the ball a long way, but you're struggling to find that last extra boost in distance and/or struggle to hit fairways, the HZRDUS shaft is made for you.
This shaft is designed to the most distance and accuracy out of your equipment.
So, how does the HZRDUS shaft up your game?
For starters, it's designed with the ideal launch angle for fast swingers. Golfers with swing speeds of 100+ mph often don't have a problem getting the ball in the air, so this club ensures your shots have a low trajectory throughout ball flight.
The HZRDUS shaft achieves this ball flight by adding increased stiffness throughout the shaft, including an extra-stiff mid-section which unlocked a whole new level of power.
We found this ball flight to provide extra distance by launching the ball at a lower angle so it flew longer and rolled more after impact.
Aside from increased distance, the HZRDUS shaft also helped our fast-swinging group keep more balls in play.
If you swing hard, you likely want less spin on each shot. The reason is more spin equals more tendency to hook or slice, something many fast swingers suffer from.
Our guys were able to keep swinging hard with the HZRDUS shaft and saw a big increase in accuracy off the tee, even on shots that weren't hit perfectly.
What we love about the True Temper Project X HZRDUS Driver Shaft
Low Launch: We found the launch angle of this golf shaft to be perfect for fast swingers because it allowed our guys to get every yard out of their shots due to the ball's ideal flight path.
More Accurate: Using a design that keeps the ball spin to a minimum, we were landing far more shots in the fairway and didn't have to sacrifice swing speed to do it.
Drawbacks of the True Temper Project X HZRDUS Driver Shaft
Ball Flight: While the HZRDUS' launch angle is ideal for almost any golfer with a fast swing, some players who swing fast still struggle to get the ball in the air. If this is you, you might want to look for a shaft with a higher launch angle.
If you swing fast and wouldn't mind finding a few more fairways and hitting the ball further off the tee, True Temper's Project X HZRDUS Driver Shaft is the right choice to help you start carding lower scores.
---
Fukijura Ventus Blue 5 or 6 Wood Shaft
Best driver / fairway wood shaft for medium swing speed (85-100 mph)
Rating: 9.4 /10
USA Suppliers (Also Deliver To Canada. Globalgolf.ca Is Canadian Delivery Only)
Last Amazon price update was: September 27, 2023 5:14 am
Pros
Best-in-class MOI for maximum consistency even on mishits.
Blue variation promotes mid-launch, perfect for this swing speed category.
Cons
One of the highest price points we tested.
For our golfers with medium swing speeds (85-100 mph), the Fukijura Ventus Blue Driver/Wood Shaft was the clear best choice in our testing.
The name of the game for so many golfers is forgiveness, and if you're tired of seeing balls slice out of bounds or losing tons of distance on slight mishits, the Ventus Blue should be at the top of your wishlist.
The main goal of this shaft is to provide greater accuracy and ball speed (resulting in distance) on every shot, but especially on mishits. Using a unique blend of tech and quality materials, this shaft produces more forgiveness than any we tested.
This shaft can help eliminate your worst shots and keep you in play more often.
You're probably wondering how it works, let's dive in.
The Ventus Blue is made from some of the most premium golf shaft materials on the market today. Many shafts use T1100g carbon fiber, but this shaft uses Pitch 70 Ton carbon fiber, which is 150% stronger.
Stronger construction means a higher moment of inertia (MOI). Put simply, the higher the MOI the less likely the club is to twist on the downswing. So, a high MOI means a more consistent shot, and we found that Ventus Blue can deliver on this promise.
The Ventus line comes with black, blue, and red options. We chose blue for our mid-speed golfers because it promotes mid-launch ball flight, allowing you to get the ball in the air but still reap the rewards of a shot that isn't too high.
What we love about the Fukijura Ventus Blue 5 or 6 Wood Shaft
Best MOI: Less twisting on the downswing means a more consistent shot. This means more fairways hit and less time searching for balls.
Ideal Flight for Medium Swing Speed: The Ventus Blue was perfect for our mid-swing testers, as it allowed them to get the ball up but didn't sacrifice distance.
Drawbacks of the Fukijura Ventus Blue 5 or 6 Wood Shaft
Price: It's one of the best shafts on the market, but you're going to pay for it.
Looking to hit more fairways without changing your swing or sacrificing distance? Check out Fukijura's Ventus Blue shaft.
---
Aldila NVS Orange NXT Wood Shaft
Best driver / fairway wood shaft for slow swing speed (85 mph or below)
Rating: 9.1 /10
Pros
Ideal ball flight for slower-swing golfers
Shaft design helps shot consistency through the use of MLT technology
Cons
Some testers had to get used to the different feel at the impact
Our group of slow-swing golfers tested some of the top shafts in the game today, and Alida's NVS Orange NXT Wood Shaft provided the best and most consistent results.
Many of us with slower swing speeds struggle to get the ball in the air and really unlock that next level of distance. If your goal is to hit longer, higher, and more consistent drives then this shaft will help.
The NVS Orange shaft helps you reach these goals through a unique design that is tailor-made to fit slower-swing-speed golfers. Your ball will get off the ground quickly with a higher rate of spin, which we found to help with distance tremendously.
This shaft can change your game without you having to change your swing.
Alida's NexGen Micro Laminate Technology (MLT) is used in the NVS Orange shaft, and it's designed to get rid of imperfections in the golf shaft with the use of thin layers of premium carbon fiber.
That might all sound a little "techy," but it simply means using this shaft can mean a lot less inconsistency in your shots because the shaft works perfectly every time.
In addition, this shaft has a soft tip, which is ideal for slow swing speeds. A soft tip refers to a shaft with more flexibility toward the lower portion of the shaft. Shafts with a soft tip allow for some extra give on the downswing, which can be a game-changer for players with slower swing speeds.
This would be disastrous for high-swing speed players, but at lower swing speeds it gets the ball in the air quickly, meaning your ball will travel farther.
What we love about the Aldila NVS Orange NXT Wood Shaft
Higher Ball Flight: The shaft's soft tip allows slow-swing speed players to get the ball up quickly, maximizing distance.
Consistency: Unique tech called MLT means your shaft performs consistently on every swing by getting rid of "dead zones" which occur in the manufacturing process. For you, this means fewer erratic shots caused by shaft variability.
Drawbacks of the Aldila NVS Orange NXT Wood Shaft
Unique Feel: This club provides a lot of feel at impact, which is not a bad thing for your shots but some of our group said it took some getting used to.
Alida's NVS Orange NXT Wood Shaft is perfect for slower swing players, and at one of the lowest price points on our list, it's definitely worth a shot for any golfer.
---
True Temper Dynamic Gold S300 Iron Shaft
Best iron shaft for fast swing speed (100 mph or higher swing speed)
Rating: 9.5 /10
Pros
Variable wall thickness produces smooth impact and consistency on every swing.
Design and weighting help with low, pro-like ball flight for more distance.
Cons
A few of our testers thought the shaft was too heavy.
In our pursuit of finding the perfect iron shaft for golfers with swing speeds of over 100 mph, one of the most popular shafts of all time showed why it's been chosen by so many.
True Temper's Dynamic Gold S300 Iron Shaft was our clear top choice after testing the 20 top shafts on the market today. It's designed for a golfer with a low handicap and a great deal of experience who wants to take their game to the next level.
The S300 iron shaft is designed with consistency and a professional-like ball flight as its goal and it absolutely delivers. In fact, this shaft is used by many professional golfers.
For skilled golfers, it's the perfect iron shaft.
So, what sets this shaft apart from the competition?
The first thing you'll notice about this shaft when comparing it to others is its weight. This is a heavier golf shaft that features Variable Wall Thickness (VWT) through the length of the shaft.
VWT works by, as you might imagine, changing the thickness of the shaft at different points. This has a couple of key benefits for great golfers.
First, the S300's weight combined with unique VWT promotes a low, piercing ball flight. This is the ball flight you see from the pros, and it's perfect for golfers with a fast swing because it allows you to get the most distance out of your powerful swing.
In addition, VWT keeps the club from vibrating too much at impact. If you've ever hit a ball thin on a cold day and felt it in your hands, you know this can be a pain (literally).
With the S300, you'll be hitting the ball further and have a more comfortable swing every time you hit the ball.
What we love about the True Temper Dynamic Gold S300 Iron Shaft
Low Ball Flight: The S300's weighting promotes a low ball flight, allowing fast swingers to get the most distance out of each shot.
Comfort and Consistency: VWT tech not only helps with ball flight as well, but keeps the club from having excessive vibration, so you can hit comfortable and consistent shots.
Drawbacks of the True Temper Dynamic Gold S300 Iron Shaft
Unique Weighting: Some of our testers didn't like how heavy this shaft made their clubs feel. It might take some getting used to.
If you're a low-handicap player looking to get the most out of your irons, True Temper Dynamic Gold S300 shafts are worth trying out.
---
KBS C Taper Lite Iron Shafts
Best iron shaft for medium swing speed (85-100 mph)
Rating: 9.2 /10
Pros
Constant taper design increases distance.
Lightweight design with a firm tip and soft butt helps get the ball in the air
Cons
Some golfers didn't think the shaft eliminated enough spin.
In our testing for the best iron shaft for players with swing speeds between 85 – 100 mph, the KBS Taper Lite shaft was our top performer.
We found this club really helped our players who were looking to get the ball in the air quickly but still maintain distance. If this sounds like you, read on to learn how the KBS Taper Lite can take your game to the next level.
The secret is hiding in plain sight, right in the shaft's name
This shaft is made with a lightweight, tapered design, which will help your game in multiple ways.
A tapered design means the shaft is at its thickest at the bottom and thinnest at the top. In gold lingo, this is referred to as a shaft with a hard tip and a smooth butt.
This combination is ideal for medium-swing speed golfers because the design maximizes clubhead speed, which will lead to more distance on each shot.
In addition, the tapered design creates the perfect ball flight for mid-speed swings. It will get your shot in the air quickly but won't kill your distance by creating shots that are too high.
What we love about the KBS C Taper Lite Iron Shafts
Increased Distance: The tapered design combined with the light weight of the shaft means more club head speed, which in turn creates more distance.
Good Ball Flight: We found the ball flight with the KBS C shaft to be ideal for medium swing speeds. It gets the ball in the air quickly while still maximizing distance.
Drawbacks of the KBS C Taper Lite Iron Shafts
Spin: We found for some of our testers who have swings closer to the 100 mph range, the shaft's light weight led to an increased chance of side spin.
The KBS C Taper Lite iron shaft is a great choice for players who are looking to maximize distance through faster club head speed and ideal ball flight.
---
Fujikura Vista PRO Iron Shaft
Best iron shaft for slow swing speed (85 mph or below)
Rating: 9.3 /10
Pros
Lightweight materials offer best-in-class stability for ideal launch and spin.
Superior feel at impact by using variable wall thickness.
Cons
Some of our slower swing speed golfers did not see an increase in distance.
We found Fujikura's Vista PRO Iron Shaft was the best choice for players with slower swing speeds, under 85 mph, after extensive testing.
If you have a slower swing and you're looking to get the ball in the air quickly while still keeping it in the fairway, the Vista PRO can help.
It's designed with two goals in mind: to increase launch angle but decrease spin. What this means for you is a shot that will fly as far as possible due to an ideal launch angle, but won't have the side spin that plagues so many golfers.
You'll have the best chance of putting the ball in play using the Vista PRO.
Lightweight materials and a shaft designed exclusively for launch angle are behind this shaft's performance.
Using their proprietary and lightweight PHANTIUM paint technique along with full-length, 40-ton carbon fiber, this shaft has the strength to be durable while still providing a high launch angle.
For you, this means more towering shots and fewer that fall short after barely getting off the ground.
In addition, this shaft uses variable wall thickness designed ideally for slower swing players. This means the shaft thickness gets larger and smaller at crucial points, eliminating vibration and giving a great feel at impact so you can use the feedback to dial in your swing.
What we love about the Fujikura Vista PRO Iron Shaft
Lightweight and Durable: Proprietary materials increase launch angle while remaining durable, so you'll have the perfect ball flight.
Great Feel: Variable wall thickness minimizes vibration at impact, meaning you can get a feel for each shot and adjust accordingly.
Drawbacks of the Fujikura Vista PRO Iron Shaft
Distance: While the launch angle helped many of our group, we found some golfers didn't have much change in distance, but they did enjoy more accurate shots.
Fujikura's Vista PRO iron shafts use unique tech to maximize distance and feel for golfers with slower swing speeds.
Factors to Consider When Choosing a Golf Shaft
Shaft weight and length
Shaft weight and club length are critical factors to consider when choosing a golf shaft. Having the right weight and length for your swing can improve scores on the links.
Iron shaft weight will differ to driver shaft weight as they serve different functions.
The weight of the shaft itself is referred to as shaft weight. The club's additional pieces that are connected to the shaft are not included.
The shaft's overall weight, including everything on the club, such as the grip, head, epoxy, screws, tape, and the shaft itself, is called the "total" weight.
The length of the shaft can be shorter or longer depending on a player's height and swing type.
Longer shafts often help increase distance but can be less forgiving.
A long driver shaft would be considered 46 inches. A shorter shaft for the club would be around 42-43 inches, with the standard being between 44-45.
Shaft flex
Shaft flex indicates how much the shaft will bend (flexibility) while swinging it and during contact.
There are varying flex choices, including women's, senior, standard, stiff, and extra stiff. Flexes control how much the shaft bends during the swing.
Women, senior, and normal flex shafts bend more and are considered more forgiving. These are suited for novices and players with slower swing rates.
Shafts that are stiff or very rigid will flex less. If swung correctly, they will be more accurate but less forgiving. These shafts pair best with mid- and lower-handicap players with quicker swing speeds.
Different clubs will be less flexible or more flexible than others. A stiff wood shaft is longer, so it will play more firmly than most shorter stiff-flexed shafts in the bag.
This scenario is also relatable in terms of brands. One company might make a stiff flex shaft that is 37 inches.
Another shaft maker might have the exact same length shaft labeled as stiff, but it feels more similar to a regular flex.
Since hybrid shafts are more extended than iron shafts, they will usually be slightly stiffer too. This helps give more control when striking the ball.
📢 Need To Know: Extra stiff shafts are heavier than any other flex of the shaft. They can help provide lower ball flight and high spin. These kinds of shafts are meant for players with high swing speeds with low handicaps usually.
Shaft torque
The resistance of the shaft to twisting is referred to as torque.
Another approach to understanding shaft torque is to think of it as a feature of a golf shaft that shows how much the shaft will twist during a swing.
All types of shafts, such as steel or graphite, contain torque.
A machine figures out the amount the shaft will twist under a certain amount of force and labels the answer in degrees.
Two degrees of torque (low torque) will cause a shaft to rotate less than five degrees of torque (high).
Shafts can have torques ranging from two to seven degrees in them. Although, it is rare to find one higher than five.
A shaft's feel has a lot to do with the amount of torque it has.
Flexibility is viewed by many golfers as being the most important quality when picking out a shaft. Yet, torque has a bigger impact on how stiff or comfortable a club might feel when swung.
Shaft kick point
The kick point is the point at which the shaft flexes. Shaft options include low, medium, and high kick points.
If the kick point is high, the shaft will bend toward the bottom half of the shaft.
If the shaft has a mid-kick point, the middle of the shaft will bend. If the kick point is low, it will bend toward the bottom half of the shaft, which is closer to the club's head.
The kick point of the shaft influences the trajectory of the ball in the air. The lower the kick point, the higher the launch. The lower the flight, the higher the kick point.
Different kick points will feel good and bad for each golfer. They are suited for certain swing styles.
Getting fitted and trying out different shafts with a multitude of kick points will help ensure you're swinging better and help your potential.
Read our golf shaft kick point article if you want to find out more regarding the topic.
Golf shaft balance point
The golf shaft balance point is the point on the shaft that is perfectly balanced from the tip to butt section.
The location on a golf shaft where weight is equally distributed on both sides of one fulcrum is another way to describe the term.
There are two different ways to measure the balance point of a shaft. These include static-flex measurement and frequency measurement.
Static
A cantilever clamps the shaft's butt end while a load is applied to the shaft's tip part. The more the shaft bends, the more it reveals its equilibrium point and stiffness.
One thing to look out for if using the static method is that a stiff shaft will bend far less than a female flex when tested using the static technique.
Frequency
In this "dynamic" measurement, the shaft is secured at the butt end and dragged with the weight on the tip. It causes the shaft to oscillate. If it oscillates quicker, it is typically stiffer.
A frequency measurement can be affected by the weight of a shaft.
For instance, if two shafts are tested with the same flex, but one is significantly heavier, the heavier one will have a lower frequency.
Player's swing style and speed
Selecting a shaft can be difficult with the many factors we've mentioned above. The imperative two things that pair with these factors are swing style and speed.
Everyone has their own unique swing and swings at a different speed.
It's easy to go to the store and just pick out a shaft that feels good, but golfers who are serious about their game should be fitted.
A fitter will help you find a shaft with the correct attributes for your swing style and speed.
They'll use a launch monitor to measure your stats and have you try out a bunch of different shaft types.
The general pairings for certain flexes and swing speeds are shown in the chart below.
| Swing Speed | Flex |
| --- | --- |
| 70 mph or less | Ladies |
| 70-80 mph | Senior |
| 75-95 mph | Uniflex |
| 80-90 mph | Regular |
| 100 mph or more | Stiff |
Other Elements In Golf Shafts
Golf shaft spine alignment
The residual bend location in the shaft is detected during golf spine alignment. That is the point of least resistance in the shaft.
Spine alignment allows a golfer to have better control by allowing the club's face to expand and shut when they want it to.
When the spine is not aligned, the club face is harder to open or close the amount you want it to throughout your entire swing.
You can have the spine aligned in either the droop plane or the swing plane. Each can be seen and explained in depth in the link below.
There are different methods to use when performing a spine alignment. One is the Lockie board which you can learn more about in our spine alignment article.
Should you have a spine alignment done to your shafts?
Beginner golfers do not need to spine their shafts. They can, but it's definitely a better use of their money to invest in lessons or a coach rather than an alignment.
By aligning their shafts, low-handicap golfers can observe a change in their swings and improve their game. It is ultimately up to the individual.
Golf shaft cPM
Golf shaft CPM refers to "cycles per minute," which describe the units measuring the frequency.
CPM measures the number of oscillations the shaft makes every minute.
Higher-frequency shafts with more cycles per minute are created stiffer than lower-frequency shafts.
Each shaft has a unique bend profile that differs between shafts and brands.
Several companies may identify a shaft as regular when it actually feels more similar to a stiff one. Between flexing, there are usually 12 CPMs.
A club that is 300 CPM for UST ProForce might feel very close to a 312 CPM shaft by Fujikura with the same length and characteristics.
When employing the shaft CPM measurement, a club fitter will clamp the grip end of a golf club and then draw and release the tip section of the shaft to induce it to oscillate.
The device will then display the CPM value, which can range between 200 and 300.
Tipping a golf shaft
Tipping a shaft is when the length is removed from the tip area of the shaft (where the clubhead is attached).
The term is also known as "tip trimming." Doing this stiffens the club more. It also increases the torque on the club (makes it more resistant to twisting).
This is recommended for players with high swing speeds who are looking to play a firmer shaft. It can aid them in control and accuracy.
High handicappers probably shouldn't tip their shafts because the club will become less forgiving.
How To Lengthen Golf Clubs
Lengthening clubs can have many benefits, such as increased distance or improved contact.
Some professionals such as Bryson DeChambeau and Phil Mickelson have employed 46-47 inch drivers to try and maximize carry.
To make a club longer, you can either use an extension sleeve or replace the shaft entirely.
Many players use extension sleeves to save money rather than buying a brand-new shaft. They are small extenders put on the butt of the shaft, making it lengthier.
It's best to have this process done by a certified club fitter at a golf store, but you can also do it yourself.
If you choose to go your own route, make sure to use an extender with the same material as the shaft. This means a steel extender fits only with a steel shaft and the same with graphite.
💡 Golfible Tip: Lengthening your golf clubs often does provide extra distance, but this isn't best for every golfer. Go to a club fitter or professional and have them test your swing with longer shafts before making the move.
Pureing a golf shaft: what does it mean?
As a golf shaft is being "pured," it is inserted into a unique device.
The device, an SST PURE Shaft Alignment System, locates the "principal point of oscillation," which refers to the side of the shaft that is hardest and most stable.
Golf shafts are made with extreme detail but are not perfectly symmetrical in terms of how round or straight they are.
An SST Pure Shaft machine finds the most stable part of the shaft that bends when swinging. It can find a point up to 1/1000th of an inch.
Despite top shaft companies such as True Temper or Aldila putting out excellent products, some of their shafts can be bigger in certain areas and not equally uniform.
Puring a shaft can help with stability and control, which leads to improved performance on the course.
FAQ
What is a uniflex shaft?
A uniflex shaft is a shaft that falls in between a regular and stiff flex in terms of firmness. Shaft makers created it to feel a little closer to a standard flex.
Golfers with an average swing speed can benefit from this flex.
What is a flighted golf shaft?
A flighted golf shaft signifies that longer irons can easily put the ball at a higher trajectory when hit.
The reasoning is that they contain a lower kick point in their shaft which lifts the ball higher in the air.
What Is The Cost To ReShaft A Driver
The cost to reshaft a driver ranges from $25 to $45 depending on where you have the service performed. The cost of the shaft itself and the grip fee can also play a role in the total cost.