Our team did some much-needed post-covid golf trips with the best golf travel bags from Sun Mountain, Club Champ, and CaddyDaddy to help you choose the best one.
Our team tested more than 23 golf travel bags in the past 11 months before finalizing the top six for this review.
On their different journeys, we took these golf travel bags through a sea of airport check-ins and weekend road trips so they got tested in different environments.
Walking / running with them through packed airports showed their wheels' integrity, and the inevitable rough handling helped us analyze the build quality.
Touching all bases, like the material, budget, warranty, and durability, this review spans everything you need to know about the best golf travel bags.
---
In A Hurry? Here's the Key Information On Our Top Picks for Golf Travel Bags
Top Travel Bag Options For Your Golf Clubs
We have done the hard work for you and narrowed down what we consider to be the best travel golf bag options on the market today. Below we provide our picks for the best bag in several categories along with a brief description of their features along with the pros and cons of each.
Whether you are looking for a soft cover or a hard case, like to splurge on high end products or look for good deals, we feel confident this list will help you find the right bag to travel with.
---
CaddyDaddy Constrictor Travel Cover
Editor's Choice
Rating: 9.4 /10
uSA Suppliers (Also deliver to Canada)
Last Amazon price update was: November 26, 2023 9:34 pm
Pros
Warranty against damage in transit
Soft cover made from durable material
Wheels for ease of personal transport

Padding to protect club heads and compression straps to keep the clubs in place
Cons
The locks for your zippers are not included.
With a one year replacement warranty coming with the purchase, CaddyDaddy is confident that its travel cover is made to do an effective job in getting your golf clubs to your destination without any problems.
At 9 lbs. weight, this golf travel bag does not significantly add to the weight of your clubs themselves which are well-protected by the external and internal compression straps, thick fabric, and the top padding that surrounds your club heads.
Heavy-duty curb rails and riveted handles add to the strength of the Constrictor bag which also has sufficient pockets for your needs. Many golfers also find it easy to fit their other golf gear in the travel bag like their shoes and clothes if you are short on space.
The zippers are lockable, and the skate wheels mean the travel bag can easily be maneuvered by you between home and car, car and check-in and the reverse at the end of your journey.
---
Izzo Golf Padded Travel Cover
Best Golf Travel Bags for the Money
Rating: 9.0 /10
uSA Suppliers (Also deliver to Canada)
Last Amazon price update was: November 26, 2023 9:34 pm
Pros
Budget price
Soft cover lightweight for ease of carrying
Collapsable down to just 7.5 inches for storage
This Soft Padded Travel Cover with a sturdy vinyl base offers good protection for your golf clubs as you travel to your next golfing destination. This golf travel bag weighs just 2 lbs. and has a padded strap to help you carry your clubs without ending up with sore shoulders.
This is a Cover at a budget price that collapses down to just 7.5 inches for ease of storage. Izzo's Travel Cover when expanded can carry your 14 clubs with ease so you do not need to restrict yourself to a half set while you enjoy your golf holiday.
There is a nice little touch on the cover of the bag; a place to insert your business card for ease of identification.
---
Sun Mountain Clubglider Meridian
Top Golf Travel Bag Hard Case
Rating: 9.1 /10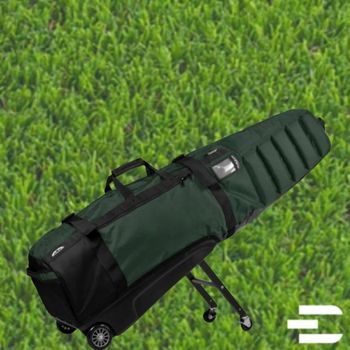 uSA Suppliers (Also deliver to Canada)
Pros
Clever designed legs to ease maneuverability
Stylish
Hard case made from extremely durable material
Cons
Occasionally the mechanism for release can be stiff
Central zip so not the easiest bag for getting clubs in and out
Sun Mountain offers a clever leg mechanism on this golf travel bag that can be extended and collapsed for ease of use. They slip back into a tray while your bag is in transit. Its zippers go the full length of the bag to make packing and unpacking a simple and quick exercise.
Internally, there are straps that keep your clubs in place with your golf bag. The 4 caster wheels on pivots make it easy to maneuver in every situation.
We liked the fact that The Meridian golf travel bag has dense foam padding to protect your clubs in transit with club heads perfectly safe from damage. It weighs just under 12 lbs. and each lb. is designed to ensure your precious clubs arrive safely so you can enjoy your golf holiday.
---
Amazon Basics Soft-Sided Travel Bag
Soft Golf Travel Bag
Rating: 8.7 /10
uSA Suppliers (Also deliver to Canada)
Last Amazon price update was: November 26, 2023 9:34 pm
Pros
Reinforced at pressure points
Self-standing yet with wheels
Multi-compartment and well-padded

Soft cover made of durable nylon
Cons
Fairly stiff canvas
Water resistant but optimistic to say it is waterproof
This Travel Bag made of durable and waterproof nylon has reinforcements on pressure points and can stand on its own.
Fitted with smooth rolling wheels, compression straps help to keep your clubs in place during transit with extra padding at the top ensuring that your club heads are all well-protected.
There are several compartments in the bag each with zippers.
The bag can lie flat or stand up on non-skid patches when loaded with your golf gear. This golf travel bag is lightweight at nearly 9 lbs and collapsible for storage.
---
Club Champ Golf Bag Travel Cover
Top Golf Travel Bag for Storage
Rating: 9.0 /10
uSA Suppliers (Also deliver to Canada)
Last Amazon price update was: November 26, 2023 9:34 pm
Pros
Fully collapsible bags
Wheels for maneuverability
Padded to protect club heads
Cons
Less sturdy than some of its competitors
With wheels for ease of maneuverability, this durable Cover is fully collapsible for ease of storage and padded at the top to protect your club heads.
This golf travel bag weighs just 2.5 lbs. so easy to move and travel around with it.
---
Club Glove XL Travel
Golf Travel Bag with Wheels
Rating: 9.1 /10
uSA Suppliers (Also deliver to Canada)
Pros
Durable material and construction
Limited warranty
Good internal padding
Cons
Bag considered too big by some if just bringing clubs alone
US-sourced and manufactured, this Travel Glove bag prioritizes durability and strength. It can hold all full-size clubs and has an integrated handle for additional support.
It has a limited warranty which is a definite plus because you can upgrade to a full warranty. There is internal foam in this golf travel bag padding to protect your golf club while it has the capacity to hold golf shoes.
---
Golf Travel Bag Buying Priorities?
The number one top priority when deciding which is the best golf bag to buy involves the protection of your clubs in transit.
However, there are factors concerning bags that deserve mention as diverse as cost, weight, ease of transportation, and how you are likely to travel for golf as well.
Here are some ideas in no particular order of those factors which have led us to our conclusions on the best golf travel bags.
Golf Bag Warranty/Price
We all want good value for our money and to pay the best price possible, but no bag purchase should be done on price alone.
Remember that the reason for buying golf travel bags is to ensure that when you arrive at your destination, you will find that all your clubs have survived the journey without any damage.
A bag manufacturer that provides a warranty against damage is clearly confident that its travel bag can do the job otherwise a warranty would not be offered.
Every bag manufacturer that offers a warranty is certain to have tested its product before it goes into the marketplace.
In the case of travel bags for golf clubs, that will include testing its ability to withstand the pressure of having other items of luggage placed on top of the bag sometimes for a prolonged period.
Bag Weight
You would be certain that each golf club would be perfectly safe if they were packed in a solid metal travel case with plenty of internal packaging; even cotton wool.
Obviously, that is not a practical bag material for a number of reasons, especially weight.
Imagine how much extra you would pay an airline if you wanted to transport this type of golf case!
The lightest travel bag in today's market weighs little more than 2 lbs while the heaviest bag is around 13 lbs. The latter is a perfectly acceptable weight for a bag given the weight of the clubs themselves.
The heaviest bag is not necessarily the best because the aspect of design and the strength of materials are all factors to consider.
Wheels For Ease Of Travel
Airlines regularly ask flyers to take golf clubs to a separate oversized area for checking and loading on to the aircraft. You may also have to take your bag to a different location to be checked by TSA or customs.
You need to be able to take your travel bag from home perhaps via the boot of your car to the airport and then on arrival to your transport for onward travel.
Even if you are traveling by road and simply want to pack your clubs in the boot, you still need to keep the clubs well-protected within a bag and then get them into your accommodation.
The easiest way to transport bags of any kind is if they are on wheels.
How many travelers do you see these days at airports pulling their luggage on wheels? The majority, I would say.
Golf travel bags should ideally have wheels that retract or certainly do not get snagged anywhere once you hand the bag in for loading.
Hard Cover or Soft Cover
As suggested with the ''metal travel case'', a hard travel bag may provide more protection than a soft one.
Remember if you are flying, almost everyone on the plane, especially on long haul flights, will have luggage in the hold so a bag that can resist any impact from other pieces of luggage is ideal.
Soft bags are common in today's marketplace and internal padding is essential when you choose such a bag.
Polyester, nylon, and vinyl are soft but durable materials that are commonly used for golf travel bags, and that extra padding, as well as straps to secure the clubs in place within the bag itself, are important to give your clubs the protection they need even in a soft case.
There are hard golf travel bag options on the market as well. A hard case tends to have a higher price point and they do tend to weigh quite a bit more than a soft bag or cover.
When choosing between a soft and hard golf travel bag, you are looking for a balance between maximum protection without prohibitive weight.
Bag Storage
You don't want a travel bag that is too bulky and if you can fold it away for storage when you do not need it, that is a bonus.
That should never be a top priority when you make your bag purchase decision, especially if you are doubtful about the bag's ability to do the job that you want it to do.
In other words, there are more important considerations than how easy it is to store a bag when choosing a golf travel bag.
Our Final Thoughts on Golf Travel Bags
When it comes to your one best option for a golf travel bags cover, we recommend the CaddyDaddy Constrictor among a number of good alternative bags because it is the best balance between protection, durability, maneuverability and price. It is our overall pick when comparing the best golf travel bags.
You will have peace of mind every time you travel to know your clubs will be waiting for you on arrival in as good condition as they were when you left home.
FAQ
What is the best way to pack a golf travel bag?
The best way to pack a golf travel bag is to wrap soft items around the clubs so they don't break at the airport. Put towels, packing material or bubble wrap between the club heads and shafts. This way the clubs dont clank together or break when thrown around by luggage staff.
Are hard or soft golf travel bags better?
Hard golf travel bags are better for protection. They are built with extra padding ensuring if thrown around that your clubs have a better chance of remaining intact. Although, they can be more expensive than soft travel bags.
How heavy is a golf travel bag?
Golf travel bags weigh around 18 pounds. Stand and cart bags weigh more at 7-12 pounds. If a golf bag has clubs in it, the weight is about 25-30 pounds. The travel bag itself is light, the clubs added inside make it feel heavy.