Any golfer knows that with the plethora of gear that you need to play the game, things can get a little messy in the trunk. Nobody wants to have golf balls, tees, shoes, and scorecards scattered around the back of the car. It can be helpful to have a good golf trunk organizer to keep everything neat and tidy. Here are some of the best trunk organizers available today.
Best Golf Trunk Organizer
Short on Time? Here's A Quick Product Synopsis
Editor's Choice
Rating: 9.3/10
Well ventilated
Durable ripstop polyester
Lots of storage space
Best Single Layer Golf Organizer
Rating: 9.3/10
Good ventilation
Large storage areas
Collapsible
Features To Look For
Being able to differentiate between the best organizers is important when making your buying decision. Here is a brief overview of some of the most important things to pay attention to when you're doing your shopping.
Durability
Golf organizers need to be durable. There are a lot of sharp points in a golfer's gear bag with the cleats on your shoes, tips of your tees, and ends of your scorecard pencils.
If the fabric is not built to handle pokes, rips, and tears, and breaks down under pressure, then you won't get much of a lifespan out of your organizer. Most of the best golf trunk organizers will be made of polyester or ripstop nylon which are strong enough to take a bit of a beating and still last a long time.
This will also help protect your gear from being damaged from things moving around in the trunk when you're on your way to and from the course as well.
Double Decker
Having a double-decker trunk organizer can give you the extra room you need if you've got a lot of gear, or if you are sharing the trunk space with a spouse or a friend.
Double-decker organizers will let you separate and compartmentalize everything so you're not putting multiple pairs of golf shoes in the same area. It can also give you extra room for shirts, pants, a raincoat, or anything else that you need space for.
Ventilated
Ventilation is an important piece of the puzzle for a trunk organizer. It will ensure that your shoes will have some fresh air so they don't get too musty.
The best golf organizers will be ventilated as nobody wants to have a pair of shoes that have been locked in their own essence for too long. This will help keep your shoes a little fresher and clean the next time you have them stored in the trunk for an extended period of time.
Movable Dividers
With moveable dividers, you are able to customize the space in your organizer to fit your specific needs. If you have larger shoes, or gear that doesn't quite fit into conventional gear organizers, being able to move things around to give yourself the room you need can be very convenient.
If the dividers are not moveable, you need to make sure beforehand that the compartments will be large enough to fit your specific gear and you won't have issues fitting your shoes or clothing in. Of course, this can be hard to predict if you're shopping online. So if you get the chance, choose one with moveable dividers.
Waterproof
A waterproof organizer is something that should definitely be considered. If you've just gotten off the course and your shoes or your jacket are drenched, then you may want a waterproof organizer that can separate your wet gear from the dry.
If you've got a bank of scorecards you're keeping, or a golf glove you don't want to get wet, then making sure you block unwanted moisture from seeping through the seams can ensure that your best scores are readable and your glove will be comfortably dry next time you put it on. It will also help keep the rest of your trunk dry without water seeping through the sides.
Size to Match Your Car's Trunk
A factor that could be easy to overlook is making sure that the size of the organizer works with your actual trunk space.
Most organizers are designed in a compact fashion and you should have no problem fitting it in, but if you've got a smaller car without much trunk space, it is something that should be taken into account.
You don't want to get your organizer and realize you can't even fit it inside your car. It can be helpful to measure the space in your trunk and cross-reference it with the size of the organizer you're interested in. This will help avoid any unnecessary sizing issues.
Brand Quality
The quality of the organizer will be predictable based on the quality of the brand you're buying. One of the most reputable brands out there is Samsonite. They have been at the head of the luggage and storage industry for years and generally produce high-quality products that last a long time.
However just pay attention to the brand quality and make sure that the materials used, the return policy, and the reputation are all spot on so you can avoid any unwanted issues in the future.
---
Samsonite Expanding Golf Trunk Organizer
Editor's Choice / Best Hard Case Golf Trunk Organizer
Rating: 9.3 /10
uSA Suppliers (some deliver to Canada)
Last Amazon price update was: December 4, 2022 1:46 pm
Pros
Ripstop polyester
Waterproof backing
Double-decker
Lots of storage space
Ventilated front panel
Cons
Not the cheapest option
Not super lightweight
Our most highly recommended organizer is the Samsonite Expanding Golf Trunk Organizer. It is a double-decker organizer which has tons of space for your shoes, shirts, jacket, balls, tees, and scorecards.
Additional mesh pockets on the underside of the lid allow you to store things temporarily like your snacks or your valuables you don't want to take on the course. It is built from ripstop polyester and has a waterproof backing to help keep the moisture localized.
The dividers are movable so you can customize the compartments to your specific needs. The front door is ventilated mesh which allows your shoes to breath and helps to cut down on unwanted odor and bacteria build-up. Samsonite has a good reputation for building some high-quality storage products and this organizer should last a good amount of time.
---
Trunk It
Budget Choice
Rating: 9.0 /10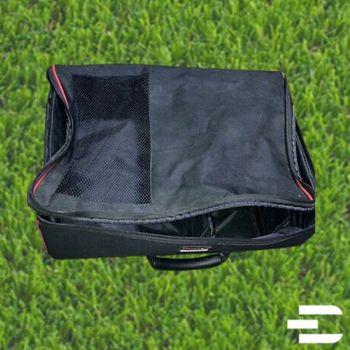 uSA Suppliers (some deliver to Canada)
Last Amazon price update was: December 4, 2022 1:46 pm
Pros
Budget-friendly
Durable 600D denier fabric
Moveable dividers
Carry handle
Compact
Cons
Not a ton of extra storage
Not fully waterproof
If you're looking for a budget option for your trunk organizer, then Trunk It may be the right one for you. It has lots of storage space for your shoes, balls, tees, and snacks. It is made of 600D denier fabric which is pretty durable and long-lasting.
It has a ventilated mesh top where the shoe compartment is so your shoes will be able to breathe. It has moveable dividers as well so you can keep things nice and tightly stored so they aren't moving around too much in the trunk.
Mesh storage pockets are also on the underside of the lid where you can keep additional items. There is only one large storage space for the shoes so you don't have a ton of room for extra clothing or bulky items. But, it is fairly compact and easy to use with a carry handle on the front. It should be a good option for anyone looking to save a bit of cash on their organizer.
---
Callaway Golf Trunk Organizer
Best Single Layer Golf Organizer
Rating: 9.3 /10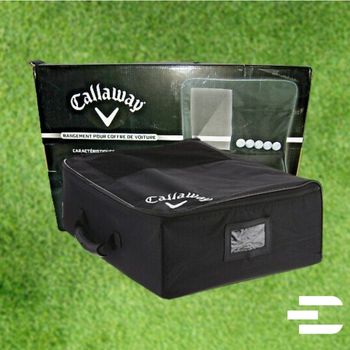 uSA Suppliers (some deliver to Canada)
Last Amazon price update was: December 4, 2022 1:46 pm
Pros
Budget-friendly
Ventilated front panel
Good for storing golf clothing
Collapsible
Lightweight and compact
Cons
Lacks smaller storage pockets
Not as durable as some others
If you want a simple option that is still fairly budget-friendly and does its job to keep your golf gear organized, the Callaway Golf Trunk Organizer could be a good way to go.
It has large storage compartments that would be suitable for keeping your shoes, golf hat, and clothing organized easily. It lacks smaller storage pockets except for a mesh area on the lid where you can put your smaller items.
It does have a ventilated mesh panel on the top to allow your shoes some fresh air, and the overall construction of the organizer is reliable. One of the biggest plusses of this organizer over others is the fact that it can flatten when not in use so you can store it anywhere without taking up any space.
---
Athletico
Best Multi-Use Organizer
Rating: 9.0 /10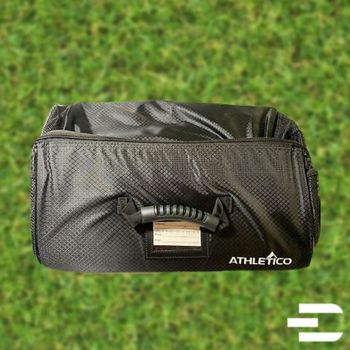 uSA Suppliers (some deliver to Canada)
Last Amazon price update was: December 4, 2022 1:46 pm
Pros
Large storage compartments
Moveable dividers
Mesh panels
Durable Oxford fabric
Versatle uses
Cons
Less compact
Does not collapse
Many of us golfers are fanatics of more than one sport. When it isn't golf season, having an organizer that can aid you in your other activities can be beneficial.
The Athletico organizer is built for golf but is also suitable for other uses. It is a spacious organizer that has enough room for your shoes as well as clothing and accessories plus your smaller items like balls, tees, and green repair tools.
Ventilation allows your gear to stay fresh, and plenty of mesh storage lets you keep pretty much anything you need inside. It is made of a durable Oxford fabric which is water and rip-resistant.
The dividers are moveable and removable so you can fully customize the compartments to your liking. If you're not using it for the golf course, utilizing the space for hiking equipment, cleaning supplies, or your gym clothing would be totally acceptable due to the amount of extra space and versatility the Athletico organizer allows.
Conclusion
With any of our options on this golf trunk organizer review, you should have the tools you need to keep things neat and tidy. Our favorite is the Samsonite Expandable trunk organizer as it is durable, high-quality, and intuitive in design. Keep our buying factors in mind when picking out your organizer and you'll be ready to hit the links in the blissful organization.
FAQ
What does a golf trunk organizer store?
A golf trunk organizer has many small compartments to store golf shoes, tees, gloves, towels, and other things you might need for a great golf round. As it's not small, placing it in a golf bag is difficult. However, the organizer will make packing for golf more manageable and more convenient.