Let's be honest, most of us aren't going to make the tour any time soon.
I use that rationale a lot on the course!
When I try to drive it over the water or eschew the easy lay-up to go for the green mainly!
If you're looking for an illegal driver I imagine you're like me and you're just in the market to have some fun and hit the ball a country mile.
But the illegal (AKA Non-Conforming) golf driver market is much more saturated than you would think.
And if you're buying an illegal driver, the last thing you want is to buy a dud that performs worse than those fancy legal drivers!
Trust us when we say there are plenty of duds on the illegal driver scene as it's naturally less regulated.
Fortunately, we have tested 25 drivers that don't conform to USGA rules to determine which ones will produce the best results for players of different ability levels and budgets.
Our favorite choices are outlined below and if you can't wait to start hitting the ball longer and straighter (and impress your golf buddies) then let's dive in.
Best Illegal Golf Drivers Summary
Best Illegal Golf Drivers Specification Table Comparison
---
Intech Golf Behemoth Driver (520cc)
Editor's Choice 1
Rating: 9.2 /10
USA Suppliers (Also Deliver To Canada)
Last Amazon price update was: November 28, 2023 6:03 am
Last Amazon price update was: November 28, 2023 6:03 am
Pros
Low center of gravity helps power the drive further through the air and maximize rollout.
Helps golfers who struggle hitting it long.
Available in black and silver or blue and silver.
Cons
Can't be used during regulated tournament play since it is over 460cc.
Appears simpler and older compared to cutting-edge high-end drivers.
The Intech Behemoth Driver is a club we like at Golfible for golfers who have slower swing speeds and need a boost in distance.
A 520cc head and huge sweet spot make it best for a multitude of different types of players to use. High-handicappers and beginners who have trouble making contact with smaller heads can confidently hit this club and find forgiveness for mishits.
Older players who want extra distance off the tee can also reach for this club.
The driver is non-conforming to the USGA, so it cannot be used for sanctioned USGA tournaments.
The majority of players who play the sport, in general, are weekend golfers that enjoy a care-free round with their friends, therefore this shouldn't be a problem in that regard.
When testing the club, the offset hosel came in handy in promoting a draw and preventing slices which result in lost distance and short misses to the right.
The Behemoth driver, made from forged alloy steel, comes with a headcover at purchase and has a 1-degree closed face.
The loft options are 10.5 and 12.5 degrees.
---
Pinemeadow PGX 500cc Illegal Driver
Editor's Choice 2
Rating: 9.2 /10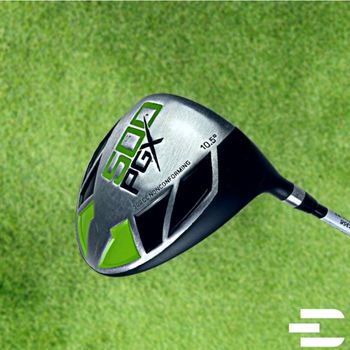 USA Suppliers (Also Deliver To Canada)
Pros
Large sweet spot.
Lime green alignment aid.
Includes headcover.
Cons
Enormous "X" on the middle of the clubhead can be distracting.
Different users said the club can easily be dented.
This matte black non-comforming driver is our pick for best budget illegal driver with its many features at a low price.
With its head size at 500cc over the 460cc USGA limit, golfers tend to smash this driver farther.
The lime green, black and silver design makes it sleek and futuristic looking.
There is a huge sweet spot on the club's oversized head giving players the opportunity to make better contact more consistently compared to regular drivers on the market.
A large "X" is shown on top of the clubhead which can be distracting upon address. If it can be ignored and the lime green dot used as an alignment aid is focused on, golfers shouldn't have any issues.
The driver is 10.5 degrees and 46 inches long. It comes with a mid-flex graphite shaft.
---
Bullet Golf B52 Bomber 500cc Driver
Best On A Budget – Option 2
Rating: 9.2 /10
Pros
High MOI helps with distance control.
Large sweet spot makes the B52 bomber forgiving.
Comes with a free headcover.
Cons
Some users claimed the club was uncomfortably heavy.
Only one loft option.
Bullet Golf created this 500cc monster for golfers to outdrive their playing partners and feel fulfilled walking off the tee box.
At Golfible, we like this club as a budget option. It can be found from $40-$70 dollars on most websites and is the cheapest driver on this list.
In testing, the club felt similar to standard 460cc drivers since it is only 40cc more. Adapting from a regular driver to this club shouldn't be too difficult.
Due to the driver being illegal at 500cc, it is also not allowed for use in USGA tournaments.
The B52 Bomber is ideal for players who want slightly more distance than their standard drivers but aren't looking too make a huge change in size.
The thin crown moves the weight of the head closer to the sole of the club leading to a higher MOI. This helps at contact spring the ball off the face and produce more cracking drives.
The ball flight is high when hitting shots and there is low spin for the ball to release on the fairway.
When purchased, the club comes in a 10.5 degree loft. There are a couple colorways available for the 500cc option including black, silver and navy or white, red and blue.
Bullet Golf does make other driver models with different sized heads.
---
Power Play Juggernaut Non-Conforming Driver
Best For Seniors
Rating: 9.2 /10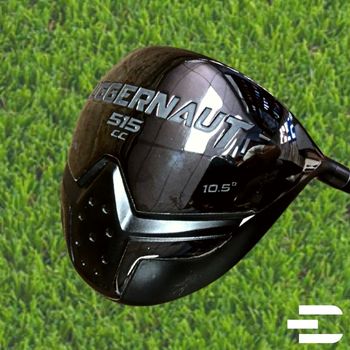 USA Suppliers (Also Deliver To Canada)
Last Amazon price update was: November 28, 2023 6:03 am
Pros
Offset hosel helps golfers draw the ball.
Dark gray arrow pops enough to help with alignment.
COR effect from beta titanium face leads to long drives
Cons
Only available in black.
Some golfers said they didn't see improved results.
The Power Play Juggernaut driver is similar to the first Juggernaut driver included in this list except this one is recommended for seniors.
The driver is 515cc which makes strikes not in the sweet spot still come off decent.
It also includes the beta titanium face that goes beyond the USGA's regulations. This provides the COR effect leading to more distance off the tee.
The driver has an offset hosel which helps users naturally close the face as well as draw the ball more often instead of slicing it.
It is sold in all-black with a dark gray arrow for alignment. The Juggernaut includes a lightweight senior flex graphite shaft to help increase swing speed.
---
Heater Ghost Ultralite Golf Driver
Best For Slow Swing Speeds
Rating: 9.2 /10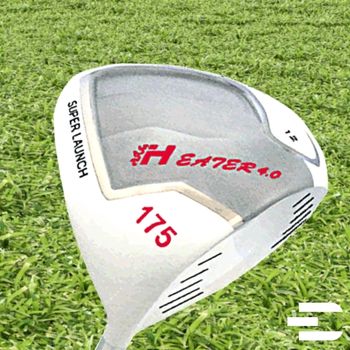 USA Suppliers (Also Deliver To Canada)
Last Amazon price update was: November 28, 2023 6:03 am
Pros
Special heat process aids in achieving better distance off the tee.
Low center of gravity.
Very light.
Cons
Only available in white.
Illegal to use in tournaments. (Like every driver in this list.)
The Heater Ghost, among non conforming golf drivers, is an illegal head that was mirrored after Taylormade models.
The head is ultralight at 175 grams in comparison to many driver heads that weigh 200 grams.
When used with a lightweight shaft between 45-55 grams the club is far lighter than the majority of drivers on the market. This leads to increased swing speeds, which helps increase distance.
When created, a special heat treating process was used to make the driver face extremely hard so the ball can spring off it to add distance to golfer's drives.
The company uses ultra-thin crown technology which added thinner crown areas in the beta titanium head. This creates a lower center of gravity and in the back of the head enabling golfers to make more solid contact while swinging.
The variable thickness face is 3.0-2.5mm which enables golfers to achieve more power.
The club is available for sale in white.
---
Orlimar Golf Black Big Buddha Driver
Extra Large Sweet Spot
Rating: 9.2 /10
Pros
Huge 520cc head.
Made from a reputable brand.
Enormous sweet spot.
Cons
Only available for right-handed golfers.
Headcover not included.
The Orlimar Black Big Buddha has a feature that golfers love: a ginormous sweet spot.
With its 520cc driver head, it is the longest hitting illegal driver among the golf drivers reviewed.
Big Buddha designs their drivers to reduce energy loss during a swing which helps increase clubhead speed leading to better distances.
This driver contains a thin crown which helps move the weight lower into the sole area, leading to a better moment of inertia.
This illegal driver helps the ball launch higher into the air and reduces spin leading to better control and increased distance.
The club is red, black, silver and has a white alignment aid.
Three different shaft options are available in graphite: regular, stiff or senior flex.
The Big Buddha is 10.5 degrees and is made for right-handers only.
The club does not include a headcover when purchased.
---
Sooolong 750cc Beta Titanium driver
Biggest Illegal Golf Driver
Rating: 8.5 /10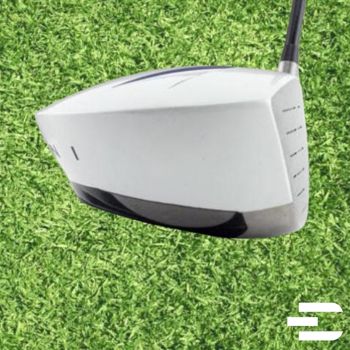 Pros
The super-low center of gravity launches the ball in the air after contact leading to more yardage.
At 750ccs, the sweet spot is hard to miss.
Comes in a variety of lofts including 9, 10.5 and 12 degrees.
Cons
Some users said it broke after a few uses.
The sound at impact bothered many customers.
The Sooolong driver has the largest head of any product in this article at 750cc. The head is ridiculously huge compared to any normal driver head.
During testing, we found it a little hard to take the club seriously and not laugh when hitting it due to its appearance and its clanking sound at impact. The sound is extremely unique and somewhat similar to nails on a chalkboard (not that bad).
The driver does produce an insane amount of distance from the tee thanks to its .860 COR COR (coefficient of restitution) face that features a sweet spot larger than the state of Texas.
COR tells researchers how much energy is being transferred between the club and ball during contact.
The club is recommended for golfers who want maximum distance, such as seniors with extremely slow swing speeds. It is also great as a club for pure recreation and to mess around with on the range.
Sooolong offers six different shaft options shown below:
-AccuFLEX Assassin II
-AccuFLEX Pro LD
-AccuFLEX UltraBOOM
-AccuFLEX Vizion Ultralite 55 Gram
-AccuFLEX Venom 60 Gram
-Sooolong 45 Gram Ultralite
The flexes offered for these shafts are: regular, stiff, senior, ladies, extra Stiff or 2X Flex.
This driver, being among the banned golf drivers, is not permitted to use in tournaments ruled by the USGA.
---
Money Club High Launch 520cc Driver
Best For A Standard Driver Feel
Rating: 9.2 /10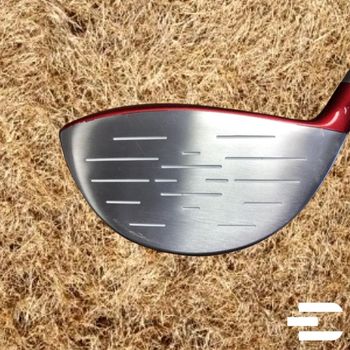 USA Suppliers (Also Deliver To Canada)
Last Amazon price update was: November 28, 2023 6:03 am
Pros
The illegal COR effect on the face adds distance to shots.
With the huge sweet spot, the club is very forgiving.
Comes with headcover.
Cons
Some users said it didn't add any distance vs. their normal drivers..
We like the Money Club High Launch driver because it feels like a standard and forgiving older TaylorMade driver such as the R11 or R9 thanks to the height of the face and sweet spot.
In testing, the sweet spot performed well on high and low mishits on the face.
This club is great for golfers who enjoy standard driver models but want to pack an extra punch with a bigger 520cc face and added distance.
The club is illegal to play in USGA tournaments.
In appearance, the driver is red on top and features a white arrow as an alignment aid. The bottom of the head is silver and black containing a money sign.
A beta-titanium face makes the driver last a while and prevents dinks and dents on it.
The driver is equipped with a standard-sized black velvet grip.
What is an illegal golf driver?
Illegal drivers are drivers that do not conform to the USGA or R&A's regulations. These drivers cannot be used for tournament or handicap rounds.
What makes a golf driver illegal?
According to the USGA, in appendix II, section 4c of the rules of golf:
"The design, material and/or construction of, or any treatment to, the clubhead (which includes the club face) must not: (i) has the effect of a spring which exceeds the limit set forth in the Pendulum Test Protocol on file with the USGA/R&A, or (ii) include features or technology, including, but not limited to separate springs or spring features, that have the intent of, or the effect of, unduly influencing the clubhead's spring effect, or (iii) unduly influence the movement of the ball."
In simpler terms this means that drivers cannot have their faces shaved down or thinner than required. When that is the case, the ball jumps off the clubface better than regulated drivers which leads to an unfair advantage as well as longer drives usually. That is what makes them illegal.
The following link will tell you if your driver is conforming and contains a list of conforming or noncomforming drivers.
When can you use them? When can't you use them?
Golfers can use illegal drivers during their practice or "for fun" rounds. They cannot use them during tournament play or to measure their handicap.
Features to Consider
There are many features to consider in an illegal driver. Below are three of the primary factors to look for:
Accuracy- Some illegal drivers have an offset hosel that helps reduce slices and aids golfers to hit straighter and more accurate.
Quality- It's important to pay attention to what company makes the club. Some companies are more reputable than others and make better quality clubs that will last longer and produce more desirable results.
Durability- Illegal drivers have different levels of durability. Golfers need to make sure to read reviews or test out the clubs to make sure they're purchasing a driver that won't break or dent easily.
Benefits / Drawbacks of having a non-conforming driver
Benefits:
-Bigger head usually over 500cc. The more volume in the head can lead to much longer drives.
-Clubfaces designed to have "spring" effect. This allows the ball to bounce off the face better.
-Easier to hit the ball straight with most having offset hosels. This positioning of the hosel helps prevent slices and can help promote draws.
Drawbacks:
-Many aren't made from the better-known golf companies.
-They are illegal to use in tournament play.
What does Hi Cor driver mean?
Hi Cor drivers are made with a mix of features designed to maximize ball distance with their high rebound speed off the face. They are illegal to use during tournament play.
Characteristic time of driver
Characteristic time of driver (CT) is a measure of the time the ball sticks to the face of the club during contact. It also describes the elasticity of what the club face is made from.
The USGA and R&A limit a clubs CT to 239 microseconds and an extra 18 microseconds (µs) for measurement tolerance leading to a maximum of 257µs.
A famous example of this being brought to the public eye was at the 2019 Open Championship when PGA Tour star Xander Schauffele's driver was ruled illegal.
The Olympic gold medalist's driver was 1µs over the limit forcing him to use a new driver for the first round where he struggled shooting 74.
Conclusion
After reviewing the different clubs, it is clear that among the best illegal drivers, the Juggernaut Offset stands out as a superior club and is our pick for the best illegal golf driver. The club's massive 515cc volume that allows players to bomb it off the tee and offset hosel that makes it one of the best illegal anti slice drivers, encouraging straighter drives and making it an all-around club. The best non-comforming driver comes in a variety of options and mixes game improvement with performance.
FAQ
Are titanium drivers illegal?
Yes, titanium drivers are disallowed for use in USGA. According to USGA rules and regulations, you cannot build drivers to be more than 460 cc in size. And the primary reason why titanium drivers are illegal is that the size of the Juggernaut Titanium Driver is 515 cc which is more forgiving for off-center shots. 
What TaylorMade driver is illegal?
The TaylorMade R510 driver with a 0.860 COR is illegal. COR means Coefficient of Restitution which measures the energy loss or retention when two items collide. The limit to COR in a golf clubs is 0.830 so the R510's with this COR are non conforming. You can still buy Taylormade R510s with a conforming COR on Ebay and only minimal yardage is lost with the reduced COR.
Why is the juggernaut driver illegal?
Juggernaut drivers are illegal because they produce drivers beyond the recommended legal limit stated by USGA. The Juggernaut divers have a 515 cc volumeheads that are banned