As a mid-handicap golfer, you likely aren't finding the center of the clubface on iron shots as consistently as the tour pros.
If your playing the wrong irons, the effects of this can be quite damaging, and often the difference between being on the green or 20 yards short.
We get it, it's hard to pass up a beautiful set of blades but playing the wrong iron set will severely limit your consistency on the course.
It can be a drain to muddle through all the irons available for mid-handicappers, but lucky for you, our team has done all the research for you.
We have combed through every manufacturer and narrowed it down to 5 categories to help you choose the iron set that best appeals to you.
Whether you are a mid-handicap golfer or an aging scratch golfer looking for a little more distance, our review and top iron picks have you covered.
So let's dive in below and give you some insight into the best irons for mid-handicappers and how they can elevate your game.
Irons For Mid-Handicappers Specification Table Comparison
Iron Set Name
Callaway Golf Rogue X
Cobra King F6
Callaway Women's Rogue
TaylorMade M4
Callaway Apex CF16
Our Rating
9.3/10
Editor's Choice
9.0/10
Best On A Budget
9.3/10
Best For Women
9.2/10
Best For Distance
9.2/10
Best For Low Mid-handicappers
Pricing
Jump To Pricing Section
Jump To Pricing Section
Jump To Pricing Section
Jump To Pricing Section
Jump To Pricing Section
Irons Included
5, 6, 7, 8, 9, PW, AW
4, 5, 6, 7, 8, 9, PW, GW
5, 6, 7, 8, 9, PW, AW
5, 6, 7, 8, 9, PW, AW
4, 5, 6, 7, 8, 9, PW, AW
Iron Back
Cavity Back
Cavity Back
Cavity Back
Cavity Back
Cavity Back
Shaft
Aldila Synergy 60IR Graphite / True Temper XP 95 Stepless Steel
FST Steel Flighted Steel / Matrix Red Tie 65Q4 Graphite
Aldila Quaranta 40IR Graphite Womens
KBS MAX 85 / Fujikura Atmos Red
UST Mamiya Recoil / TT XP 95
Grip
Callaway Men's Universal
Lamkin REL 360
Callaway Women's Universal
TaylorMade Dual Feel
Lamkin UTx
Read Review
Jump To Callaway Golf Rogue X Review
Jump To Cobra King F6 Review
Jump To Callaway Women's Rogue Review
Jump To TaylorMade M4 Review
Jump To Callaway Apex CF16 Review
---
Callaway Golf Rogue X
Editor's Choice
Rating: 9.3 /10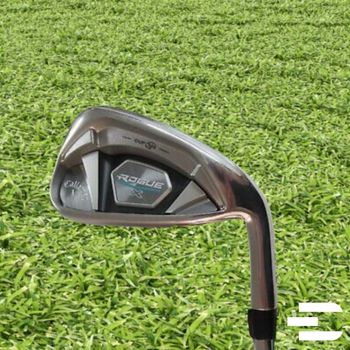 Pros
Great for improving distance
Lightweight for more control and faster swing speed
Variety of configurations means you can choose the range of irons you need
Great sound and feel
Cons
Price – for the budget-conscious player they may be a bit steep
Topping our list of best golf irons for mid-handicappers is Callaway's Rogue X set. Lighter, longer, and with greater lofts than the Rogue Standard, the Rogue X's wider soles ensure a lower centre of gravity for more height and further distances for your shots.
Callaway have again used their 360 Face Cup technology and combined it with Variable Face Thickness (VFT) to ensure faster ball speed.
This is achieved by the 360 design that creates a shallow and flexible rim around the perimeter of the face that flexes and releases at the moment of impact.
VFT helps the club face flex on off-centre shots, ensuring ball speed and distance even for mis-hit shots.
Also key to the Rogue X is the tungsten weighting, allowing for a low centre of gravity in the long irons which in turn increases control and loft.
To combat the potential of vibrations in the thin club face, Callaway have included elastic urethane microspheres to dampen the vibrations and improve sound and feel without compromising on control or ball speed.
The Rogue X set is available in a number of configurations, ranging from 4-iron to sand wedge, while you can choose between steel and graphite shaft options as well as choosing your preferred flex.
---
Cobra King F6
Best Budget Option
Rating: 9.0 /10
Pros
Different cavity-backed designs throughout the set enhance the strengths of long, mid and short irons
Plenty of forgiveness
Budget friendly irons for mid handicappers
Cons
As a 2016 model, lacks some of the new technology found in newer iron sets
If you're on a bit of a budget, then you might want to consider the Cobra King F6 irons.
What is interesting about the F6 iron set are the different constructions used throughout the set to optimise control and height of your shots.
The long irons (3,4,5) are built with V-grooves and a full hollow head design, which lowers the centre of gravity and will help get the ball airborne and create longer distance.
The mid-irons (6, 7) are made with U-grooves and a half hollow head design for for increased control and forgiveness. Finally the short irons (8, 9, PW) feature a cavity-back design for spin and control.
Each iron is steel-shafted to help you generate spin and launch, while Cobra's Speed Channel sole and face technology aids in distance by reducing the weight around the club face.Cobra have also used a deep under cavity in the F6 irons, which helps in increasing forgiveness and straighten out off-centre shots. In addition, CNC milling on the grooves of these irons will help increase spin, allowing you to attack the pins and maintain control of your shots.
---
Callaway Women's Rogue
Best Women Mid Handicap Iron
Rating: 9.3 /10
USA Suppliers (Also Deliver To Canada. Globalgolf.ca Is Canadian Delivery Only)
Pros
Specially designed for female mid-handicappers
Ultra lightweight to improve swing speed
All the benefits of the Callaway Rogue range
Cons
Price – premium clubs come at a premium price
Our second entry from the Callaway Rogue range, this time a set of irons specially created for female mid-handicappers.
with all the technology and designs of the Rogue X irons, including 360 Face Cup, Variable Face Thickness (VFT) and elastic urethane microspheres for control, forgiveness and dampened vibrations.
The big differences are the Women's Rogue irons are ultra lightweight, boast wider soles, larger cavities and extra low centres of gravity.
These have all been included to help female golfers who commonly have slower swing speeds create faster ball speed.
Like the Rogue X, the Rogue Women also boast tungsten weighting in the long irons for better ball flight and control.
The shaft of these irons, however, are made from graphite, adding to their lightweight feel and causing greater flex on the swing, while they have been made an inch shorter as is standard for female clubs.
---
TaylorMade M4
Best For Distance and Power
Rating: 9.2 /10
USA Suppliers (Also Deliver To Canada. Globalgolf.ca Is Canadian Delivery Only)
Pros
Great for players looking to improve distance
Crisp sound and high launch
Good forgiveness for clubs designed for power
Cons
There are better options for players looking to improve finesse and touch
TaylorMade released the M4 irons as an upgrade to the M2s and while they certainly look fit for a pro, the M4 range have been designed with the mid-handicapper in mind.
The long irons have been created with a deep-set cavity back design and a small hollowing behind the club face, intended to offer more distance and forgiveness.
The M4 irons come with a lightweight shaft to aid in swing speed and therefore, also, distance.
They also have a technology TaylorMade have called RIBCOR, which localises club face flexibility and transfers more energy to the ball.
This allows you to hit shots longer, straighter and higher and ensures mis-hit shots are not unduly punished.
While there are plenty of distance-boosting designs and technologies in the M4 irons, it's not all about the power.
The 360-degree undercut and fluted hosel will improve your launch and ball spin, while the face slots increase flexibility in the heel for greater consistency.
---
Callaway Apex CF16
Best For Low Mid-handicappers
Rating: 9.2 /10
USA Suppliers (Also Deliver To Canada. Globalgolf.ca Is Canadian Delivery Only)
Pros
A good choice for low mid-handicap players
Offers plenty of power and distance
As these have still been designed as game improvement irons they offer good forgiveness
Cons
Some players may struggle with the smaller club head
Players with slower swing speeds may struggle
If you are on the lower side of the mid-handicap range and making your way toward low handicap status but want to steer clear of blades, then the Callaway Apex CF16 irons might be a good option.
Callaway have precision engineered the cup using their Cup 360 technology to offer consistent ball speed throughout the irons.
The Apex CF16s also boast progressive offsets based on the iron length, so the longer irons feature more offset for added forgiveness, while the shorter irons have a compact shape to aid in control.
Available in both steel and graphite shafts, the Apex CF16 irons boast a smaller clubhead than many other cavity-backed irons, which reduces the size of the sweet spot – something advanced mid-handicappers with precision shot-making should enjoy.
Mid irons explained
Before we delve deep into each of the sets introduced above, it's important to familiarise yourself with the advantages of having the correct golf irons for your handicap, what to look out for when choosing the right game improvement irons, and which you should avoid.
What is a mid handicapper?
A mid-handicap player is generally someone with a handicap between 10 and 18 – a golfer with a good level of skill who can consistently break 90 after 18 holes on a familiar course. It means you will be averaging less than a bogey per hole.
There is, of course, a bit of a range between a 10 and 18 handicap, so the mid-handicap area is filled with many different types of golfers with varieties of ability and experience.
When to consider changing to mid-handicap golf clubs
The most obvious reason would be if there has been a change to your handicap and thus your abilities.
If you are making great improvements and are shooting scores in the mid-handicap range, but you are still playing with irons more suited to a beginner, then you are likely to be in the market for an upgrade.
Equally, if your game has gone backwards, perhaps from not playing so regularly, and you are struggling to control the ball with pro-level irons, then a move into mid-handicap irons could be a smart decision.
Another reason would be if your current set of golf irons are out of date. Now, golf clubs aren't like smartphones where you need to upgrade every couple of years.
Given the amount of technological advances that have been made, however, if your clubs are more than six or seven years old, you may be at a disadvantage.
Newer irons, for example, are often a degree or two less in loft than older models which provide greater distance, but with modern technology implemented, still generate the same height.
The shafts in the modern iron set is also lighter so your swing speed will be faster and your control of the golf club will be greater.
Finally, you may decide to change your irons if you're not particularly keen on your current set.
This perhaps seems like the least important reason, but if you don't like the clubs you already have and you don't feel they are helping your game, then it might be time for a change!
Golf Irons for mid-handicappers to avoid
The irons used by professionals, scratch players and low-handicappers are different from those a mid-handicapper should be using and could be disadvantageous.
As a general rule, any clubs that are "blades" or "muscle backs", or are called "Pro", "Tour" or "players irons" should be avoided by mid-handicappers.
Muscle back irons, commonly known as blades, have no cavities and instead have solid metal backs. This significantly reduces the sweet spot on the club, making the ball more difficult hit accurately.
For pros and top-level amateurs with near-perfect precision, this reduced sweet spot is an advantage, but for a mid handicapper, it could be a hindrance.
Blades also have higher centres of gravity compared to cavity-back (CB) irons, which result in lower ball launch and more spin, while thinly-hit shots get punished.
Oppositely, a cavity-back iron set, therefore allows you to get more height on your best golf shots and produce less spin, while thinly-hit shots can still get in the air. This is what it means when you hear about club forgiveness.
Also, the hosel on blades is not offset, which allows players of very good abilities to shape their shots.
For players not capable of shaping shots, this setup could lead to more hooks and slices.
What do mid-handicappers need from their irons?
Now you know what you want to avoid from your irons, let's look at what you actually need.
As we just learned, mid-handicap irons can be cavity-backed, which have been specially created to aid in ball flight, distance, and greater forgiveness (there's that word again!).
A key aspects has gone into the design to make them appropriate improvement irons for mid-handicappers. A thin steel clubface, which flexes better and produces faster swing speed, in turn leading to longer distances for your shots.
We mentioned the higher centre of gravity found on blades, so in contrast, cavity-backed irons have lower centres of gravity where the club is weighted more toward the clubhead.
This allows you to create more height and less spin.
Then there is the offset on CB irons not found in blades that limits slice and ensures you hit the ball straighter.
You may also find on some sets of irons a badge fixed to the back of the clubhead and have been added to reduce vibration from your shots.
In terms of shafts for your irons, you will want to decide between steel and graphite depending on your swing speed.
If your swing speed is a bit slower, then you will want to consider the lighter graphite shafts, which will give you more speed and therefore more distance.
If you have a faster swing speed, then go for the heavier steel shafts, which offer a better feel for your shots.
---
There are many things to consider when deciding which way to go for your next set of mid-irons. Should you opt for any of the mid-iron sets detailed above then you can't go wrong, but in our opinion, the Callaway Rogue X hold the edge over the competition.
They suit all styles of games and all abilities in the mid-handicap range. There are also many configurations to choose from, ensuring you end up with the best golf clubs and setup you want. Whichever clubs you choose, we hope you see improvements from your iron play!
FAQ
Can a 15 handicap play blades?
A 15 handicap can play blades but it isn't recommended. If you're averaging around an 86 or 87, it's clear you aren't striking your irons as well as you should. Blades have smaller sweet spots and have to be hit right on the screws for good results compared to more forgiving cavity back irons.
What clubs should a mid handicap golfer carry?
A mid handicapper should carry the following clubs:
• Driver.
• 3-wood.
• 5-wood.
• 4-hybrid
• 5, 6, 7, 8 and 9 irons.
• Pitching wedge.
• Gap wedge
• Sand wedge.
• Lob wedge
• Putter.
The woods and wedges combinations can be swapped out according to preference.
What is a low to mid handicap golfer?
A low to mid handicap golfer is a player with a handicap around 8-13. This player will often shoot in the mid 80s but can also go lower or higher.