The demand and popularity for golf clubs made in Japan have exploded in recent years.
Many golfers across the world are trying out new Japanese brands, many of which offer very high-quality clubs that are built to last, and reaping the benefit of these previously undiscovered options in the golf equipment market.
Just like equipment made anywhere else, there are brands that perform at a very high level on the course, and those that don't live up to their price tag. If you're curious about Japanese equipment it might be hard to find out what works and what doesn't.
The last thing any golfer wants is to make an expensive investment in their game that doesn't yield positive results on the scorecard.
Luckily, our team tested 30 Japanese golf clubs across multiple brands to determine which ones were the most effective and had the best value.
We have categorized those results below and highlighted our favorite options below. Ready to explore Japan's best golf clubs?
Let's dive in with a quick summary of our top picks!
Best Japanese Golf Clubs 2023
---
Japanese Golf Clubs Specification Table Comparison
Golf Club Name
Miura CB 301
Mizuno JPX 919 Hot Metal Pro
Honma TR 20
Mizuno MP-20 Muscle Backs
Miura Inner Cavity 601 Irons
Our Rating
9.6/10
Editor's Choice
8.8/10
Best Japanese golf clubs on a budget
9.2/10
Best Japanese golf drivers
9.5/10
Best Japanese golf clubs for low handicap players
9.3/10
Best Japanese Golf Clubs for Beginners
Pricing
Jump To Pricing Section
Jump To Pricing Section
Jump To Pricing Section
Jump To Pricing Section
Jump To Pricing Section
Number Of Clubs Included
8
8
N/A
8
8
Driver
N/A
N/A
Adjustable Loft (8.5⁰/9.5⁰/10.5⁰) / 460cc Head Size
N/A
N/A
Irons
4, 5, 6, 7, 8, 9
4, 5, 6, 7, 8, 9
N/A
3, 4, 5, 6, 7, 8, 9
4, 5, 6, 7, 8, 9
Wedge
Pitching (44⁰ Loft), Gap (48⁰ Loft)
Pitching (46⁰ Loft), Gap (51⁰ Loft)
N/A
Pitching (46⁰ Loft)
Pitching (45⁰ Loft), Gap (50⁰ Loft)
Head Type
Cavity Back
Cavity Back
Adjustable
Muscle Back
Cavity Back
Read Review
Jump To Miura CB 301 Review
Jump To Mizuno JPX 919 Hot Metal Pro Review
Jump To Honma TR 20 Review
Jump To Mizuno MP-20 Muscle Backs Review
Jump To Miura Inner Cavity 601 Irons Review
---
Miura CB 301
Editor's Choice
Rating: 9.6 /10
Pros
Good distance
Traditional tour design
Precise feedback
Decent workability
Cons
Not as forgiving as one would hope from cavity-back irons
Pricey for the majority of the target market
This comprehensive iron set includes the 4 to 9 irons as well as a pitching and gap wedge. They are cavity-backed irons that offer much more forgiveness than the Miura blade options. Despite the cavity, they still look formidable and have a tour-inspired design.
Their stand out feature is that they deliver impressive distance. The lofts are strong (lower loft angle for more distance), the irons are fast and the distance is what you want from quality irons.
Miura has managed to find a good balance between playability, forgiveness, and distance making this a highly versatile set that will suit a wide range of players.
These Japanese forged irons provide an impressive soft feel. The cavity depth and sole are variable to optimize control and performance across the set. They are consistent and offer decent ball control.
The center of gravity (CG) is positioned for distance and accuracy. Most golfers appreciate the soft feel, feedback, and acoustics of the CB 301 irons. This is largely due to the skillful forging process used.
Better players using these irons will have the ability to shape their shots. They have a classic traditional look that will appeal to many. This was an easy pick for our editor's choice and is becoming a popular option.
---
Mizuno JPX 919 Hot Metal Pro
Best Japanese golf clubs on a budget
Rating: 8.8 /10
Pros
Speed and distance
Soft feel
Outstanding feedback
Lots of forgiveness
Range of quality shafts available
Great value for money
Stylish good looks
Generous sole with decent grind
Good acoustics
Cons
Some find them a bit chunky
No left-hand option
The material and design give these irons a soft feel and plenty of forgiveness. Grain flow forged 1025 Boron Steel has been used.
Not only is it light and super-strong but is looks, feels, and sounds good.
Speaking of sound, Harmonic Impact Technology, (HIT) was used to enhance feedback and create a pleasing sound as the ball is struck.
The Micro-Slot sits behind the face and is CNC (Computer Numerical Control) milled for precision.
This adds a little more to the forgiveness and helps give the irons an admirable distance. The perimeter weighting optimizes forgiveness and distance across the face of the irons.
Most players also find the MP JPX 919 irons to be consistent and have a good distance gap between clubs. The mid to high launch allows for impressive distance control.
The sole is well-designed and relatively generous so you can expect good turf interaction from this set of irons.
---
Honma TR 20
Best Japanese golf drivers
Rating: 9.2 /10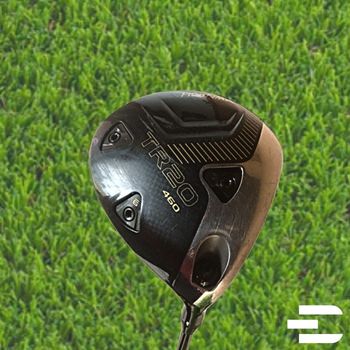 USA Suppliers (Also Deliver To Canada. Globalgolf.ca Is Canadian Delivery Only)
Pros
Superb distance
Lightweight design for faster swing speeds
Robust durable design
Adjustable weights
Non-rotating hosel for better alignment
Cons
Undeniably expensive
Higher handicap players would probably want more forgiveness
It is not only impressive irons that come out of Japan. They make some outstanding drivers too, the Honma TR 20 being a favorite for many. Honma has combined their craftsmanship skills with leading technology to produce a driver that hits far.
The lightweight construction makes it possible to swing the driver faster. This was achieved through the use of Ti Carbon and Fast Frame technology. Not only is it light and fast it has good strength for durability.
The carbon body and titanium frame lend the driver a high COR (Coefficient of Restitution).
This translates into a greater energy transfer at impact for higher speeds and greater distance. Variable face thickness and vertical internal grooves also work to amplify speed and increase distance off the tee.
For those that want to dial the driver in to get the most out of their swing speed and style, the TR 20 has adjustable weights. These will allow you to alter the spin or achieve a draw or fade bias. The hosel is non-rotating so that it remains well-aligned as lie and loft are adjusted.
---
Mizuno MP-20 Muscle Backs
Best Japanese golf clubs for low handicap players
Rating: 9.5 /10
USA Suppliers (Also Deliver To Canada)
Pros
Quite expensive
Good playability
Classic stylish looks
Awesome feel
Decent turf interaction
Cons
Quite expensive
Not very forgiving
Most better golfers will appreciate the control and playability of these blade irons. Muscle-back irons are designed for distance, shot shaping, and precision control.
All players benefit from good feel but it is particularly important when playing more intricate shots. The MP-20 irons benefit from a layered face to enhance the feel. There is a copper layer for the softness which is complemented by a thin layer of nickel.
While these blade irons are not going to be as forgiving as cavity-back options they are highly versatile. A mid handicapper could get a lot of value out of them.
As you would expect from blades, the irons have a relatively narrow sole and thin topline. While this might intimidate beginners it looks highly impressive. The sole has a decent camber allowing for good turf interaction by blade standards.
The irons look professional and classy. The satin/chrome finish is appealing to most.
---
Miura Inner Cavity 601 Irons
Best Japanese Golf Clubs for Beginners (Forgiveness plus distance)
Rating: 9.3 /10
Pros
Highly forgiving
Decent distance
Durable
Lightweight
Good sound and feel
Variable weights
Easy to launch
Cons
Better players will want more playability and control
Feel not as good as people have come to expect from Miura
These feature-rich irons are designed for players looking for more forgiveness without compromising on distance.
While Japanese manufacturers focused primarily on better players in the past, they now make quality equipment for players at all levels. These are a good option for beginners or intermediate golfers.
They have an inner cavity, something Miura has done before with their successful IC2003 irons. A number of features give it the distance to go with the forgiveness the cavity offers. The 455 Carpenter Steel face and SUS304 stainless steel body work well together.
It has a standard 8gm weight as well as a variable weighting system that can be customized. The sole has a good width and the irons have a low CG. This allows for easier launches and good turf interaction.
The appearance at address is bound to inspire confidence and the large sweet spot will enhance the forgiveness of the 601 Irons.
Despite being in the game-improvement category the irons have a compact look. There is also a fair amount of offset. This gives it a somewhat unique look but it is certainly easy on the eye.
The feel is soft but some comments suggest it does not live up to the quality feel of other Miura irons.
The lowdown on Japanese Golf Clubs
What is JDM in Golf?
We are all familiar with the reputation the Japanese have with sword making, particularly the legendary katana. The swordsmiths were revered artisans that took great pride in their work. The process was slow and meticulous, the materials used were of the best quality and the results were phenomenal.
While processes and technology have evolved over the years, a similar pride and precision have been carried through to the manufacture of the best Japanese golf irons and other modern golf equipment in Japan. One thing is for sure, they know a lot about forging.
JDM stands for Japanese Domestic Market, and it is here that Japanese brand golf clubs are largely produced. These clubs are mostly forged, often by hand, by skilled craftsmen using quality Japanese steel and other materials.
Technology has evolved and the JDM market features some of the most sophisticated technology available. There is a strong emphasis on aesthetics, so they are mostly strikingly good looking. The feel is good and the quality and workmanship are hard to beat.
They are not mass-produced like the leading brands and have a small but growing niche in the market. Many are custom made according to the players' requirements. #
Clubs produced by Japanese golf club manufacturers tend to be noticeably more expensive than the majority of the equipment from big brands (more on that later)
Japanese golf clubs brands
There are several leading Japanese golf club brands that are considered among the best Japanese golf brands.
Mizuno is probably one of the better known Japanese golf club makers outside of Japan. They are popular and highly rated by many. The company started out in 1906 making sporting apparel. They began focusing on golf equipment and apparel in 1933.
The company makes a comprehensive range of clubs for players of all levels. They are also well-known for quality footwear, gloves, and golf balls.
Not quite as well known in the west but rapidly growing in popularity, Miura makes sophisticated clubs with leading technology. The company was founded in 1957. Of interest is that they are based in Himeji, one of the famous samurai sword producing areas in Japan.
Their initial focus was on better player irons and these have been used by some of the top golfers. They now make a wider range to cater to all sectors of the market.
The clubs are finished by hand and have an impressive look and feel as well as enviable performance.
After running a driving range for 5 years, the Honma brothers started making golf apparel and clubs in 1963. They have been growing their brand and distribution consistently over the years.
Apart from some popular clubs they also manufacture golf balls, bags, and other golf apparel.
The Endo Forging house has worked with many of the leading golf brands. They have been making their Epon range since 1977 and are seeing good growth in the U.S market.
They have traditional Japanese values and aim for superior products that are crafted with care, passion, and precision.
They produce a full range of clubs for better players as well as those looking for a bit of game improvement from their equipment.
Golf In Japan
Japan is home to more than 2200 courses in the world. While golf has many similarities all over the world, there are a few traditions and customs that outsiders will not be used to. Many of the courses are among the most well-manicured and visually appealing golf courses you will come across.
The first club was established in Kobe in 1903 by British ex-pats. The Japan Golf Association was formed in 1913 with a stable of 7 clubs.
Golf is relatively expensive in Japan and you can expect to pay between $140 to $180 or more for a round over the weekend and $70 to $110 on weekdays. If you travel further outside of Tokyo you can find less expensive options.
This fee does cover the full experience and generally includes a cart, a decent lunch, and a traditional post-game bath, an experience not to be missed.
Expect to spend the better part of the day playing a round of golf in Japan. Lunch, for example, generally lasts an hour. The game is to be enjoyed and the experience savored not rushed. The Japanese see golf as much more than a mere sport. It is a lifestyle.
While the game itself is very much the same there are many unique customs and traditions. This adds to the appeal of playing golf in a foreign land. The dress code is slightly more formal than the current norm in America. This applies to the course as well as the clubhouse.
This video will give you a quick introduction to arriving and checking in at the club.
A golfing visit to Japan is a rich cultural experience that most avid golfers are sure to appreciate.
Why are Japanese golf clubs so expensive?
Not only is playing the game more expensive but the JDM clubs also come at a premium.
There are many reasons these clubs are more expensive but there is no definitive answer. Some put it down to superior, and more expensive, Japanese steel. Many say it is the skilled artisans and the quality of workmanship.
It is certainly true that they do not mass produce clubs like the leading brands so they do not enjoy the same economy of scale in production. There is still a lot of hand finishing and precision work that is slower than the methods used in the west.
The technology on most Japanese equipment is exceptional but many argue that the leading offers from top brands have technology of equal caliber.
Part of the reason might be down to the status and appeal of a more expensive club that is not seen all that often.
What pros play with Japanese Golf Clubs?
Probably one of the biggest names to play with Japanese clubs is Justin Rose. The English golfer, born in South African, rose to number one on the Official World Golf Ranking in 2018. He currently sits at number 14. He played a Honma Driver and irons during his relationship with them.
During this time, he won the Farmers Insurance Open in 2019. He gave them valuable insights and testing feedback. Justin recently left Honma in what appears to be an amicable parting of ways.
Abraham Ancer is a PGA tour ambassador for Miura. The move is a good fit as the Mexican professional golfer has been using Miura irons for a while now, long before any formal relationship with the company. Kevin Chappell is another PGA Tour Professional that uses Miura clubs.
Before turning pro, Tiger Woods used Mizuno irons. Paul Casey and Luke Donald have also been known to play Mizuno MP-20 MB Irons.
There are many other pro golfers that use Japan golf equipment. Although their marketing strategy is changing the Japanese companies are not big on endorsements and sponsorship.
They also cannot compete in terms of marketing budget. Many players choose the equipment based purely on preference and performance.
Final thoughts
While the best JDM golf clubs of 2023 are a fair investment, they are worth considering if you have the budget.
The technology, quality, and workmanship are hard to deny. The versatile Miura CB 301 iron set is a case in point. They offer a great combination of exceptional distance with forgiveness and a feel that one can only expect from a quality well-forged iron.
Keep an open mind and watch this part of the market as Japanese clubs continue to improve and develop.
FAQ
What is the most popular golf brand in Japan?
Honma is Japan's biggest and most popular golf brand. They have been providing the best handmade quality golf products, which are very light, soft, and reliable, for decades. Other than that, Mizuno is also a very well-known Japanese golf brand.
Do any pro golfers use XXIO?
XXIO'se brand's main purpose is to provide products that can benefit the moderate, slower-swinging players. So, pro golfers prefer other brands, but Ernie Els, a South African professional golfer, is the brand ambassador of this brand so you might see him using XXIO.
Is Honma made in Japan?
Yes, Honma, located in Sakata, Yamagata, in Japan, is one of the most  trusted and popular brands in Japan. They have been supplying premium quality golf products all over the world.