Scotty Cameron putters are known by many as the gold standard of all putters.
Choosing the correct Scotty Cameron model can help you save several strokes per round by rolling the ball consistently on the greens.
Purchasing a Scotty Cameron putter is an investment in your game.
After all, these putters are used by the top professionals on tour and since they're the best money can buy, they also boast a hefty price tag.
Not all Scotty Cameron putters will fit every golfer's game, though, and it's important to determine which one is right for you out of the many models on the market today.
To help you make the best choice, our team has tested 15 of the latest Scotty Cameron putters and determined which ones are best for your golf game.
Looking for a quick chart of our favorites?
Our top choices are listed first with some quick bullet points. If you want the full rundown, all the details on our Scotty Cameron putter review are listed further down the page.
Best Scotty Cameron Putters
Short on Time? Here's A Quick Product Synopsis
Editor's Choice
Rating: 9.5/10
Customizable
Midsize grip adds a good feel.
Made with 303 stainless steel.
Best Putter With Straight Shaft
Rating: 9.2/10
Lays flat at address.
Slightly angled neck.
Created with feedback from professionals.
Best Mallet
Rating: 9.2/10
Three alignment aids.
Removable weights.
Large mallet putter.
Best Squareback
Rating: 9.4/10
Flowing single bend style neck.
Edges rounded to help at address.
Sleek stainless steel bright silver design.
Best Budget Option
Rating: 9.0/10
Small mallet-style putter.
Silver and brass appearance.
Three lines for alignment.
Why Is Scotty Cameron Designs Considered High Quality?
Scotty Cameron Putters are considered to be such high quality because they are designed with such precision and detail. They have been used by professionals for over 25 years. The putters are customizable.
Golfers are recorded when putting and Scotty Cameron designs a putter right for their stroke and style. The soft trailing edge on his putters are one of the many reasons so many people enjoy them. Cameron says the soft edge "helps to lessen the tension many players encounter when putting."
Who Makes Them?
Don T. "Scotty" Cameron is the founder of Scotty Cameron putters. Cameron started working on putters at the age of six with his father. By 12, he had created his owner putter using machinery from a friend's dad. Mark O' Meara was one of Cameron's first notable professional client to use his putter when Cameron was only 22.
A year later Cameron was hired by Ray Cook to design putters and was later hired by Mizuno. In 1994, 129 golfers on the PGA Tour used a Scotty Cameron putter at least one time. That same year, Cameron formed a partnership with Titleist.
Name Some Major Winners Who Use Them
Many of the world's greatest golfers use Scotty Cameron Putters. Among those golfers, quite a few have won majors including Tiger Woods, Brooks Koepka, Justin Thomas, Gary Woodland, and Jordan Spieth.
Spotting a Fake Scotty Cameron Putter
When trying to identify a fake use the acronym: F.M.C.G. It stands for finish, material, craftsmanship and grip.
Finish: Look to see what the finish is supposed to look like on Scotty Cameron's website and compare it to the item on sale.
Material: Counterfeiters use cheap metals such as zinc or aluminum rather than stainless steel. If you stick a magnet to the putter and it won't stay on you know it's fake.
Craftsmanship: On fakes the edges will be ultra-sharp and have wrong fonts on the texts as well as the weights could look a little loose or out of place.
Grip: A lot of fake Scotty Cameron putters will have replica grips that smell like burnt plastic.
Spotting A Fake Scotty Cameron
Are They Suitable For Beginners?
Scotty Cameron putters are suitable for golfers of all kinds of levels from novices to experts. That being said, a beginner who isn't sure if they want to play golf for a long time probably shouldn't purchase a Scotty Cameron due to the high price.
Are Scotty Cameron Putters Worth It?
With their mostly hefty price tag depending on the year and model, the only people who can truly determine if they are worth it are golfers themselves.
If you're thinking about buying a Scotty Cameron, head to the golf store and putt from different lengths with the Scotty Cameron comparing the results to your current putter and other putters on sale.
Another thing you can do is work with your local club pro and get fitted for a putter. It's important to get a customized putter for your game because certain golfers have different tendencies that might require a different loft, angle, weight or length.
---
Scotty Cameron Newport 2
Editor's Choice
Rating: 9.5 /10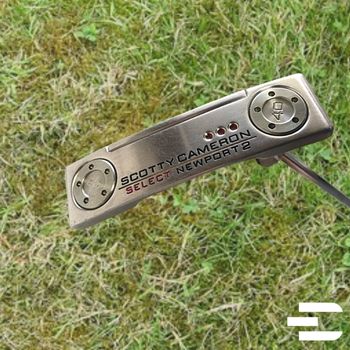 uSA Suppliers (some deliver to Canada)
Pros
Midsize grip helps golfers feel comfortable and steady when putting.
Contours on the putter improve feel.
303 stainless steel face is rare for putters.
Cons
Very pricey compared to most putters.
Bright metallic silver can dent easily if not taken care of and protected.
Our editor's choice for the best Scotty Cameron putter is the Scotty Cameron Newport 2. It is made from multi-material technology that features a 303 stainless steel face.
It contains stainless steel body contours that provide 30% more vibration to help golfers get a better feel of control. This also provides an appealing sound when the ball comes off the face at impact.
The Newport 2 has a four-way balanced sole that manages the weight of the grip and shaft.
The blade-style putter features a straight black line to help line up putts as well as three red dots behind the face that also helps when stepping behind the putter for a second alignment. This makes it a lot easier to hit straight putts.
The club is available in 33, 34 and 35 inches. It comes with a stock 11-inch midsize Matador grip for an improved feel when gripped. The stock lie is 3.5 degrees and the stock loft is 70 degrees.
Golfers can customize the loft and lie by increasing or decreasing them by one degree (loft) and two degrees (lie).
The putter is bright silver with three red dots. When purchased, the Newport 2 comes with a Scotty Cameron head cover.
---
Scotty Cameron Select Laguna
Best Putter With Straight Shaft
Rating: 9.2 /10
Pros
Sits square when touching the ground.
30% more vibration dampening material was added.
Includes Matador midsize grip.
Cons
Some golfers may not like mini slant on the neck.
Different than the Newport 2 so making the switch over could prove difficult.
The Scotty Cameron Select Laguna showcases a state-of-the-art multi-material construction that puts both 303 stainless steel or 6061 aircraft-grade aluminum with a stainless steel body.
The Laguna is a modern heel-to-toe weighted blade putter. The putter was created to be used with players who employ a "flowing" putting stroke.
Regarding the Laguna, Cameron said "Tour players pick up on things most people don't but those details can make a big difference in how a putter performs. We've re-engineered the sole to account for the shaft and grip weight by actually moving metal in minute increments to help the putter align perfectly."
Cameron added four-way sole balancing from the putter's face to its cavity. This helps the putter sit square on the ground at address making it easier to line up and aim putts.
Another improvement made to this putter was Cameron adding 30% more vibration dampening material. This helps the sound and feel of the club. He listened to feedback from many professionals when creating the Laguna.
The putter includes a head cover when bought and is available in 33, 34 and 35 inches.
---
Titleist Scotty Cameron Futura 6M Putter
Best Mallet
Rating: 9.2 /10
uSA Suppliers (some deliver to Canada)
Pros
Huge mallet putter that surely will appeal to mallet fans.
Removable weights allow for customization.
Three alignment aids.
Cons
Massive body might be too big for golfers preferring a smaller mallet or blade style.
Colors make it easier to see scratches.
The Futura 6M putter is one of the many Scotty Cameron putters used by major winners. The mallet-style putter combines moment of inertia concepts from the previous model, the Futura X. Some of these concepts include the weights positioned in the back.
Cameron created the Futura 6M with a soft feel with the aluminum face-sole that wraps around the body.
The 6M is also very forgiving thanks to its face allowing off-center strokes to still come off with desirable results.
Like the other Scotty Cameron models, the 6M Futura has a vibration dampening system. The system connects the mid-milled face to the stainless steel frame resulting in a soft and telling feel.
The 6M comes with heel-and-toe weighting that has removable weights that coincide with the length of the shaft making sure the balance is there during use.
The putter has two straight lines behind the face to help golfers line up their putts in a straight line. There is also a standard line directly on top of the face. It also has three red dots for alignment similar to the Newport 2. These dots help when getting behind the putter while aiming at the cup.
The putter comes in a sleek black, silver, white and red design. It is available in 33-35 inches and comes with a Matador midsize grip.
---
Titleist Scotty Cameron Select Squareback Putter
Best Squareback
Rating: 9.4 /10
uSA Suppliers (some deliver to Canada)
Last Amazon price update was: December 5, 2022 1:34 am
Pros
Modern look with bright silver stainless steel.
Rounder radius compared to other models.
Edges were squared to improve look at address.
Cons
Flowing single bend style neck might feel awkward for users who aren't accustomed to the style.
Not as many alignment aids as the Futura 6M.
The Select 2018 putter has features of the Newport 2 including the low-slung, sit on the ground features while also including the moment of inertia 6061 aircraft aluminum face and sole technology. It also has the famous Scotty Cameron vibration-dampening system.
The modern looking putter has sole-to-topline inlays that helps the ball come off the face nicely at impact. It also features heel-and-toe weighting technology that aids with balance and matches the length of the shaft.
Cameron refined the shapes of the Select putter models and added a slightly rounder radius. The neck dimensions, angles and edges on the head were squared by Cameron to create a better look upon alignment.
The putter differentiates from other Scotty Camerons due to its flowing single bend style neck. The other difference is it's near minimum toe flow.
The putter is available from 33-35 inches, comes with a midsize grip and is similar in appearance to the Newport 2 and Laguna with its blade style. The finish is bright silver stainless steel and has three dots and a straight black line for alignment.
---
Titleist Scotty Cameron Caliente
Best Budget Option
Rating: 9.0 /10
uSA Suppliers (some deliver to Canada)
Last Amazon price update was: December 5, 2022 1:34 am
Pros
Three straight lines to help with alignment.
Adjustable brass weight plate.
Not too fancy and easy to use.
Cons
Thin grip may cause issues for golfers.
Older model may not appeal to certain players.
Hard to find online.
The Titleist Scotty Cameron Caliente is an older model that is over 24 years old. It is available for much cheaper than the other four models in this list therefore it's our best budget option.
It is a smaller mallet-style putter that is forged from soft aluminum and has a double-bend steel shaft.
The Caliente features a removable brass sole plate with customizable weighting at the bottom of the head.
When purchased the club comes with a pistol-style grip. The head of the club is silver and features three straight lines for help when lining up putts.
Concluding Thoughts On The Best Scotty Cameron Putter
It's hard to go wrong with any Scotty Cameron putter. The precision and high quality build makes them superior to many putters available to the public. That's why they are used by the greatest golfers on the planet. After reviewing the different models our editor's choice for the best Scotty Cameron putter is the Newport 2. With its Matador midsize grip and 303 stainless steel finish, the model is elite.
fAQ
Do Scotty Cameron putters hold their value?
Yes, Scotty Cameron putters do hold their value. The 303 stainless steel and technology packed putter is used by many professionals on tour including Justin Thomas and Jordan Spieth. You can sell a mint condition Scotty Cameron for close to retail price. 
Is a Scotty putter worth it?
Yes, Scotty Cameron putters are worth purchasing. The expensive materials used in creating the putter and the customization options help the putter mold to many different players' styles. The swappable weight options help too. 
What putter is similar to Scotty Cameron?
There are multiple putters that perform similar to Scotty Cameron putters. The Ping Anser line has produced putters such as the PLD Milled Anser putter that rivals the Scotty Cameron. The club is made with 303 stainless steel and deep AMP faced milling.