Golfers who enjoy a combination of forgiveness, power, and accuracy should consider giving the Callaway Rogue X irons a try. Especially players who have trouble hitting blades and struggle in the length department.
Callaway designed the Rogue X's to suit any level of player. This Callaway Rogue X irons review will show research regarding the irons and give pros and cons detailing if someone should purchase this product.
Callaway Rogue X Irons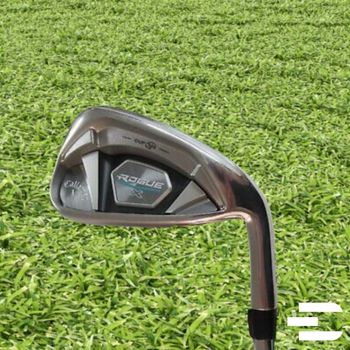 Editors Rating: 9.1 /10
What We Like
The large cavity back provides more forgiveness on mishits reducing the loss in distance and accuracy.
Available in a variety of shafts enables you to have the best-suited shaft fitted for your swing leading to an increase in accuracy and distance.
Its versatility allows beginners to benefit from the forgiveness and play Callaway Rogue X Irons until they become low-handicap golfers. This saves money as you don't have to purchase new sets as your golf improves through the higher and mid-range handicaps.
What We Don't Like
It is on the upper end of the price spectrum which may deter high-handicap golfers and beginners to invest in such expensive clubs.
Experienced and low handicap golfers may find the cavity back too much as they would prefer a more blade-like club or forged club.
Key Summary
Callaway Rogue irons are oversized making them ideal for golfers that require forgiveness without sacrificing too much distance on mishits. These clubs can be used from beginner to mid-handicap thus saving you money as your handicap increases.
Synopsis
The Callaway Golf brand is very popular in the golf world for creating high-end clubs and has been used by many professionals and amateurs.
Some professional golfers that use Callaway's irons are Olympic gold medalist Xander Schauffele, a recent winner at the Wyndham Championship, Kevin Kisner, 2021 PGA Champion and legend Phil Mickelson as well as world No. 1 Jon Rahm.
As a brand, Callaway has grown into one of the elite and biggest companies in the golf community.
The mission statement of Callaway is: "We passionately pursue advanced, innovative technologies that help golfers of all abilities find more enjoyment from the game."
📢 Need To Know: The company owns and has mergers with famous brands including Odyssey Putters, Travis Mathew, Ogio, and more than 50 percent of TopGolf.
Callaway Rogue X Irons Features & Benefits:
Oversized Rogue X head (What Benefits Does It Bring?)
Some golfers might pick up a Rogue X iron and look at the club head and think it is oversized. The company strategically did this by making the blade and also the sole.
This helped push the center of gravity further behind the face. It allows the ball to spring off the club and adds length as well as a higher ball speed.
360 Face Cup & VFT Technologies
Two technological specifications that help the club perform so well are its 360 Face Cup and VFT (Variable Face Thickness) technology.
Callaway spread these technologies across the entire face instead of previous models where they were more so located on the sweet spot.
This allows golfers to have decent hits even when they make contact off-center such as higher, lower, or closer to the heel or the toe. An older model might shank or produce a bad result.
The face uses the same 360 Face Cup, which is the thinnest Callaway has created to date and because this is spread over a larger area than the standard model, the ball speeds from off-center hits are maintained more easily.
📋 Keep in mind: The thin club face also helps golfers create a fast ball speed.
Using urethane microspheres, the club makers found a way to make the feel and sound appear smoother than previous models.
Internal Standing Wave
Another addition to these irons is the Internal Standing Wave technology that uses Tungsten-infused weights to help balance the center of gravity in the club face.
This is beneficial because it places the center of gravity on each club in the right spot in a set. The shorter irons like the nine and eight will have the CG higher up, so there is a higher ball flight inducing more spin and placeability on the green.
📋 Keep in mind: It is lower on the longer irons such as the five and six to help carry the ball through the air with an ideal flight trajectory.
Stronger Lofts
Callaway gave the Rogue X irons stronger lofts to increase distance and rollout. This helps players reach par 5s in two or allows them to reach easily on long par 4s with more spin.
The Rogue X 4-iron is 18.5 degrees which makes it extremely long and plays more like an old 2-iron or 3-iron but easier to hit with more forgiveness.
How Forgiving Are These Irons?
These irons are extremely forgiving compared to most irons on the market. The large cavity back along with the huge sweet spot lets beginners hit them with ease and shoot lower scores.
Mishits will be a lot better than using standard thinner irons. When swinging through the grass, the ball will spring off the face with a high ball flight.
📋 Keep in mind: For golfers with middle and lower swing speeds, these clubs will help produce more power and help them hit straighter shots.
How Heavy Are These Irons?
The Rogue X irons are lighter than the standard Callaway Rogue irons. Depending on if you put a steel or graphite shaft or a stiff or regular flex shaft, the club will be slightly lighter or heavier than the other.
There are a variety of options for sets when purchasing the Rogue X irons. Many come with a 5-iron through pitching wedge. You can also select to have a 4-iron or hybrid included instead.
📢 Need To Know: The graphite swing weight is considered D0 for a set of Rogues with graphite shafts. For steel shafts, the weight is measured at D1.
Understanding different weight classifications for irons can be confusing. Below is an article explaining what D0 and D1 weight means.
Other questions to ask:
What's The Difference Between Callaway Rogue and Callaway Rogue X Irons?
The sibling irons of the Rogue X's are the standard Callaway Rogue irons. Both sets of irons were first released by Callaway on February 9, 2018.
The "X" practically stands for more length when comparing the two. Both clubs are built similarly, but the Rogue X's has a larger club head, longer shafts, and stronger lofts.
The Rogue X's do travel slightly longer distances than the Rogues when hit. They are considered by many golf professionals to be some of the longest on the golf market.
Both sets are ideal for any level of golfer but the Rogue X's might be more attractive for low-handicappers thanks to being longer.
📢 Need To Know: The two clubs have adjusted centers of gravity to help aid with contact and ball flight.
What is the tip size for Callaway Rogue X irons?
The tip diameter for both steel (KBS Max 90) and graphite (Aldila Synergy 60) shafts for the Rogue X is .370".
The Rogues have a constant taper design that helps the release feel smooth and even helps control the release.
What is loft on each Callaway Rogue X iron?
Below is a list of the lofts and other specifications for a set of steel shaft 2018 Rogue X irons. The 2020 Rogue X irons include the same specs but have a lighter C8 swing weight when given a graphite shaft.
| Model | Lofts | Lie | Length | Offset | Offset |
| --- | --- | --- | --- | --- | --- |
| 4 Iron | 18.5° | 60.5° | 39″ | .32″ | D1 |
| 5 Iron | 21° | 61.25° | 38.5″ | .305″ | D1 |
| 6 Iron | 24° | 62° | 38″ | .29″ | D1 |
| 7 Iron | 27° | 62.5° | 37.5″ | .27″ | D1 |
| 8 Iron | 31.5° | 63° | 37″ | .24″ | D1 |
| 9 Iron | 36° | 63.5° | 36.5″ | .215″ | D1 |
| PW | 41° | 64° | 36″ | .185″ | D1 |
| AW | 46° | 64° | 35.75″ | .15″ | D1 |
| GW | 51° | 64° | 35.5″ | .125″ | D1 |
| SW | 56° | 64° | 35.5″ | .1″ | D1 |
| 4 Iron | 18.5° | 60.5° | 39″ | .32″ | D1 |
Alternatives
Callaway Rogue Irons
The Callaway Rogue irons are a great alternative to the Rogue X's since they are so similarly built. If you are looking for shorter irons and feel uncomfortable with the X's extremely large head, then reach for the Rogues.
The Rogues are also slightly heavier. Different golfers have different preferences when it comes to weight but some feel a slightly heavier club helps when compressing the ball at impact and aids in striking it.
Rogue irons:
Have less strong lofts than the Rogue X's so if you have trouble hitting long irons a higher lofted one might be easier for high or mid-handicappers.
Have smaller heads and shorter shafts than the Rogue X's.
Rogue X irons:
Are a little longer in distance than the Rogues.
Have a larger sweet spot for mishits than the Rogues.
Have longer shafts versus the Rogues.
Callaway Mavrik
These clubs are comparable and similar to the Rogue X irons but do have slightly newer technology being two years younger.
The Mavrik's will cost more though at purchase whether buying new or used.
These irons are even more strongly lofted than the Rogue X's and will travel slightly further through the air and when rolling out. The Mavriks are about a club stronger, so the 8-iron will fly about the same as the Rogue X 7-iron.
Both sets of clubs have Variable Face Thickness, Urethane Microspheres, and low centers of gravity.
📢 Need To Know: The Callaway Mavrik irons were released in the US on January 23, 2020 and in the UK on February 6, 2020.
Below is a loft comparison between the two sets
| | | | |
| --- | --- | --- | --- |
| Callaway Rogue | Lofts | Callaway Mavrik | Lofts |
| 3 Iron | 18° | 3 Iron | N/A |
| 4 Iron | 20.5° | 4 Iron | 18° |
| 5 Iron | 23° | 5 Iron | 21° |
| 6 Iron | 26° | 6 Iron | 24° |
| 7 Iron | 30° | 7 Iron | 27° |
| 8 Iron | 34.5° | 8 Iron | 31.5° |
| 9 Iron | 39° | 9 Iron | 36° |
| PW | 44° | PW | 41° |
| AW | 49° | AW | 46° |
| SW | 54° | GW | 51° |
| LW | 59° | SW | 56° |
📢 Need To Know: The shaft options for the Rogue X's are KBS 90 steel shafts and Aldila Synergy for graphite. For the Mavrik's, there is True Temper Elevate 95 steel shafts and Project X Catalyst graphite shafts.
Mavrik irons:
Play and feel more like forged irons despite having cavity backs.
Longer in distance compared to the Rogues.
Costlier than the Rogues.
Can be used by new golfers but might be more appealing for mid to low-handicappers.
Rogue X irons:
Have larger cavity backs and feel extremely forgiving.
Play shorter than the Mavrik's but longer than the standard Rogues.
Will be cheaper when purchased than Mavrik's.
Can be used by any skill level of golfer but might be better for high-handicappers than the Mavrik's.
Check out our Best Irons for Beginners article for other alternative options to the Rogue X's.
Conclusion
The Callaway Rogue X irons are a great solution for golfers looking to improve their distance and who want a club that will be extremely forgiving. With their large sweet spots and strong technology, these irons fit low handicappers and high handicappers alike. Be sure to share your experiences in the comments section regarding Callaway irons.
FAQ
Are Callaway Rogue X irons for high handicappers?
Yes, the Callaway Rogue X irons are great for high handicappers. The clubs have a large cavity and massive sweet spot. This promotes forgiveness and turns a slight mishit closer to the hosel or toe into a decent outcome. These clubs are great for mid-handicappers too. 
What year did the Callaway Rogue X come out?
The Callaway Rogue X irons were released to the public on Feb. 9, 2018.
Does Callaway still make rogue X irons?
No, Callaway stopped producing the Rogue X irons. The company has released to new sets of irons that include the Epic and Apex models. The Rogue X can still be found in many golf shops and online.