Selecting the set of golf clubs that are best suited to your game can be a hard task.
Callaway continues to be one of the most respected brands for full women's golf clubs sets on the market so we have assessed their main offering in this article with our Callaway women's Strata Plus review.
Callaway Women's Strata Plus Golf Club Set
Best For Intermediate Women's Golfers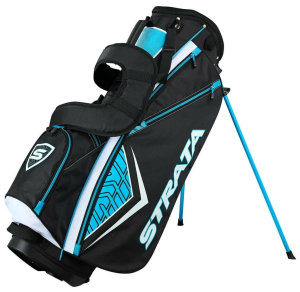 Editors Rating: 9.1 /10
What We Like
The strata's low center of gravity makes it easier for players to strike the club solidly and make good contact leading to better shots.
The thick cavity allows players to have more forgiving results even on mishits.
Callaway is one of the leading clubmakers for all levels of golf and is used by major-winning professionals such as the PGA Tour's Jon Rahm and LPGA's Yuka Saso.
Perimeter weighting and progressive sole widths on the irons and wedges make them simple to hit and the design creates a high ball flight.
What We Don't Like
The set doesn't include a 3-wood which for most golfers is a vital club to carry in the bag.
The bag is smaller and only has four dividers so if you're looking for your clubs not to clank you'll have to use a different bag.
Key Summary
With its complete set including even a bag, the women's Strata set allows golfers to head to the range after purchasing for an experience that promotes solid contact thanks to its technology.
The perimeter weighting on the irons and wedges provides trajectory ease for beginner and intermediate golfers.
Callaway Women's Strata Plus Features & Benefits
Driver: 9.2/10
Being the longest, most difficult yet most admired club in the bag, Callaway strata plus women's golf clubs offer a lightweight 460cc titanium driver.
The large lightweight head allows for a larger sweet spot that provides maximum forgiveness, especially for beginners.
The 10.5° loft will assist with easily getting the ball into the air off the tee for high flying and longer drives that will put a smile on any golfers' faces.
The 56° lie angle will ensure that the clubface is flat on the turf for most average-sized women aiding in good contact.
📋 Keep in mind: A lightweight graphite shaft measuring 44" is ideal for women to create maximum speed during the swing.
Fairway Wood: 8.9/10
After hitting a driver, the fairway wood assists in getting ladies to the green most frequently.
This fairway wood included in the Callaway strata ladies golf clubs has an aerodynamic head shape with 18° of loft for a penetrating ball trajectory. The stain-resistant stainless-steel clubhead and 40.5" graphite shaft encourage faster swing speeds leading to more distance.
The 7.5° difference in loft between the driver and fairway wood provides a good gap in distance.
There is not much difference in the lie angle from the driver and at 58° it will suit most women golfers.
Cavity back irons and wedges: 8.5/10
The Callaway women's strata plus iron set consists of cavity-backed irons and wedges that come as standard. It ranges from a 6-iron to a sand wedge.
Clubs are weight centered low on the clubface offering a combination of forgiveness and control.
Loft differs by 4° between the various clubs except for the sand iron that is 10° more than the pitching wedge.
This provides for consistent gapping between the irons and you may have to purchase a gap wedge to fill the gap between the pitching wedge and the sand wedge
Shaft lengths differ by ½" between the various clubs as the number on the club increases.
It is only the sand wedge that is the same length as the pitching wedge. This promotes a consistent swing on your irons and wedges.
📋 Keep in mind: Perimeter weighting and progressive sole widths on the irons and wedges make them simple to hit and the design creates a high ball flight.
Wide Sole Hybrid: 8.7/10
Hybrids are ideal for women golfers, and they are used by many men on the professional circuit, to get out of some difficult positions.
Beginners will benefit tremendously from a hybrid that will assist in getting the ball airborne and ideal for long approach shots.
The 26° loft 5-hybrid rounds out the set of woods in your bag.
The 8° difference in loft between the fairway wood and hybrid is similar to the difference between the driver and fairway wood.
This ensures that the gaps between your woods will provide a consistent difference in distance.
📋 Keep in mind: The shaft is 3" shorter than the fairway wood making the bigger clubhead easier to control and provide the required forgiveness.
Putter: 9.5/10
Completing the clubs in the set is the mallet putter with 3° loft, a 34″ long shaft, and 72° lie angle to suit most average-sized women.
A mallet putter is generally heavier than a blade putter to create a comfortable and stable feel.
The putter included in this set has a T-style alignment, well-sized head for easy alignment.
It is an entry-level set and therefore the face of the putter is not milled.
This can impact the contact between the putter face and the golf ball but should deliver consistent results for your entry-level golfer
Headcovers: 9.4/10
The set comes standard with 3 headcovers to protects the driver, fairway wood, and hybrid.
Stand Bag: 9.3/10
Carrying your newly acquired golf clubs in a lightweight bag is an indispensable part of playing your best golf.
The bag comes with 5 pockets to store all your accessories and there is an additional cooler pocket to keep your liquid and other refreshments fresh and cool.
If you live in an area where there is frequent rain you will be pleased that the bag comes with a rain hood to protect your clubs in inclement weather.
Carrying the Callaway strata plus women's golf clubs is easy as the bag has a padded strap system that sits comfortably and distributes weight evenly.
The sturdy stand makes access to your clubs simple and avoids you having to lay it down on the grass.
The 4 full-length dividers make organization and protection of your clubs a straightforward experience.
To complete your selection process Callaway offers 3 sets comprising of 11, 14, and 16 clubs respectively.
Price:
Other Questions About Callaway Women's Strata Plus
What type of player are the Callaway women's strata plus clubs designed for?
This set is designed to suit most high handicappers and golfers that are starting and want all the clubs required from tee to green, getting up on the green from close range and a reliable mallet putter.
What wedges are included with Callaway women's strata plus golf clubs?
The Callaway strata ladies golf clubs includes a 44° pitching wedge and 54° sand wedge.
Is this set suitable for men?
Unfortunately, this set is aimed at ladies and would not be recommended for men. Callaway does have a similar set available for men.
Alternatives To Callaway Women's Strata Plus Golf Clubs
Wilson Ultra Women's Complete Golf Club Set
Alternative For Maximum Forgiveness Clubs
Wilson Ladies Ultra Golf Complete Package Golf Set is an all-in-one super game improvement set designed for maximum forgiveness.
It is aimed at women golfers that are within the initial stages of their golfing journey.
Unlike the graphite shafts on the Callaway Strata clubs, the Wilson Ultra clubs come standard with stainless-steel shafted irons.
Although the Wilson clubs are less expensive and produced by a premium manufacturer it does not provide the same quality and durability.
📋 Keep in mind: There is no sand wedge in the standard package buy it is possible to purchase the sand wedge separately.
Cobra Max Women's XL Speed Golf Set
Alternative For Ideal Beginners Golf Club Set
The Cobra XL Speed Golf Set is targeted at beginner golfers looking to improve their game with high quality, distance-yielding package set.
Cobra is a premium manufacturer that manufactures quality durable golf equipment.
The extra weight placed low in the clubhead lowers the center of gravity for higher launching and longer ball flight.
Graphite shafts lower the weight of the clubs allowing for faster swing speeds.
The design offers a choice of either pink or blue.
Extra forgiveness for off-center shots is provided by the large sweet spot on the irons that feature perimeter weighting
There is no stand bag available, only a cart bag with 2 lifting handles.
💡 Golfible Tip: This is not the cheapest set in the range for beginners. If you are looking for a budget buy, we'd recommend reading our Palm Springs Golf Visa V2 review. 
Closing Thoughts On The Callaway Strata Plus Ladies Golf Clubs
Selecting the best-suited golf set for women that start their golfing journey could be a rather challenging experience with loads of terminology to understand.
If you select an unsuitable set it could ruin your love for the game and lead you to struggle every round.
The Callaway strata plus women's golf clubs will aid you on your path from beginner to become an advanced player.
Also, if you are curious to find out what is the top brand of golf clubs for ladies, then click the hyperlink for our review.
All the clubs required for you to improve your long game and fine-tune your game around the greens.
I hope you have enjoyed this Callaway women's strata plus review, and it encourages you to take it for a test at your nearest club fitter.
FAQ
What is the difference between Callaway Strata and Strata Plus?
The difference between the Callaway Strata and the Strata Plus is the Strata Plus includes a sand wedge in the set as well as three head covers. In the Strata normal set there are two headcovers and solely a pitching wedge.
Are Callaway Strata clubs forgiving?
Yes, Callaway Strata golf clubs are forgiving. They aren't top of the line models and are made for budget and beginner golfers. They are created by reputable clubmaker, Callaway Golf. The irons are perimeter-weighted and have cavity backs to make it easy to hit the ball on the sweet spot. There is also sole width technology to make mishits desirable. 
Are Callaway Strata clubs offset?
Yes, the Callaway Strata driver is offset. This helps reduce the chance of slicing the ball and promotes straighter drives as well as a draw effect to increase distance. Their is a carbon crown in it to increase swing speed as well as a huge sweet spot to make the club more forgiving than previous models.