Golf carts are lots of fun, but even more so when they're decorated!
Your golf cart can transform into something super eye-catching, from banners and skirting fringes to balloons and lights, no matter the occasion or festivity.
Let's dive into some of the cool ways you can make your ride stand out!
Christmas lights
Christmas lights to decorate your golf cart is a treat during the Xmas holiday. It is effortless to do, and you won't need the entire set of lights.
Not only are these lights versatile, but available in a variety of colors.
Many people find universal plastic clips work pretty well by sticking and hanging the lights in the various places you want to see them on your cart.
You could also use duct tape to fasten your Christmas lights for your golf decorations.
Another option to help keep your Christmas lights intact is zip ties.
You can lead the wiring and power supply to the lights neatly in place along with the chassis and then have them lit whenever you want them.
Christmas Decorations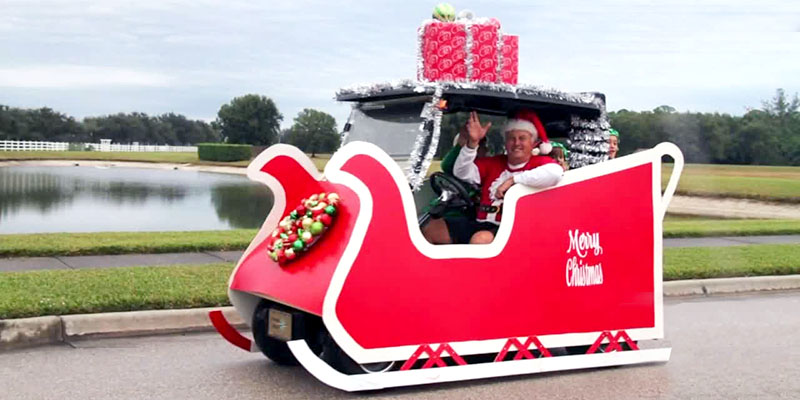 Since Christmas is such a huge holiday, you may want to add that energy to your golf cart decorations beyond Christmas lighting.
Some people even do a Father Christmas face design on their golf cart's chassis.
What about candy canes? Who doesn't love those and gingerbread? Just like the Halloween skeleton figurines and pumpkin heads, you could probably find Santa Claus and little gingerbread men as well as candy cane trimmings.
Add some snow and lint sprinkles, or convert your cart into a Christmas tree if you want, provided you can see while you're driving.
For Christmas golf cart decorations, you can try converting your cart into a snow sleigh. By using life-size cardboard reindeer cutouts (two will do, but you could probably add more if you wanted to) you'll already have a convincing Christmas theme going.
Paint the reindeer cutouts as well as some cardboard panel cutouts in the shape of a sleigh. Stick these Christmas accents to your cart and you'll soon have a winning Santa sleigh.
💡 Golfible Tip: Don't forget the lint decor all around the pole and roof trim of the cart!
Halloween decorations for your golf cart
You have so many incredible options for Halloween to help spruce up your golf cart decoration endeavors.
You don't have to spend an arm and a leg decorating your golf cart for Halloween.
You could make something with DIY crafting skills or check out the local thrift stores for something interesting. Try garage sales as well, and there's bound to be something dedicated to Halloween.
Some people even go a step further and transform their golf carts from regular to spacecraft or pirate ships. It just takes some plywood and application to achieve this. If you don't have the time for all that, dangle a giant spider on it and some cobwebs as if it's part of a spooky setting or haunted house.
Let's not forget about the famous Mr. Skeleton. He could be hanging on the spare tire in the back for dear life. You can position skeleton figurines in various creative ways to fit with your theme.
Using cardboard, paint, duct tape, bungee cord, rope, and zip ties is handy for creating something imaginative for the Halloween holiday.
Wedding golf cart decorations
If you and your other half enjoy golf, we don't see why you couldn't feature a golf cart in the photos?
You can use the golf cart as the getaway car at the end of the celebrations.
Decorate the golf cart as you would a regular car and finish it off with some just married trimmings, and off you and your partner go racing towards the honeymoon.
There are many ways to incorporate the golf cart, even for rustic wedding settings. Pair it with the wedding theme, and you're good to go.
Decorations on your golf cart for St Patrick's Day
For St Patrick's Day, you'll need to explore everything green and on the theme. Spruce up your golf cart with some cool trimmings representing the overall theme for St Patties Day.
Add some green balloons filled with helium or regular air, think four-leaf clovers for Irish luck with some shamrocks and reefs to add to the look of your cart.
The Irish flag is a great idea to add to your St Patties themed golf cart decorations list since it is an Irish festivity, and anything else you'd like in the spirit of St Patrick's Day holiday is a useful addition to your golf cart decorations for this holiday.
More golf cart decoration options include bumper stickers, vinyl, flags, decals, streamers, and countless more.
What To Consider When Placing Golf Cart Decorations
When decorating your golf cart, consider factors like the type of golf cart decorations to place on your vehicle, the theme of your golf cart, and the size and color of the decoration.
Another important one to think about is display options and placement.
Decoration Tips To Get You Zooming On The Right Path
If you're planning to kit out your golf car with some fancy decorations, then the following are some handy tips:
Safety first even when you're having fun and feeling care-free:
When placing decorations on the dashboard and steering wheel of the cart, be careful not to block your vision with these, as they could become an obstruction when you drive.
While adding decorations, be careful not to dangle anything in a way that would obstruct the wheels of the golf cart.
Keep extra tape and ties in case you need to bind items out of the way.
When writing on the windshield, do take care to leave enough space as you drive to be able to see clearly without any obstruction.
Test drive your golf cart to make sure it drives and functions properly with all the decorations in place.
It's also a good idea not to over-decorate to the point that the cart becomes heavy and hard to steer and handle as you drive. Another reason why a test drive with the decoration on is crucial.
Holidays are fun and themed parties are even better. Still, don't be tempted to load your golf cart with more than the intended passengers.
Parties and celebrations are huge fun with booze and all, but take care that you are sober to drive your golf cart even if it's only on private property.
Prevent damage to your golf cart while applying decorations:
Before you begin decorating your cart, first clean everything out.
Hang items from the top of the cart's roof cascading down the posts.
Use the roof to display the theme behind the decorations, since the roof is most visible.
Line the seats with other fabric that mimics the theme.
If you're using adhesive items, be careful not to use products that could strip the golf cart's paint or cause other damage.
Masking tapes work well and won't damage the glass windows. Use sturdier tape for attaching items on the exterior of the cart.
Magnetic tapes work well to attach heavier items to the exterior.
You can also use bendy wire to secure things like streamers and garlands in place. Pipe cleaners will probably work just as fine too.
Use liquid chalk to draw on the cart windows and avoid using urge chalk or marker on the body of the cart. It won't come off the way it does on the windows and you may need to use an abrasive substance which could damage the paintwork.
You could string battery-operated lights along the poles of the cart with no fussing about the electrical output supply.
How Much Could It Cost To Decorate Your Golf Cart?
If you are a golf cart owner and are looking to decorate your cart, it may not be as expensive as you think. There are many ways to decorate your golf cart, and there are many different types of decorations that can be purchased.
The cost of the decoration depends on the type of golf cart decals and extras that are purchased.
For example, if you want new paint for your golf cart, it will cost more than adding some new lights or bumper stickers.
Some decorations are permanent or semi-permanent, like paintwork or chassis modifications. These can be more expensive than if you were only going to add some vinyl stickers or accessories to your cart.
The same applies to if you're building your cart from scratch or fitting custom-built parts, the price may escalate.
Closing Thoughts On Golf Cart Decoration Ideas
Golf cart decorations are a great way to show off your personality while also making your vehicle stand out from others on the course. Now that you've read this article be inspired and consider these ideas when decorating your golf cart in the near future.
FAQs
How do you attach decorations to a golf cart?
You can attach decorations to a golf cart using various methods such as suction cups, zip ties, bungee cords, baling wire, or magnets. Make sure the decorations are securely fastened to avoid them falling off while driving. You can also consider using adhesive strips or hooks, but be careful not to damage the cart's finish.
How do you attach LED lights to a golf cart?
To attach LED lights to a golf cart, you will need to first decide on the location of the lights, then use screws or double-sided tape to secure the lights to the chosen spot. Once the lights are in place, connect the lights to a power source, such as the golf cart's battery using wiring or a plug-and-play harness.