There are many cities throughout the United States that welcome golf carts into the community as an acceptable form of transportation.
These cities reside along the shores where they are changing the scene of transportation.
Read on for our best picks of golf cart-friendly beach towns.
East and Gulf Coast Beaches
Many golf cart communities are prevalent in small beach towns along the Atlantic and Gulf coasts. Below are some of the most popular beach towns where you can ride your golf cart all around and beat the battle of parking.
1. Myrtle Beach, South Carolina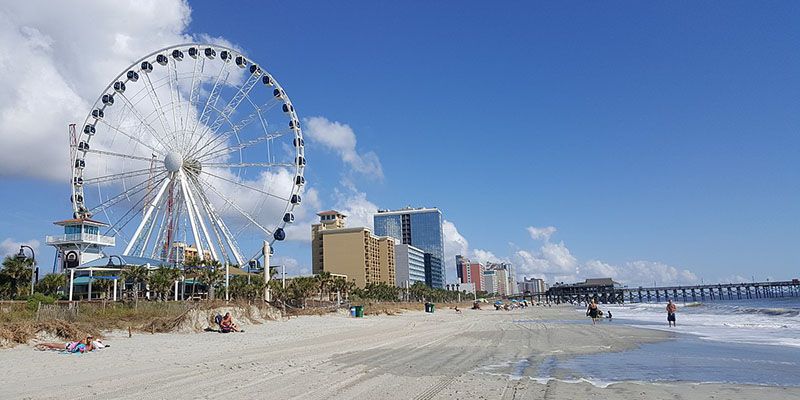 While Myrtle Beach sees thousands of visitors each year, it is affordable and laid-back for those visiting. Even residents take advantage of using golf carts along this beach town.
In lots where public parking is available, you will find spots for golf carts to park, embracing them and the local community.
Strolling along the street, you will find golf carts visiting local businesses, and shops and parked at restaurants.
Golf carts can be driven on public secondary roads and residential areas. They should not be driven on major highways such as Highway 17 at any time.
📋 Keep in mind: Whether you are planning to visit or move to Myrtle Beach, you have a variety of rental company options and dealers with no shortage of golf carts.
2. Mount Pleasant, South Carolina
A little further south is the suburban area of Charleston, known as Mount Pleasant.
Home to a number of golf courses and slow-paced communities, residents in the area embrace the use of golf carts.
If you come through Mount Pleasant early enough, you can see children being dropped off at school or daycare on golf carts or families out getting dinner while using their golf carts.
They are used as an additional transportation option in this town and it is designed to accommodate golf carts.
3. Dafuskie Island, South Carolina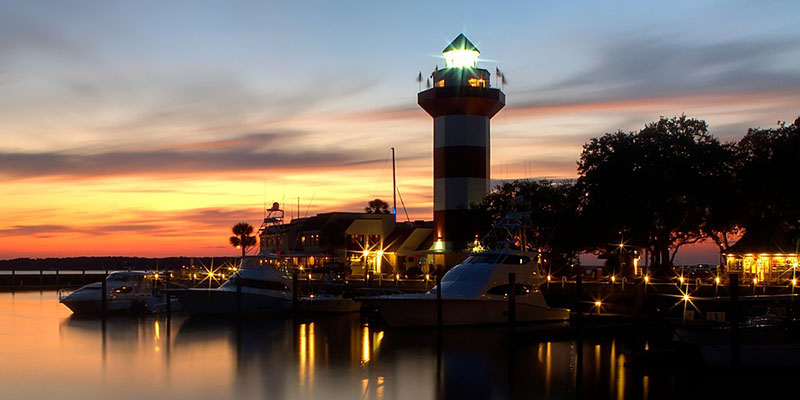 There is a small community that only allows golf carts on the island and as transportation around the area.
On Dafuskie Island, you will not find any vehicles, as they are parked in permanent parking spots for the resident back on the mainland in the ferry parking lot.
In order to visit the island, you will have to take a ferry and rent a golf cart to get around. There are private beaches located all around, which make for great day trips for families and golfing if you want to take advantage of golfing on the water.
Be prepared for an atmosphere that is laid back. The pace will be slower, but it is meant to be that way.
4. Cedar Key, Florida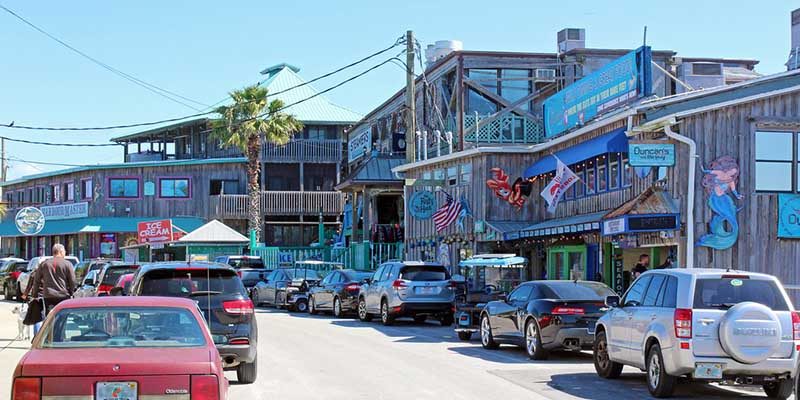 Located in the Northwest corner of the state, Cedar Key is a delightful little town that embraces beach life.
When visiting Cedar Key, you may notice a few vehicles that the locals own, but most take advantage of the ocean breeze with their golf carts.
You will find golf carts in shopping centers, local business parking lots, and restaurants for lunch and dinner.
In the evening, both locals and tourists are taking out their golf carts and enjoy the beach life with easy transportation from their vacation rental to downtown and back.
📋 Keep in mind: There are several local businesses that offer golf carts to rent for those visiting who want to get the full experience of Cedar Key and what it has to offer.
5. Useppa Island, Florida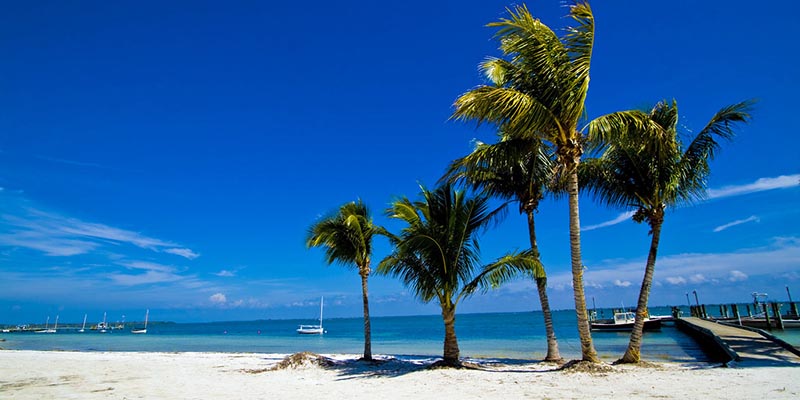 Down in the southwest corner of Florida is Useppa Island.
This is one of Florida's hidden gems, with a large influence on fishing.
There is an island resort and golf carts are the preferred method of transportation going down to the beach and shopping.
Many locals also keep vacation homes and properties on Useppa Island because it is a nice area for fishing and not as full of tourists as other locations. There are also lots of golfing that brings in tourists to the island.
There are not a lot of touristy things to do, so plan to embrace the water in one form or the other.
Golf carts make traveling easy around the island and getting to your favorite beach area for fishing or heading over to a course.
6. North Captiva Island, Florida
Another big golf cart town for vacation homes, retirees, and those who enjoy the beach is North Captiva Island.
There are at least five miles of solid beach that those visiting or living can enjoy regularly when they visit the city.
Sandy roads are found throughout the town, and it has adapted its public areas for golf carts. You can take your golf cart anywhere through the town, traveling just as you would in a vehicle but on reserved trails for safety.
North Captiva Island brings golf cart riding tourists each year so that they can park along the beach, take in the sunset, and get a view that is unlike any other because of its placement in the Gulf.
7. Destin, Florida
Everything you can want in Florida is found in Destin and you can do it all on your golf cart. There are rentals and dealers available around this town, so getting a golf cart is not difficult at all.
There are designated golf cart trails to the beach so that tourists can easily access the beach during their stay on the rental property.
Using a golf cart to go back and forth to the beach keeps your own vehicle clean and prevents you from using too much gas while you are on vacation.
Those that live in Destin treat golf carts as a part of life.
Golf cart parking is found throughout the beach town to accommodate those residing there year-round.
8. St. Simons Island, Georgia
Off the coast of Georgia, you can find a nice golf cart town in St. Simons Island.
Many who visit the island take advantage of golf carts, as it is the preferred transportation method of the resort and locals.
Because of the design of St. Simons Island, golf carts can make parking a breeze and you can get to any shopping, dining, or other fun activity in just a few minutes on a golf cart.
You can get your golf cart rental conveniently at the resort just to travel for an evening to dinner or for the day.
9. Tangier Island, Virginia
Founded on fishing, Tangier Island is a small community just off the coast of Virginia.
With the size of the town just over a mile long, there isn't much room for vehicles.
Golf carts are easy to navigate the area with and reduce the need for excessive parking.
10. Tybee Island, Georgia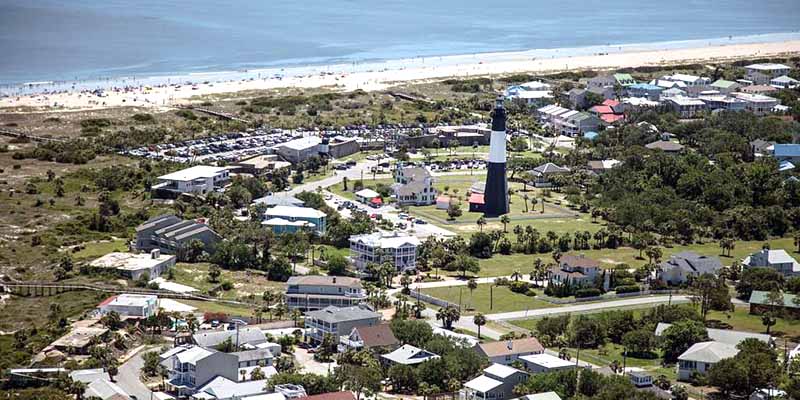 Have your golf carts, and your seafood, and get your party on when you visit Tybee Island.
It embraces everything you can think of when it comes to the traditional beach town, just with bikes and golf carts.
Folks use the beach area for their daily adventures, so golf carts make it easy to park and haul the different things they will need.
These golf carts are often equipped with roof racks, carrying life jackets, fishing poles, coolers, and maybe a few surfboards.
Not everyone you see is visiting, as most of the locals living there will often be out in their own golf carts cruising the Island, especially when the party kicks off at night.
11. Bald Head Island, North Carolina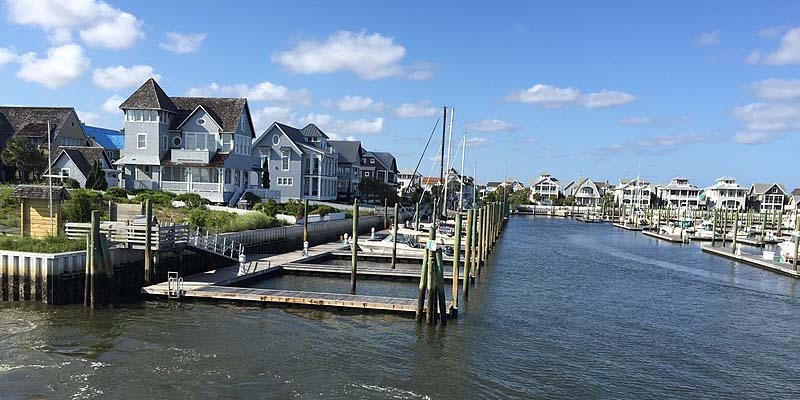 Right off the coast of North Carolina, you will find a remote and secluded island that you can only take by boat to visit.
Once you reach Bald Head Island, plan to either use your feet, grab a bike, or if you want to travel smarter, a golf cart.
Golf carts are the largest transportation options available. There are a few residents who enjoy this seclusion year-round, but most of the folks you encounter will be visiting the area.
Many of the vacation rentals on Bald Head Island offer a nice feature, which is a property golf cart to use during your stay.
If your home does not have one, you can grab one downtown at one of the local rental shops.
12. Ocean Reef, Florida
Many travelers enjoy heading to the Florida Keys on vacation. If you want to get that golf cart beach town feel during your stay, then make sure you reserve a property in Ocean Reef.
Those that live on the island have at least one on the property.
This is a very active community, with more than just the beach to offer, but also parks with tennis courts, golfing, or going to enjoy one of the fine-dining restaurants in the town.
This is a community blended well of locals, visiting family members in the summer, and other tourists looking to embrace this small beach town.
The golf cart rules are relaxed in Ocean Reef, and you may see some young drivers while you are out.
13. Three Rivers Island, Louisiana
If you are traveling in the Gulf area and want a quiet and relaxing golf cart beach town, then Three Rivers Island is the right community for you.
All of the properties on this island have beach access so that they are always able to approach the water.
The island is not as big as other beach towns, so using the golf cart is really your only option unless you plan to walk or bike on some of the hottest days.
Enjoy more than just the ocean breeze, and fill your golf cart with fishing rods, coolers, and any items you need for an afternoon on the beach.
West Coast Beaches
All of the golf cart fun is not limited to the East Coast and Gulf beaches. There are a couple of fun golf cart-friendly beach towns on the West Coast for those who want to embrace this lifestyle.
Both towns are located in California and give a nice change of pace to those who are living there or residing.
14. Catalina Island, California
If you are on the West Coast and want to visit a town where there are no vehicles, then Catalina Island is the place for you.
Golf carts and bicycles are the only transportation available, as vehicles are just not essential because of the size and development of the island.
Most of the people you find on Catalina Island have a dealer on the mainland for their golf carts. Because the terrain is a bit elevated, you do want to get golf carts that have some horsepower to them.
This island is meant to preserve the nature living there, and the golf carts help maintain that level of being environmentally friendly.
15. Laguna Woods Village, California
Those looking to have a laid-back lifestyle on the West Coast find Laguna Woods Village to be a great escape.
This beach town has more golf carts than other beach towns nearby and this has impacted the local traffic laws.
The traffic laws are designed to include golf carts as equal to vehicles.
This means that in a golf cart, you can travel anywhere within the village limits, allowing you a car-free lifestyle until you have to travel outside of Laguna Woods.
While visiting the area, you can easily find a rental company in the downtown area to rent a golf cart at the daily or weekly rate.
FAQs
Is St. Petersburg a golf cart community?
St. Petersburg allows golf carts on some streets in certain neighborhoods, but they are not widely used for transportation. Regulations include obtaining a permit and following safety guidelines. While golf carts are permitted in specific areas, St. Petersburg would not be considered a golf cart community overall.
Can you drive a golf cart in Inlet Beach?
Yes, you can drive a golf cart in Inlet Beach, Florida. However, you need to comply with certain rules and regulations, such as having a valid driver's license and registering your golf cart with the Department of Highway Safety and Motor Vehicles.