ICON Electric Vehicles is a relative newcomer to the industry. While they don't have the name recognition of some of the big players – Club Car, E-Z-GO, and Yamaha, for example – they're quickly making a name for themselves.
Let's talk about ICON – who they are, what they do, and what kind of value they're bringing to the market.
We will also breakdown each golf cart model at Icon so you know which one is best suited to your needs.
Who is ICON?
Based in Tampa, FL, ICON Electric Vehicles was established in 2017.
ICON isn't worried about being a newcomer to the market – they're confident their carts can stand up to the very best that the Big Three have to offer.
Their main selling points include:
Street legal – all Icon golf carts models are street legal approved in the majority of American states so they are not just for the golf course.
Customization built-in – their golf carts include customized features as standard which you will pay extra for with competitors.
Warranty – 2-year manufacturer included with purchase.
Does ICON Offer both Gas and Electric Golf Carts?
As you may have guessed by their full company name – ICON Electric Vehicles – ICON golf carts come only in electric models.
But don't let that be a deterrent. From the sounds of things, they're manufacturing their electric carts to keep up with their gas counterparts.
Plus, as more and more golf courses and municipalities lean toward electric-only mandates, ICON's product offering may be ahead of the curve.
How Much Does an Icon Golf Cart Cost?
Since ICON sells its golf carts through a network of distributors, prices aren't readily available on the website, although you can request a quote. Research indicates ICON carts are priced between $8,000 and $14,000, depending on the model and distributor.
Top Speed of Icon Electric Vehicles Golf Carts
Icon golf carts typically max out at 25 mph. Check out the video below to see a test drive of the Icon i60L where the driver reaches 25 mph.
Icon Golf Cart Range

Their base model is the i20, and it's a nice-looking cart right off the line. ICON says their carts come fully loaded, so there isn't the level of customization that some of the other top manufacturers offer. The only option for each of their models appears to be color.
So, for you car historians, their offering is kind of the opposite of Henry Ford famously claiming that the Ford Model T came in any color you wanted, as long as you wanted black. You can choose from a variety of colors from ICON, but it seems as though the features in each model are what they are. That's certainly not a negative, but good to keep in mind.
🔍Do you need room for more than two in your cart? If so, ICON's got you covered. Let's talk about their line of i40 golf cart models: the i40, the i40 L, and the i40 F.
i40
ICON's i40 model is somewhat similar in looks to the base i20 model, but with some premium features included as standard on this four-seater. The i40 has a different roof from the i20 as well as side mirrors. And, of course, it seats four.
i40 L
What does the L stand for? Your guess is as good as mine, but one thing is for sure: it doesn't stand for "Loss" or "Less." The i40 L model takes the base look of the i40 and adds some – how do I say this – oomph to it.
Pictures on the ICON website highlight what appears to be bigger tires, an upgraded suspension, a front bumper guard, and premium seats.
Like the i40, the i40 L model seats four, and quite comfortably on those premium seats, it looks.
i40 F
The i40 F has a look very similar to the i40, but with a bit of a longer frame that allows the two back seats to face forward.
If you need a cart with room for more than four, ICON still has you covered.
Their i60 seats six, with model variations that follow what they did with the i40 – an i60 L and i60 F.
ICON doesn't stop there for those that need even more room. Their i80 model seats – you guessed it – eight.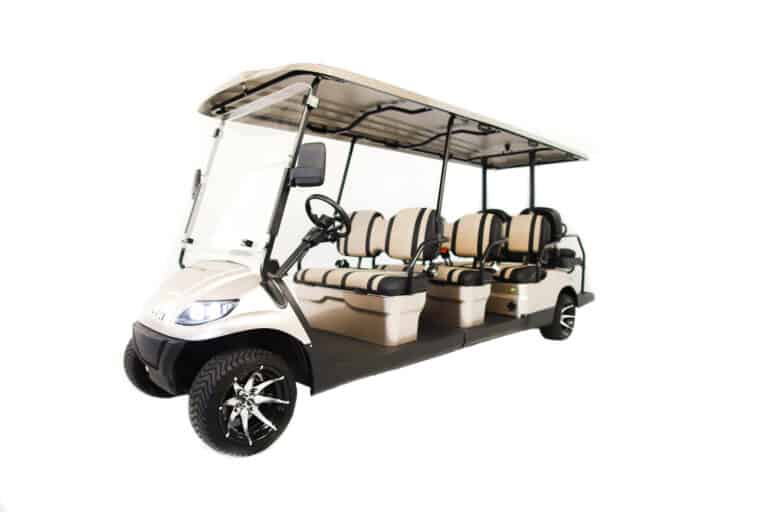 Unlike both the i40 and i60 lines, ICON doesn't currently offer any variations to the base i80.
ICON's impressive lineup also includes a couple of utility golf cart options – the i20 U and the i20 UL.
Their utility lineup follows the same naming structure that we've seen in the i40 and i60 lines. The i20 U is their base utility model with the i20 UL offering a few more features upfront.