Finding a putter that provides consistency and delivers top-quality performance can be rather challenging.
The Odyssey White Hot OG range of putters has a lot to offer on all levels to golfers of every ability.
Odyssey White Hot OG Putter
Editors Rating: 8.9 /10
What We Like
White Hot inserts give a good feel and sound
Classic blade design with heel-toe balancing
A sleek finish reduces glare
A plumber's neck aids natural stroke without impeding vision
What We Don't Like
Unlike some of its competitors such as the Scotty Cameron putters, there is no weight adjustability on the Odyssey White Hot OG putters.
Although it is not quite in the price bracket of a Scotty Cameron or TaylorMade putter, it comes at a price that may be too expensive for the average golfer. This is contrary to their stated target market to be more inclusive of all golfers.
Key Summary
The Odyssey White Hot OG Putters remain one of the most successful putters on professional tours and among amateur golfers globally. The face insert in the 2000 version was so far ahead of its time that Odyssey still struggles to make a better insert and therefore uses the same materials as the original insert.
You will go a long way to find a more versatile putter than the Odyssey White Hot OG range.
The Story Behind the Odyssey White Hot OG Putter
After purchasing Odyssey in 1997, Callaway Golf released the Odyssey White Hot OG range in 2000 with its unique insert.
In this review, we look at some of the best features of the White Hot OG range and how it compares to other highly-rated putters.
What Sets Odyssey White Hot OG Putter Apart from Competitors
Odyssey putters dominate the professional tours being the number 1 putter on White Hot putters are still the widest-used putter on professional tours with stats from recent tours below:
The 5 most popular putter brands on the PGA Tour are as follows:
Odyssey
Titleist
PING
TaylorMade
Bettinardi
The success achieved by Odyssey Putters sets it apart from its competitors. To demonstrate Odyssey's dominance we added some statistics below.
Odyssey was the most-played putter on the PGA Tour in 2021 making it the eleventh consecutive year achieving the top spot.
It has also been the number 1 putter on every other major tour globally showing its global appeal rather than only local appeal.
Its popularity can be seen in Major Tournaments as well where it was the number one putter at all 14 Majors (Men, Women, and Senior) making it the number one putter for the last 45 major tournaments consecutively.
Odyssey putters won 6 of the 14 Majors in 2021.
It is not only on tours that it excelled, but Odyssey was also a winner of one Olympic Gold Medal in 2021.
Odyssey Putters was the number one putter winning more tournaments and achieving the most tournaments globally in 2021.
Key Decision-Making Factors To Consider and Odyssey White Hot OG Putter Performance In Each Area
Odyssey putters have won hundreds of tournaments globally on various professional tours.
Shaft
Odyssey White Hot OG putters come standard with a stepless steel shaft that can be replaced at a fee with their proprietary red Stroke Lab shaft.
The Stroke Lab shaft merges from a graphite shaft on the upper end of the shaft into stepless steel at the bottom end of the shaft.
Since the shaft is counterbalanced with extra weight at the butt end of the shaft, the steel at the bottom end magnifies the lack of weight in the middle of the shaft.
📢 Need To Know: The result of the combination of the counterweight and heavier shaft end makes the head feel both more stable and easier to swing.
White Hot Face Insert
The original Micro Hinge face inserts released on the White Hot OG putters were far ahead of their time. It was made from the same urethane as the cover on Callaway's Rule 35 ball.
This insert was so good that the White Hot OG released in 2021 used the same two-part urethane insert.
Soft inserts found on most putters create slow ball speed of the putter face, creating a soft feel and even softer sound. However, the insert on the Odyssey White Hot OG putters combines the feel of a softer model with the performance of a firmer face.
Some golfers also report that the Micro Hinge insert lessens the feel difference between various branded golf balls.
It also generates an immediate and smooth forward roll while the high Moment of Inertia (MoI) makes Odyssey putters extremely forgiving.
Range Of Putters
The Odyssey range offers blade and mallet putters in a variety of shapes and colors. This includes
Odyssey White Hot OG 1
Odyssey White Hot OG 1WS
Odyssey White Hot OG 5
Odyssey White Hot OG 7
Odyssey White Hot OG 2-Ball
Odyssey White Hot OG Rossie
Comparison With Previous Models
Odyssey released the first White Hot OG models in 2000 which offered one of the best range of putters and an iconic face insert.
In 2021 this range was revived on demand from players with a few slight changes.
The Odyssey White Hot OG range introduced in 2021 offers a plumber's neck offset shaft which was not available on the original White Hot OG putters.
Odyssey released a heel-toe balanced weighting system in the 2021 version to increase ease of alignment and forgiveness.
Using Odyssey red Stroke Lab shaft increased the consistency gains over the original OG range improving tempo by 6%, a 9% gain in accuracy of the impact location. This leads to smoother yet more accurate strokes.
Alignment on the 2021 version of the Odyssey White Hot OG putters uses Odyssey's innovative Eye-fit system therefore it finds the best eye position at address. This lacked in the original version of the White Hot OG putters.
A weight saving of seven grams on the shafts of the 2021 version offers a stiffer and more stable stroke than its predecessor.
Best Alternative Products
Scotty Cameron special Select Newport 2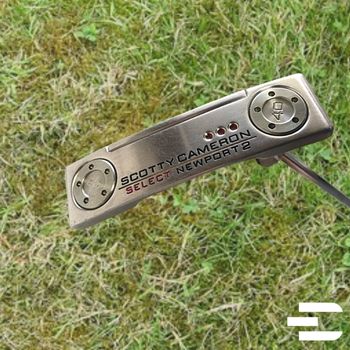 Scotty Cameron is renowned for producing high-quality putters played by excellent golfers and is often seen on professional tours around the globe. It is highly competitive with Odyssey in the rankings for the most used putter on the PGA Tour.
It built its reputation over more than 2 decades during its association with Titleist.
Scotty Cameron Special Select Newport 2 putter uses the tried and trusted milled putter faces as professional golfers requested it. This differs from the Micro Hinge insert used on the odyssey White Hot OG range.
Whereas Odyssey offers every opportunity to provide forgiveness without sacrificing performance, Scotty Cameron putters are out-and-out performance putters aimed at golfers that strike the center of the putter's face more often than not.
📢 Need To Know: Odyssey putters are priced more competitively than Scotty Cameron putters making them available to a wider spectrum of golfers. This is understandable as Scotty Cameron targets highly experienced golfers that are prepared to pay the extra dollars.
Weight Distribution
Odyssey offers a counterbalanced weight whereas Scotty Cameron offers changeable weight distribution between the putter head and the grip.
This is achieved by a new Tungsten balanced weight to ensure that every putter is perfectly balanced based on putter length.
📋 Keep in mind: Weight placement provides a higher MOI for increased stability.
---
TaylorMade Spider X Putter
TaylorMade Spider X evolved over time to produce one of the best mallet putters. However, there are no blade putters in the TaylorMade Spider X range as available in the Odyssey White Hot OG range of putters.
True Path Alignment System
Similar to the Scotty Cameron putter the TaylorMade Spider X is reliant on center strikes for accuracy in distance and direction. The True Path alignment system developed after years of research directs the path to the center of the putter face.
Although Odyssey also uses an alignment system, they are more reliant on the forgiveness of the putter than Scotty Cameron and TaylorMade Spider X putters.
TaylorMade Spider X uses an insert like being used by the Odyssey White Hot OG range. This insert is made of dissimilar materials than the OG range using a 2mm thicker white surlyn insert made from a mix of 80% surlyn and 20% aluminum flake.
Where the Odyssey White Hot OG putters use a smooth insert, TaylorMade uses an insert with 12 grooves angled at 45 degrees measuring 0.5mm deep.
Conclusion
Odyssey putters are produced in the Callaway stable offering the best materials and technology to make putting easier for golfers at all levels.
Your experience and comments with Odyssey putters will be welcome in the comments section below.
FAQ
What does OG mean on Odyssey putter?
OG on an Odyssey putter stands for "Original Gangster." It is a reference to the first putter design that Odyssey released in 1990, which was considered groundbreaking at the time. The OG putters pay homage to that original design while incorporating modern technology and materials for better performance.
What is the difference between Odyssey White Hot OG 7 and 7S?
The White Hot OG #7 and #7S putters are both designed for shorter swings and lower speeds. The #7 is face-balanced and suitable for minimal arc strokes, while the #7S is toe hang and ideal for strokes with face rotation and arc. Overall, the #7S is a slightly modified version of the #7 with additional features to enhance performance.