Starting off in golf and selecting the right set of clubs can be a harrowing experience that can lead to disastrous consequences if you select the wrong set of clubs.
In this Palm springs golf visa v2 review we will provide you with some confidence to select the best-suited set of golf clubs for your game.
Palm Springs Golf Visa V2 Golf Clubs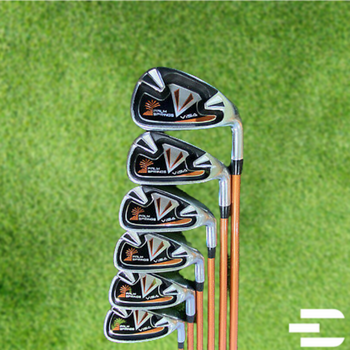 Editors Rating: 8.6 /10
What We Like
11 Club set with woods, hybrids, irons, and a putter provides wide coverage with clubs covering nearly all distances from a short pitch to the green and driver off the tee.
A large sweet spot on the clubface of the woods adds to the forgiveness allowing you to hit more fairways in regulation.
The inclusion of a bag and headcovers for the woods makes the set more affordable thus allowing you to stay within budget
What We Don't Like
Golfers with fast swing speed will not get the maximum performance from the Palm Springs Visa V2 golf club set.
The lack of a sand wedge may have a slight impact on coverage close to the green.
Key Summary
The Palm Springs Visa clubs come standard with graphite shafts. Full coverage is provided for distances on the golf course. The lack of a sand wedge may cause some concern but will allow you to be creative with other clubs to cover the distance.

Palm Springs Golf Visa V2 Golf Club Set
A Reliable Golf Club Set For Beginners
The Palm springs golf visa set consists of 11 clubs, a stand bag, and 4 matching headcovers.
This set has a great mix of woods, hybrids, irons, pitching wedge, and weighted putter.
This will assist a new golfer looking for a complete set of golf clubs to cover the variety of shots required from tee to green, and into the hole.
Advanced golfers will not benefit tremendously from using this set.
The cavity back Palm springs golf irons included in this set will allow even the newest golfer to strike the ball and get some distance.
Palm Springs Golf Visa V2 Features & Benefits
460CC Driver: 8.6/10
Starting the set off is a 460cc driver conforming to the maximum size allowed by the governing bodies of golf.
The clubface has one of the largest sweet spots available in ladies' golf.
A 100% pure graphite shaft provides the required regular flex to maximize the speed that you can generate to optimize the distance which everyone is seeking.
Low Profile Fairway 3 Wood: 8.9/10
The 15° loft of the #3 fairway wood aids in creating a penetrating ball flight when sweeping the ball off the turf.
Although the fairway wood always has a smaller head than a driver, there is an enlarged sweet spot on this fairway wood that offers more forgiveness.
A low profile sole provides you with the confidence required to sweep the golf ball off the turf on your long approach shots to a par 5 while making it even simpler to hit long and straight shots off a tee.
A pure graphite shaft with regular flex makes this an ideal match for the average woman golfer.
Number 3 and 4 Hybrids: 8.2/10
Rounding off the wood like clubs are an 18° 3-hybrid and a 21° 4 hybrid to replace the long irons in your bag.
Hybrids are easier to strike confidently than long irons and generally travel further.
These clubs are ideal for long approaches from the fairway or getting out of some thick rough.
Many golfer use hybrids to putt with when they are slightly off the green for a smoother roll than what you will get from a wedge.
A 100% pure graphite shaft with a regular flex enhances makes the hybrids ideal for golfers with slower swing speed such as juniors or women golfers.
High MOI irons and wedge: 8.4/10
Included in the set are 5 irons (5-iron, 6-iron, 7-iron, 8-iron, and 9-iron), and a pitching wedge. The cavity back design irons generates a higher MOI and lower center of gravity thus enhancing the forgiveness and provide more consistency.
These features are exactly what is required from a set when you are in the learning phase of golf.
Regular flex graphite shafts provide the extra speed required while you are developing and fine-tuning your swing.
Putter: 9.0/10
A uniquely shaped putter head with more mass behind the point of impact promotes a more reliable and solid roll.
Stand Bag Deluxe Stand Bag: 9.1/10
A deluxe stand bag with a 7-way divider top will assist you in keeping your clubs organized and easily accessible.
A rain hood comes as standard to protect your clubs during inclement weather.
There are sufficient pockets to provide ample storage space for golf balls, tees, waterproofs, refreshments, and other accessories that you may require.
The dual carrying strap makes carrying the bag is light and comfortable work.
Headcovers: 8.9/10
A matching set of 4 headcovers is standard when you purchase the set.
The covers will protect the clubface of your driver, fairway wood, and hybrids against dents and scratches.
Price:
Alternatives To The Palm Springs Golf Visa V2 Golf Clubs
Callaway Women's Strata Plus
High Quality Alternative
The Callaway Strata Plus women's package set is designed for beginner golfers that want all the options available to cover any distance from tee-to-green.
Cavity backed irons offers a combination of distance and forgiveness in 3 different sets of 11,14 and 16 clubs.
For more detail, check out our Callaway Women's Strata Plus review.
Wilson Profile XD women's clubs
Similar To Palm Springs But With Sand Wedge
The Wilson Profile XD women's clubs is a direct competitor to the Palm Springs golf visa set. It is
a complete lightweight set especially aimed towards the golfer with a slower swing speed.
Beginners will also benefit from the Wilson Profile XD set.
Unlike the Palm Springs Visa all graphite golf package set, the Wilson Profile XD is available in both a petite and tall option.
A sand wedge is included as standard in this set, but it has only one hybrid.
Cobra XL Women's Set
For Advanced Golfers
The Cobra XL women's complete set is more suited to the more advanced player than the Palm Springs golf visa set.
Consisting of very high-quality clubs and therefore more expensive, your extra investment will buy you more durability and a longer-lasting set of clubs.
The clubs are slightly heavier than the Palm Springs Visa all graphite golf package set.
In addition to all the clubs offered by the Palm Springs golf irons, the Cobra XL women's set offers a sand wedge.
Closing Thoughts On The Palm Springs Golf Visa Clubs
Starting out in golf can be a rather expensive exercise and if you select golf clubs that do not suit your swing it may make the game more difficult and dampen your enthusiasm. It's also important to choose clubs designed for your size as there is a difference between men's and women's golf clubs.
The Palm Springs Visa all graphite golf package set contains all the clubs that you will require from tee to green and a uniquely shaped putter to assist you to get the ball into the hole.
The golf bag has sufficient storage for the essential accessories and the matching headcovers will provide optimal protection for your woods.
In this Palm Springs visa women's golf clubs review, we aimed at providing you with a understanding of what women should look for when buying golf clubs and a comprehensive breakdown of the golf club set make-up including the benefits and concerns related to the various clubs.
FAQ
Is the palm springs golf visa v2 a stand bag or a cart bag?
Palm Spring Golf Visa sets come standard with a Stand Bag.The stand bag is a deluxe bag with a 7-way divider top assisting you with the organization of your clubs.There is ample storage space for golf balls, tees, waterproofs, and backup apparel.Clubs are kept dry in damp conditions through the use of the rain hood.
What hybrids are included in the palm springs golf visa v2 golf club set?
Included in the Palm Springs Golf Visa 2 set are 2 hybrids, an 18-degree #3 hybrid, and a 21-degree #4 hybrid. Hybrids replace the difficult-to-hit longer irons with similar numbers in your bag.These clubs generally come with 100% pure graphite shaft, and lady flex. And matching head covers.
What size driver is included in the palm springs golf visa v2 golf club set?
The driver included in the Palm Springs Golf V2 set is an oversize 460cc head with a large sweet spot. A Large sweet spot offers longer, straighter shots even on slight mishits. Shafts are made from 100% graphite and come in regular flex.For protection, the driver comes with a head cover.