Traveling with golf clubs can be cumbersome due to the worry of clubs getting thrown around and damaged at the airport. Having a sturdy, and protective golf travel bag can alleviate these worries and ensure that your clubs arrive safely to and from your destination.
This Sun Mountain Clubglider Meridian review will explain the pros and cons of the cover bag and what features it entails.
Sun Mountain Clubglider Meridian Golf Travel Bag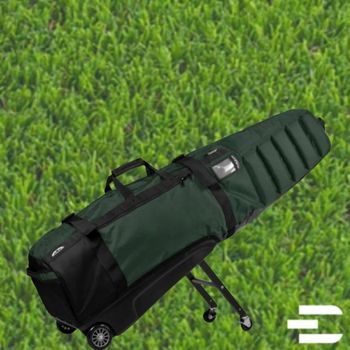 Editors Rating: 9.2 /10
What We Like
Spinning wheels were added to the bag so it can be rolled around similar to a suitcase at an airport.
Sun Mountain reinforced the bag with sturdy padding throughout the bag so if it's dropped or tossed around it will keep clubs safe and maintain its shape.
Foldable, retractable legs were created for this bag to make it fit in tighter spaces and prevent breaking the legs.
What We Don't Like
This travel bag will cost more than other travel bags on the market.
Some users complained about having to snap the legs in and out of place all the time.
Key Summary
Having four wheels and retractable legs makes the ClubGlider Meridian an ideal choice for a travel bag protector. The reinforced padding lets golfers worry less about damage to their clubs.
Awarded Golf Digest Editors' Choice for Best Travel Cover from 2016-2019.
Sun Mountain Clubglider Meridian Features
Integrated retractable, wheeled legs: 9.1/10
The retractable legs support the weight of the bag and make it simple to roll it around. This feature definitely helps out your back since you can wheel it wherever rather than put it on your back and carry it. The legs are spring-loaded so they can fold back to their original position.
📢 Need To Know: The wheels rotate so the bag can be turned in any direction while moving.
Thick foam padding: 8.8/10
The bag is filled with thin padding throughout and comes with extra foam padding at the top of the bag. This ensures club heads and shafts are securely protected where they stick out of your actual golf bag inside of the cover bag.
Riveted straps: 9.0/10
Sun Mountain added two straps inside of the cover to help keep your bag secured. The two straps can be adjusted and fit any size bag. One fits around the top of the bag and the other fits on the middle area of it.
There are also two straps that click together enabling a main handle so users can easily pull the bag.
📢 Need To Know: Another strap at the base of the bag easily allows people to lift it inside and outside of vehicles.
Reinforced in different areas: 8.7/20
There is extra thick foam padding on the interior of the bag which helps protect clubs and items in your actual golf bag. Reinforced vinyl was also added to the bottom of the bag which helps protect the bottom of your golf bag. If you have legs on your golf bag this also helps protect them.
Pockets and storage: 9.1/10
Sun Mountain added two external pockets to the Meridian so players can store extra gear on the outside. Being outside is convenient due to the fact that you don't have to unzip it to access the pockets.
Weight: 9.5/9
At 14.6 pounds, the Meridian is very light and easily hauled. It isn't the lightest bag on the market but for its features 14.6 pounds is pretty light.
Ease of use (Particularly Through Airports): 9.6/10
The Sun Mountain Clubglider Meridian is an ideal cover bag to use in an airport. With its two sets of wheels it can be easily moved.
📋 Keep in mind: The extra foam padding on the top, throughout the bag and on bottom helps protect clubs in case it gets thrown around by airport employees.
Warranty:
Sun Mountain has a one-year warranty for its bags to be free of defects in materials and workmanship.
Zippers, seams and hems are also warrantied for one year from the date of purchase.
Alternative To The Sun Mountain Clubglider Meridian
Sun Mountain Clubglider Journey
1.8 pounds lighter than the Meridian
The Sun Mountain Clubglider Journey is a great alternative for someone looking to buy a similar cover bag to the Meridian.
Both bags are similarly designed but the Journey is slightly lighter at 12.8 pounds.
Below are some similarities and differences between the Sun Mountain Clubglider Journey vs. Meridian.
Journey:
Has two interior pockets making them more difficult to access than the outside pockets on the Meridian.
The Journey is 1.8 pounds lighter than the Meridian so it will be easier to load into vehicles.
Made with 1200 denier polyester to make it strong and durable.
Has pivoting wheels similar to the Meridian.
Meridian:
Slightly pricier than the Journey thanks to its added features including exterior pockets.
Has more reinforced areas for protecting clubs and the actual golf carry bag.
Features two zippers that run down the bag for easy access as does the Journey.
Awarded Golf Digest Editors' Choice for Best Travel Cover from 2016-2019.
Closing Thoughts On The Sun Mountain Clubglider Meridian
With its retractable legs and pivoting wheels, the Sun Mountain Clubglider Meridian is an ideal bag to take on a business trip or vacation.
It can be easily hauled for long distances and its padding helps protect your clubs and valuables if dropped or thrown. The exterior pockets also allow for extra storage.
Be sure to mention in the comments what travel cover bag you own and your experiences with it.
Click here to check Sun Mountain Clubglider Meridian
FAQ
Does the sun mountain clubglider meridian golf travel bag have retractable wheels?
Yes, the Sun Mountain Clubglider Meridian golf travel bag is equipped with a set of caster wheels that both extends and retracts. These retractable wheels make it more portable and prevents damage to the wheels when in airports. 
What are the key differences between the sun mountain clubglider meridian and tour series?
The Clubglider Meridian's material is made from a 1200 denier polyester fabric. The Tour Series was made with a vinyl fabric. A vinyl fabric is more durable when faced with water and it does appear shinier. Polyester absorbs more water so if you're looking for a water resistant bag, opt for the Tour Series.