There has been a forgiving putter boom in the past few years and many brands have rushed out 'forgiving' putters quickly into the market.
That's created a problem:
Loads of subpar (the bad subpar, not the good golf subpar) putters are now out there claiming to offer putting forgiveness.
This most forgiving putter article will help you avoid wasting money on these duds. Our putter selection was created from testing and reviewing dozens of the most talked about forgiving putters on the market.
We cover putters for those of you on a budget and we also give blade putter options if you don't like mallet putters.
We also give advice on the types of putter design that will suit your game and offer insight on what makes a forgiving putter.
And yes we have tried to exclude those ugly putters you've seen popping up everywhere.
Let's dive in with a quick summary of our top picks.
Most Forgiving Putter in 2023: Summary of Our Best Putters
Product Spec Comparison Of The Most Forgiving Putters
Putter Name
Titleist Scotty Cameron Phantom X 11
TaylorMade Spider GT Rollback Putter
Cleveland Frontline Elevado Putter
Cobra King 3D Printed Agera Putter
Odyssey Tri Hot 5K #2 Putter
Our Rating
9.2/10
Top Pick & Most Forgiving Scotty Cameron Putter
9.0/10
Runner Up
8.8/10
Best Value
9.0/10
Most MOI
9.1/10
Best Blade Option
Pricing
Jump To Pricing Section
Jump To Pricing Section
Jump To Pricing Section
Jump To Pricing Section
Jump To Pricing Section
Putter Type
Progressive Mallet
Progressive Mallet
Mallet
Progressive Mallet
Blade
Hosel
Single Mid-Bend Shaft
Single Bend / Small Slant
Plumber's Neck / Slant Neck / Single Bend
Single Bend
Crank Neck
Weight Distribution
Face Balanced
Face Balanced
Face Balanced
Face Balanced
Toe Hang
Alignment
Single Sightline
True Path With Sightline
Single Sightline
Single Sightline
Single Sight Line
Head Weight
370g (33″ length), 360g (34″ length), 350g (35″ length)
365g (33″ length), 365g (34″ length), 350g (35″ length)
360g (Plumber's Neck Model), 370g
385g
360g
Grip
Pistolero Plus
SuperStroke GT 1.0
Lamkin Sinkfit Skinny Pistol Grip
Cobra Lamkin Sinkfit Straight Connect (99g) / SuperStroke Traxion Tour 2.0 (55g)
White Hot Pistol
Standard Length
33″, 34″, 35″
33″-35″
33″, 34″, 35″
34″, 35″, 37.5″
33″-35″
Loft
3.5 degrees
3 degrees
3 degrees
3 degrees
3 degrees
Lie Angle
70 degrees
70 degrees
70 degrees
70 degrees
70 degrees
Read Review
Jump To Titleist Scotty Cameron Phantom X 11 Review
Jump To TaylorMade Spider
GT Rollback Review
Jump To Cleveland Frontline Elevado Putter Review
Jump To Cobra King 3D Printed Agera Putter Review
Jump To Odyssey Tri-Hot 5K 2 Putter Review
---
Titleist Scotty Cameron Phantom X 11
Top Pick / Most Forgiving Scotty Cameron Putter
Rating: 9.2 /10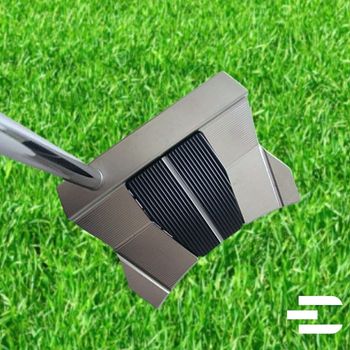 uSA Suppliers (Also Deliver To Canada )
Pros
Shaft design limits rotation during putting stroke, leading to straighter putts.
Visual cues of the design inspire confidence and help you align each putt.
Cons
It's a heavy putter and some players struggle to control distance.
In our search for the most forgiving putter in the game today, Titleist's Scotty Cameron Phantom X 11 was the clear favorite after testing the top models on the market.
Scotty Cameron's name is synonymous with high performing putters, and the Phantom X 11 is the most forgiving option in the current line. If you're looking for the putter to give you the most consistent strokes, this is the one for you.
Put simply, adding this to your bag greatly increases the odds you'll make any putt.
The Phantom X 11 has all the quality you would expect from a Scotty, but it's got a couple great features which help make it so forgiving.
The one you'll notice as soon as you pick the club up is its unique shaft design.
The X 11 has a "mid-bend" shaft which lines the shaft up with the face of the club when you're looking down at the ball. We found this design kept the club face from rotating during the putting stroke, and it helped us hit putts much more consistently each time we used the club.
A lot of putting is in your head, and the X 11 also features easy to use alignment details which help you visualize each putt.
Standing over the ball, you'll see a light alignment line surrounded by a black "sweet spot." Taken together, these help you hit the ball in the same place every time, and on the right line, meaning your putts have a better chance to stay on the intended line.
What we love about the Titleist Scotty Cameron Phantom X 11
Mid-Bend Shaft: The shaft of the club might take some getting used to, but once you have it dialed in it will keep your club from rotating and help you hit straighter putts.
Visual Cues: With tools to help you line up and hit the ball in the ideal spot, you'll stand over the ball with confidence and hit more consistent putts.
Drawbacks of the Titleist Scotty Cameron Phantom X 11
Weight: While it's not an issue for many players, if you're used to a blade or lighter putter, the X 11's weight takes a bit to get used to.
The latest in a line of excellent putters by Scotty Cameron, the X 11 is ideal for a player looking to make a more consistent stroke on the greens.
---
Taylormade Spider GT Rollback Silver/Black Putter
Runner Up
Rating: 9.0 /10
uSA Suppliers (Also Deliver To Canada. Globalgolf.ca Is Canadian Delivery Only)
Pros
Putter design promotes end-over-end, top spinning rolls for easy consistency.
Perimeter weighting helps with stability through the stroke, leading to fewer off-center putts.
Cons
Designed for moderate face rotation players, might not suit everyone.
We found TaylorMade's Spider GT Rollback Putter to produce great results in our testing for the most forgiving putter on the market, and while it wasn't our top choice it was a very strong runner up.
If you have a slight face rotation in your putting stroke, are looking for a putter with a stable feel and want to hit more putts on target, the Spider GT Rollback is a great choice.
The features of this putter make it very forgiving for players of all levels.
TaylorMade designed the Spider GT Rollback with topspin in mind. When putting, topspin ensures the ball rolls end-over-end rather than side to side, meaning your ball rolls straighter every time.
To achieve this topspin goal, TaylorMade created their "Pure Roll" technology. Pure Roll features a unique urethane material face insert with 45 degree angled bars, and it works. We found putts to roll correctly and be far more accurate with the Rollback putter than with many of its peers.
Another key feature of the Spider GT Rollback is the tungsten "rollbar" which wraps around the back of the club head. This perimeter weighting is made to pair with the Pure Roll tech by giving the club more stability and even promote topspin on off-center strokes.
These features of the Spider GT Rollback will likely have you hitting the ball where you want it more often than the putter you're using now.
What we love about the Taylormade Spider GT Rollback Silver/Black Putter
Pure Roll Technology: If you haven't played with a putter which creates topspin, you will love the consistent results it produces in your game.
Perimeter Weighting: The bulky backside of this putter means you can hit the ball slightly off-center and still have a straight roll with topspin.
Drawbacks of the Taylormade Spider GT Rollback Silver/Black Putter
Made For Face Rotation: The pros of this club all point to correction of off-center putts which usually plague players using face rotation on their putts. If you're a pendulum-style putter, this is still a fine choice but you won't see as much improvement.
The Spider GT Rollback putter can improve your game by promoting straighter putts through topspin on every stroke.
---
Cleveland Frontline Elevado Putter
Best Value
Rating: 8.8 /10
uSA Suppliers (Also Deliver To Canada)
Pros
Special tech in the club face makes sure your putts get to the cup, even on mishits.
Forward weighting gives the putter better stability for straighter putts.
Cons
Unique sound and feel at impact takes some getting used to.
In our search for the most forgiving putter in the game, we set out to find a solid option that wouldn't break the bank and Cleveland's Frontline Elevado putter was our top pick.
We understand everyone can't break the bank on a new putter, but with the Elevado's great features there is no need to overpay for performance.
The tech in this club is outstanding for its price point.
Cleveland's special Speed Optimized Face Technology (SOFT) technology was evident from the time we started using the club, and it can change your game.
The SOFT tech is designed to make sure your putts go the same distance whether they're perfectly struck or off center, and for us that meant superior distance control, even compared to the top models.
Like some of its competitors on the market, the Elevado also features tungsten weight in the club head, but this model's weight is closer to the club face.
The result was a putter which naturally swings like a pendulum, perfect for increasing accuracy on every stroke.
If you want a solid putter at a good price, the Elevado's distance control through the SOFT tech combined with the forward-focused weighting for accuracy will have you making more putts with ease.
What we love about the Cleveland Frontline Elevado putter
SOFT Tech: Whether you hit it in the perfect sweet spot or off the heel or toe, you can expect consistent distance from the Elevado.
Comfortable Weighting: Forward-focused weighting helps keep the putter on plane and helps with your putting accuracy.
Drawbacks of the Cleveland Frontline Elevado putter
Sound: The SOFT tech will help your game a lot, but it produces a strange sound at impact. It doesn't impact your game but does take some getting used to.
Cleveland's Frontline Elevado putter provides great value with features beyond its price point.
---
Cobra King 3D Printed Agera Putter
Most MOI
Rating: 9.0/10
uSA Suppliers (Also Deliver To Canada)
Pros
Nearly perfect weight distribution maximizes MOI for consistently accurate putts.
Unique lofting on the club face helps players of all types get the correct launch angle.
Cons
Some players won't be able to get over this putter's huge size and unique look.
It seems like MOI is one of the biggest buzz words in golf right now, and for good reason.
MOI stands for moment of inertia, and it measures the resistance a club has to twisting when it hits the ball. Higher MOI = more forgiveness.
When we tested the top putters on the market today to find the most forgiving model, MOI was an important factor and Cobra's King 3D Printed Agera Putter was the best in that category.
Cobra didn't 3D print an entire putter, but they did create a printed insert in the club head which allowed it to have perfect weight distribution.
This unique tech maxed out the MOI. For your game, this means you'll have the best chance at hitting consistently straight putts with this club.
Another great feature of the Agera putter is its loft pattern on the club face. With lofts that get less inclined as you go down the club face, each stroke produces the ideal roll no matter if you hit the ball on the upswing, downswing or right in the middle.
This means better distance control, and more putts falling in the cup rather than a few inches short.
What we love about the Cobra King 3D Printed Agera Putter
Ideal Balance: 3D printed core ensures a high MOI, meaning your putts are more accurate, more often.
Unique Loft Pattern: No matter at which point of your swing you hit the ball, you'll get consistent distance due to the loft of the club face.
Drawbacks of the Cobra King 3D Printed Agera Putter
It's Huge: To be blunt, this putter is just massive and it's got a clunky design. Get past that and you'll be hitting straight putts, but some of our testers had a tough time with the visual.
High MOI means more consistent putts, and Cobra's Kind 3D Printed Agera Putter delivers.
---
Odyssey Tri-Hot 5K #2 Putter
Best Blade Option
Rating: 9.1 /10
USA Suppliers (Also Deliver To Canada. Globalgolf.ca Is Canadian Delivery Only)
Pros
Front-weighted tungsten gives this blade the feel of a mallet and promotes a consistent stroke.
Interchangeable weights allow you to customize the club to fit your game.
Cons
Mishits struggle to get comparable distance to better strokes.
Blade putters are used by the best players in the world, and like blade irons they tend to be less forgiving. Some players prefer the look of a blade, and still need forgiveness on the greens.
In our search for the most forgiving putter, we tested several blades and Odyssey's Tri-Hot 5K #2 putter provided mallet-like forgiveness with the styling of a blade.
Odyssey achieved the best of both worlds by packing massive amounts of weight into the classic odyssey blade club head.
With 120 grams of tungsten packed into the front of the putter, you'll feel the weight as soon as you pick the club up.
We loved the feel of the club because it's extra weight combined with the blade style led to a visually-appealing but functional club. The weight helped promote a natural, repeatable stroke for consistently straight putts.
Weight is the name of the game with this club, and while it has sufficient girth in any setting, we loved the ability to change out the weights as needed.
What we love about the Odyssey Tri-Hot 5K #2 Putter
Blade Look, Mallet Feel: By packing 120 grams of tungsten in the front edge of the club face, you get the look of a blade and the consistency of a mallet.
Customization: Interchangeable weights allow you to fine-tune the club to your preferences.
Drawbacks of the Odyssey Tri-Hot 5K #2 Putter
Mishits Hurt Distance: While the 5K #2 features Odyssey's famous White Hot insert in the face, which is ideal for perfect putts, it struggled to produce good distance on mishits.
Odyssey set out to create the most forgiving blade on the market, and we believe they accomplished that mission with the Tri-Hot 5K #2 putter.
---
Starting Out: What to Consider Before Buying
If you have just begun to play golf, there are a number of issues you have to master. You may think that the short game is the easiest of them, especially if you are finding that you cannot hit the ball consistently off the tee with any regularity.
Did you have fun on putting greens as a kid? Certainly, I did, but as part of your overall golf game, putting's importance is often underestimated.
Putting requires many skills to effectively master. On the surface, it may look easy. But when it comes to wanting to perfect your golf game, you owe it to yourself to learn these skills and ensure regular practice so that you can master them.
And the first step, to achieving this, is to get yourself a good putter. But how can you tell which putter is the best? Beginners will likely struggle with this, but the first step is knowing what different kinds of putters are out there.
Variety of Golf Putter Designs
There is no one single design for a putter. I have practiced with a mallet, counter-balanced, and blade putters in my effort to find the putter that suits my game.
You will most likely find that you will also need to experiment quite a bit to find the right design for you. Everyone is different, and it will probably take time for you to find that perfect putter for you and your game.
Weight is also a critical factor and adding weight to a specific putter changes the feel and potential performance.
The best way to determine which putter weight is right for you, is to test multiple different weights. This is one situation in which you really do need to physically try it out before learning which is best for your game.
When you watch top professionals, you will see a range of styles, and just as many different grips.
You need to avoid becoming seduced by fancy professional putter designs, however. Do not choose a putter simply because a certain celebrity golfer uses it. The key to finding that perfect putter is to find one that is right for you and your game.
Clearly, what you are watching works for the individual so it would be wrong to say that there is just one or two perfect ways to putt.
Commentators talk about the best putters on professional tours but to the untrained eye, their putting technique tends to look a little different from all the rest of the field.
The elements of feel, alignment, and good hand-eye coordination all come into putting but it is also essential to have a putter that feels comfortable to use.
Comfort is everything in sport and golf is no different. You need equipment that feels right to you. If the feel of your putter is off, it will worsen your short game and make it far harder for you to master the necessary skills of putting.
Traditional Blades
Blade putter vs mallet was not a question in the past as blade putters were once the only alternative for golfers. These days, I tend to see them used by experienced golfers who are confident with their short game.
The weight is in the toe so that it points downwards. I have an open-square-closed stroke, so these putter suits me fine.
Central Shaft
As the name suggests, the shaft meets the putter head in the middle.
The design provides stability and it helps golfers retain their posture and alignment as they make their stroke.
Futurist – Increased Face Size
Designers have sought ways to help golfers putt the ball on the ''sweet spot'' and one of the ways they have done that is by increasing the size of the putter face, with aids to alignment incorporated in the manufacture.
Those who are looking for weight as part of trying to achieve feel in their putter may find this design is a good buy.
Mallet
Think croquet. Your putting stroke will never replicate that used in croquet where you are astride the ball, but the putter head looks like a croquet mallet. It is hollow with a large sweet spot with weighting in both the toe and the head.
It helps to counteract any twisting and certainly helps a starter in their quest for success on the putting green. Therefore, the mallet putter, particularly the most forgiving mallet putter, makes a good case to be the best game improvement putter.​
Weight and Balance: Finding the Sweet Spot
These are properties which vary from design to design:
Face balance has even weight distribution, so the putter head lies horizontal when placed on the ground.
Toe hang putters and any buying decision should be made by seeing which of the two styles suits you, partial toe hang or full hang.
After deciding which of the alternatives bests suits your stroke, you have just to decide on the weight you want to give you the best feel.
Again, the key here is to try these putters out before making a commitment to buy. With these varying styles which all come in different weights, you do really need to make the time to experiment and see how they feel.
Hold it in your hand, practice your stance and try putting a few balls. You will know right away if a putter does not feel right for you. But it can often take a few putts to find that one that is your ideal putter.
Aspects of Putter Design
Forgiveness
When referring to "forgiveness", the idea is that the design tries to minimise the effects of a poor stroke or connection. In terms of a putter, the easiest way to imagine that is that there is a larger ''sweet spot'' on the face that helps to propel the golf ball in the intended direction.
Beginners or golfers that struggle to master the intricacies of the short game should seek a putter with a high level of forgiveness. Not everyone is a great putter. But this can be offset if you can obtain a very forgiving putter to help you along.
Alignment
There is little chance of holing important putts on a regular basis unless the putter face and the golf ball are properly aligned to the intended path to the hole.
Some putters have a similar line as part of their design so that at the point of address, the putt line follows that same route. It is then a matter of striking the golf ball correctly with the face square to the ball.
The better your putter's alignment, the more accurate your putts will be, making this feature a key factor when looking for the most accurate putter.
Angle of Lie
Golfers come in all shapes and sizes. Think about the diminutive Masters' winner, Ian Woosnam and those almost a foot taller such as Ernie Els and Nick Faldo.
The angles that each creates are different, one of the reasons why personalised fitting services have become so popular.
When thinking about putting, it is likely that the lie angle, that's created by the toe of the putter to the portion touching the surface of the green, will have stature as a factor.
Putter shafts in common use vary in length as one result of that.
This is another example in which physically testing a putter will help you. You may be able to estimate the shaft length you need based on your height, but until you actually hold the club in your hand and try putting with it, you will only be working from guesses. It is always best to know for sure and take the time to try your putter out first.
Moment of Inertia (MOI)
When it comes to a putter, it is possible to measure the built-in resistance of a putter in resisting the issue of connecting with the golf ball other than in ''the sweet spot.''
Manufacturers include MOI in the features they use to market their products. They want to persuade us that their putters have the required resistance to twisting which can be critical in achieving a good strike consistently.
For the beginner striving for improvement, a high MOI can be an important feature in a putter.
But importantly, not all beginning golfers are faced with this problem. You will learn fairly quickly if twisting is a problem for you and if so, choosing a high MOI putter will help you to offset the issue.
Most Forgiving Putters Verdict: The Best Choice
Still unsure on what the best type of putter to buy from our list of most forgiving putters? It's easy to get information overload but circling back to our main point;  the TaylorMade Golf Spider putter is on balance the editor's choice for most forgiving putters.
It's modern mallet design makes alignment straight forward. Any negatives are relatively minor, and overall it's a putter sure to boost your golf performance.
FAQ
Are blade putters less forgiving?
Blade putters are considered less forgiving than mallet putters because of their lower MOI (Moment of Inertia). MOI is a measurement of a putter's resistance to twisting when a putt is hit off center, i.e. putts not hit with the center of the clubface. Mallet putters are typically bigger and weigh more which gives them a higher MOI and more forgiveness than blade putters.
What is the easiest putter to hit?
The TaylorMade Spider GT putters are the easiest to hit and can be considered among the most stable putters because the smash factor (impact ratio) remains nearly the same when you hit the putt through the heel, toe compared to a pure center of the putter strike. This makes the putter super forgiving and easier to hit. The 80 gram tungsten rollbar also helps to keep the putter stable and more consistent.